Supporting rural entrepreneurs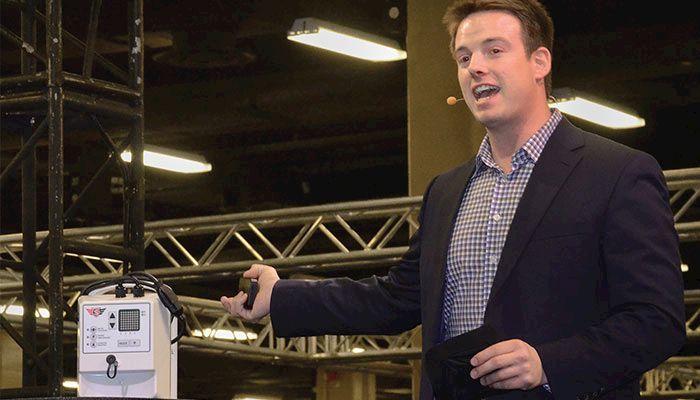 For the third time in four years, an Iowa company claimed top honors in the American Farm Bureau Fed­eration's (AFBF) Entrepreneur of the Year contest.
SwineTech, a rural Iowa start-up that uses technology to reduce piglet mortality, beat businesses from West Virginia, Tennessee and Utah to win the contest during the AFBF annual convention last week in Nashville.
"We were excited," said Matthew Rooda, SwineTech co-founder and CEO. "It was a cool experience. You learn a lot of new things each time you do a competition like this."
The other Iowa companies to win Entrepreneur of the Year were ScoutPro in 2015 and AccuGrain in 2016.
All three Iowa champions received mentoring from the Iowa Farm Bureau's Renew Rural Iowa initiative, which was created 11 years ago to foster entrepreneurship and help revitalize Iowa communities.
In its first decade, the Farm Bureau initiative has mentored more than 3,000 Iowa entrepreneurs and has had a more than $125 million economic impact on rural communities around the state.
"The Iowa Farm Bureau has been especially helpful in getting us ready to be in this kind of limelight," said Rooda, who partnered with former college classmate Abraham Espinoza in founding SwineTech.
"We've worked with the Iowa Farm Bureau really since about day one in preparing us to know how to run a business and how to measure finances and do all the funding that's necessary. They've really helped connect us to anybody we've needed to talk to (in order) to help us further our venture."
The contest's final four teams, chosen from a field of 471 applicants, competed for the award by pitching their business ideas to a panel of judges before a live audience. Each finalist received $15,000, and SwineTech earned another $15,000 as the overall champion.
SwineTech's product, called SmartGuard, uses audio monitoring to detect the squeals of piglets being crushed under a sow. A device worn by the sow vibrates when distress is detected, causing the animal to stand up or shift positions.
The unit can be moved every three or four days after sows learn to move when they hear the squealing.
"We're really seeing a good return on investment on the unit because they're able to move it so often," said Rooda, who hatched the idea for the device while working on a sow farm near Waterloo.
SwineTech's technology can also control the temperature in each pen and monitor animal movement and behavior, optimizing pig comfort and increasing litter sizes, Rooda said.
"We are essentially the FitBit for pigs," he said.
The company, now headquartered in Cedar Rapids, has made $100,000 in sales since last fall and continues to refine its products in on-farm environments, Rooda said.
The AFBF Rural Entrepreneurship Challenge, now in its fourth year, provides opportunities for individuals to showcase business innovations being developed in rural regions of the United States.
It is the first national business competition focused exclusively on rural entrepreneurs working on food and agriculture businesses.
In addition to the finalists, six best-in-show winners in the competition were awarded $10,000 each in start-up funds in October, including Iowa-based SaleRing, which was named best ag technology start-up.
Want more news on this topic? Farm Bureau members may subscribe for a free email news service, featuring the farm and rural topics that interest them most!