Standing tall in a terrible windstorm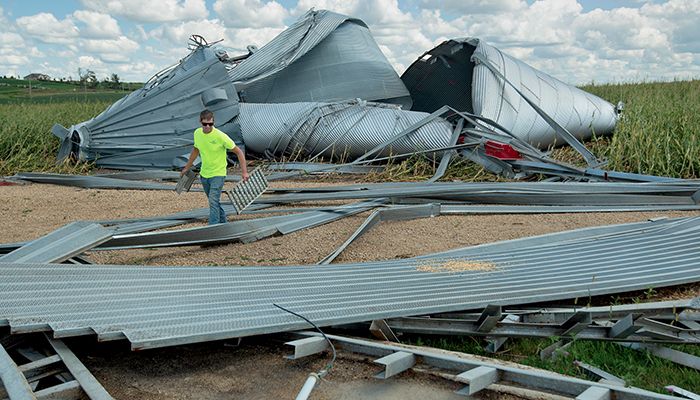 As I cleared branches from my yard after the August 10 derecho, I immediately began to wonder how badly the storm hit Iowa farmers. It didn't take long find out.
I traveled north toward Gowrie the day after the storm, thinking I'd grab a couple of storm damage photos on the way. The scene was heart breaking. Corn fields were tangled and flattened. Grain bins were ripped apart. Uprooted trees were everywhere, on houses, outbuildings and power lines.
I initially had no idea this was such a massive storm. The derecho, referred to as an inland hurricane, cut a 700-mile swath through the Midwest. Winds were measured from 110 miles per hour, to more than 120 (plus) miles per hour in the Cedar Rapids area.
Satellite imagery showed the storm significantly impacted about one-quarter of Iowa's corn acres, according to the Iowa Department of Agriculture and Land Stewardship. The storm path trekked across 57 of the state's counties from border to border with the most severe impact occurring on 3.8 million acres of corn and 2.5 million acres of soybeans in 36 counties, the agency said.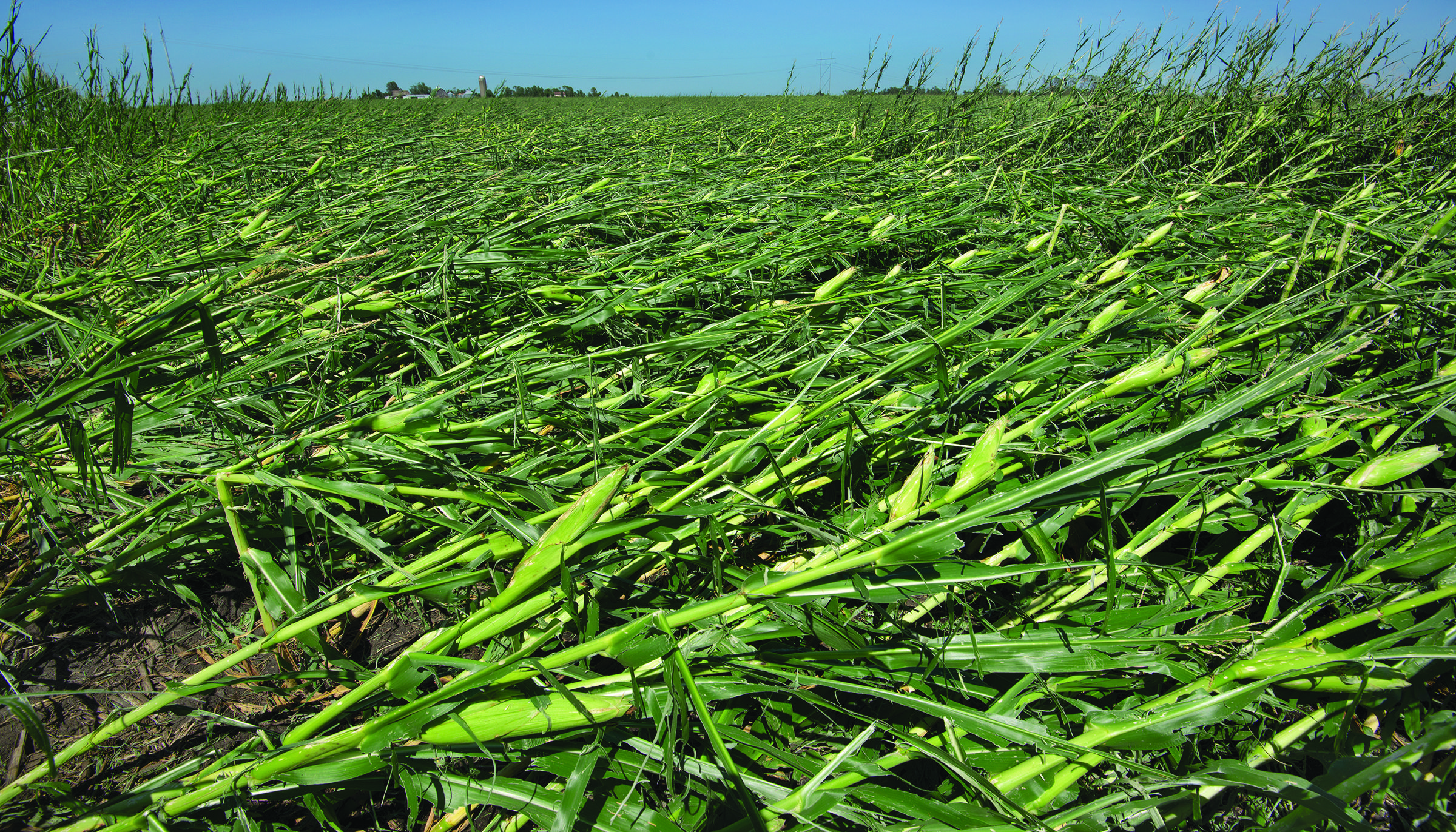 The damage was widespread, but highly variable, farmers soon discovered.
Shonda Hahn, of Johnson County, and her neighbor, Jeret Jiras, were amazed at how different the damage was in one field compared to the next, or even in the same field. "We have fields side by side, some were flattened and some look untouched," said Hahn.
Jiras said he expects to lose about 280-acres of once-promising corn. The entire harvest is going to be slow and arduous because fields were mangled by the storm, he said. Seldom-used equipment, like corn reels, will be needed to pick up the battered stalks. "We owned a corn reel for more than 15 years and we haven't used it since we bought it," said Jiras. "I guess it's time."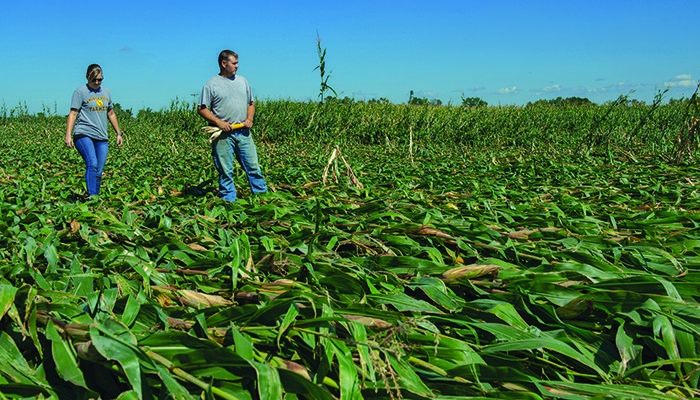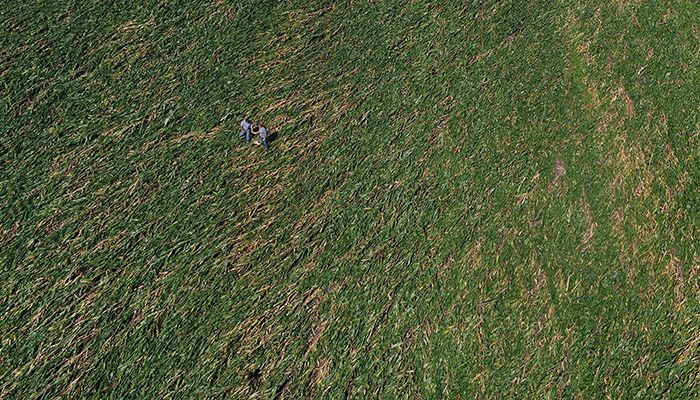 (Pictured above: Farmers Shonda Hahn and Jeret Jiras survey their crop damage in Johnson County.)
It wasn't only crops damaged by the derecho. The Iowa Department of Agriculture and Land Stewardship estimates that more than 57 million bushels of commercial grain storage was seriously damaged or destroyed, which will cost more than $300 million to replace or repair. Tens of millions of bushels of on-farm storage were also lost during the storm.
Nate Hofmann's bins in southern Jones County—100,000 bushels of storage in all—were completely destroyed. Like a lot of bins around Iowa, Hofmann's bins were empty and ready for the 2020 harvest. That allowed the high winds to rip them apart like aluminum pop cans.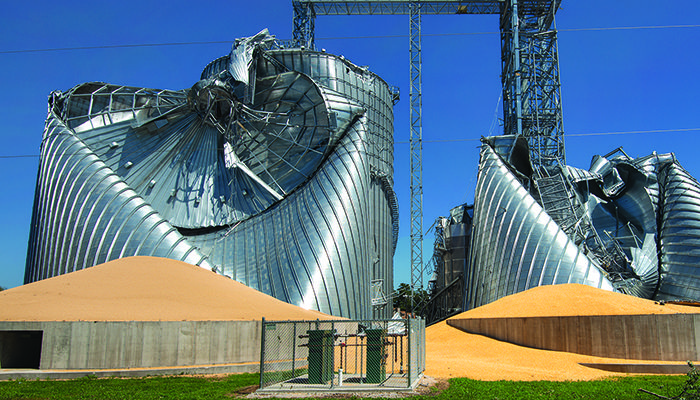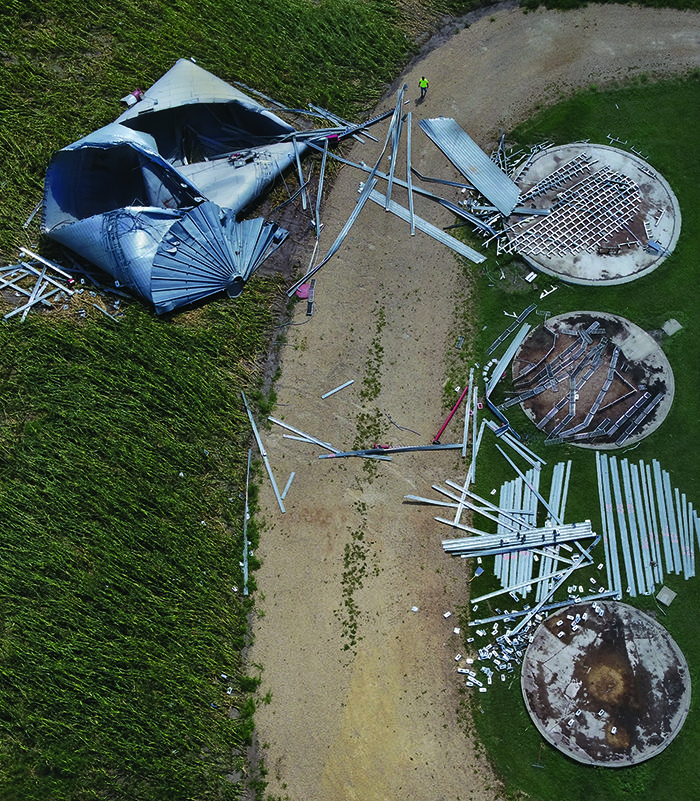 It's been a tough year for Iowa farmers. Even before the derecho, farmers dealt with low prices, the effects of the pandemic and drought conditions. But farmers aren't giving up. Not even close. The farmers I visited with and photographed are doing what needs to be done, preparing for harvest and remaining optimistic.
In fact, many were also helping others. Clearing downed trees, checking on neighbors and grilling up burgers and chops to provide hot meals for first responders and utility workers.
It clearly takes more than a 120-mile-an-hour windstorm to knock the wind out of Iowa agriculture.
By Gary Fandel. Gary is a writer/photographer for the Iowa Farm Bureau.
Want more news on this topic? Farm Bureau members may subscribe for a free email news service, featuring the farm and rural topics that interest them most!