Rural areas face shortage of large-animal veterinarians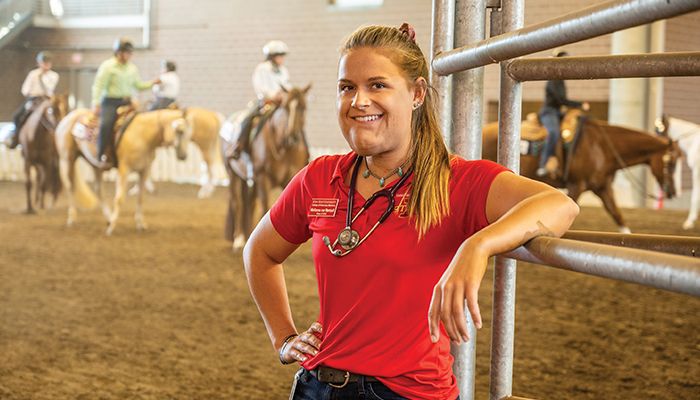 McKenna von Rentzell was 10 years old when she realized how much she truly loved caring for animals.

"We had a calf get necropsied on our farm … I was very intrigued with this and was following the veterinarian the entire time," von Rentzell recalled. "It was one of the many things I experienced that made me realize I wanted to help care for animals for the rest of my life and veterinary medicine was my future."

Growing up on an Earlham farm, her family raised cattle, chickens and horses and cared for their dogs and cats. They farmed about 70 acres of row crops, and McKenna showed dogs and horses in FFA and 4-H in Madison County and at the Iowa State Fair from fourth grade through her senior year of high school.

"I helped my grandpa and mom with their small cow-calf operation and also breeding and raising Golden Retriever puppies," she said. "I was fascinated about their health and well-being and general veterinary care."

Von Rentzell knew early on where her career path would take her, which is a blessing in these times of veterinarian shortages in rural Iowa and, more specifically, within large animal livestock specialties.  

Now a fourth-year veterinary medicine student at Iowa State University (ISU), she's an advocate for those who may want to follow her career path.


Large animal speciality shortage
While the state's veterinarian numbers remain steady, Iowa is experiencing large animal specialty shortages similar to other states.

"There is a huge need for large animal veterinarians right now, especially in Iowa," said von Rentzell. "My class size is about 150 students, and only a select few will stick around here and do mixed or large animal medicine."

Dr. Randy Wheeler, executive director of the Iowa Veterinary Medical Association (VMA), said according to 2019 statistics from the U.S. Department of Agriculture (USDA), 44 states are seeing veterinarian shortages and the deficit is only worsening.

"Many of (the shortages) are in rural areas, and this issue may be increasing," Wheeler said. "Emergency clinics are also seeing a shortage of staff, both veterinarians and veterinary technicians."

Dr. Dan Grooms, The Stephen G. Juelsgaard Dean of Veterinary Medicine at ISU, said it's definitely a challenge facing states nationwide. While ISU is doing its part in graduating roughly 160 new veterinarians annually, and other schools are doing the same, it's still not enough.

Of those graduates, roughly 75% will begin their career in a private clinical practice. Of those that enter clinical practice, about 30% will work in a food or mixed animal practice.

"The reality of the situation right now is there's a shortage of veterinarians across the profession," Grooms said. "There are multiple things going on here."


Why the shortage?
A combination of factors has created the present situation, said Grooms. Besides clinical animal practices, students have a multitude of career options that include working for a corporation or in regulatory arenas, or specializing, for example, as a cardiologist or surgeon.

"There are increasing non-clinical opportunities for veterinarians," Grooms said.

A veterinarian's knowledge of animal health care, training and communication skills is proving valuable to companies, government and even academia.

"Every college of veterinary medicine is struggling to hire the veterinarians necessary to train that next generation," Grooms said.

The public also is asking much more from veterinarians, not only on the farm but in the care offered to their pets, which means more demand for veterinarians to care for companion animals.

Many new veterinarians specialize in companion animal care, which offers higher salaries and better hours and working conditions, said Wheeler.

"Mixed and food animal practices often require more physical involvement, after-hours/night emergencies, and tend to have more labor-intensive work involving groups of animals in a herd or flock," Wheeler said.

Instead of working 60 to 80 hours per week with nights and weekends on call, most new veterinarians are opting for careers in companion animal care that require fewer hours and are located in more populated areas, offering more entertainment and social activities, not to mention employment opportunities for their partner.

"That makes it more difficult for rural areas of Iowa, Michigan, South Dakota or Kansas to compete for the top talent," Grooms said.


Future of animal care
Wheeler sees a need for more awareness and better education of young people in the lifestyle and opportunities available in animal agriculture and veterinary medicine.

Tackling student debt through loan repayment programs and increasing university class sizes are some options.

The Rural Iowa Veterinary Loan Repayment Program, established in 2020, helps students repay their loans while committing to work in an underserved region following graduation. Support for the legislation was led by the Iowa VMA, Iowa State and several industry partners including the Iowa Farm Bureau.

Grooms said until the industry can produce more veterinarians to meet the needs of all circumstances, or discover other ways to deliver health care, the veterinarian shortage may continue.

He sees the future of rural animal health care delivery looking much different.

"We're not going to have a veterinary practice in every community like we have had historically," he said.

There could be larger practices with multiple veterinarians covering a greater region, offering practitioners mentorship and work/life balance.

He sees haul-in practices growing in number, allowing farmers to bring an animal to the veterinarian rather than a doctor traveling from farm to farm, which saves time.

Telemedicine solutions also are gaining traction. A veterinarian can examine a sick calf from off-site — checking heart rate, respiration or evaluating the animal for other clinical signs  — using a smartphone.

Veterinary technicians, under a veterinarian's guidance, may be available to provide care by administering vaccines or offering general check-ups.

"Farmers are going to have to be able to adapt to the new way that health care is delivered," said Grooms. "I see that as the future of health care in rural areas."


Staying home
Having prospective veterinarians stay in Iowa would be fantastic, said Wheeler. With the outstanding educational facilities and education at Iowa State University and a diverse animal-base statewide, students can have a challenging and satisfying career taking care of the state's animal health care needs.

"Iowa is a great animal agriculture state, which affords countless opportunities for veterinarians," Wheeler said. "We are number one in swine production and eggs and in the top 10 in the nation in most other livestock statistics.

"We have culture and background, which is conducive to a wonderful personal and family life," he said.

For von Rentzell, setting up shop in a rural area sounds perfect. She'll graduate in May 2023 and hopes to remain in rural central Iowa.

"I plan to work on small, large and equine," she said. "I am partial to horses, just from growing up showing and working with them."

She loves the diversity of the job — no two days are the same. The lifestyle of a rural veterinarian is special, she said, with the variety of animals to care for and being a multi-species doctor.

The satisfaction of helping people with their animals, or seeing the expression on a kid's face with their show animal at the county fair, makes the job memorable.

"Knowing you help contribute to make their project a success is rewarding," she said.

She recently concluded a rotation at the Iowa State Fair, where she helped check in and care for the animals, collected samples for drug testing, assisted with health certificates and treated emergencies. She enjoyed interacting with 4-H and FFA exhibitors.

"I remember what it feels like to be in their shoes, and the excitement of showing at the Iowa State Fair compares to nothing else," von Rentzell said.

Want more news on this topic? Farm Bureau members may subscribe for a free email news service, featuring the farm and rural topics that interest them most!