Northey heads to Washington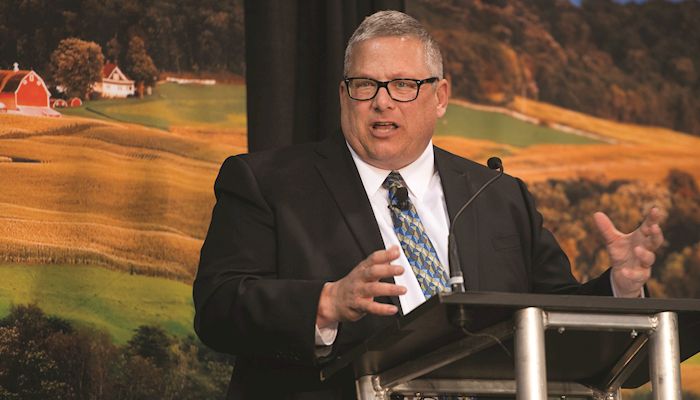 Calling it "the job of a lifetime," former Iowa Agriculture Secretary Bill Northey last week said goodbye to his staff and recounted the accomplishments and challenges of the Iowa Department of Agriculture and Land Stewardship (IDALS) during his 11 years in the state's top agricultural position.
"This is a job that I have loved every day," said Northey, who was sworn in by U.S. Agriculture Secretary Sonny Perdue as the undersecretary for Farm and Foreign Agricultural Services in the U.S. Department of Agriculture (USDA). "Some days have not been easy, but I got to work for the great agriculture we have here in Iowa and work with great people," Northey said at his final press conference at the Wallace Building near the Iowa State Capitol in Des Moines.
"Serving in this role has deepened and expanded my passion for our state's unmatched agriculture industry," Northey said. "This certainly includes the farmers that do an amazing job of producing the food and fuel the world needs while protecting our environment, but also includes the vast ag industry in our state."
Water quality progress
The former Iowa ag secretary highlighted his department's work helping farmers take on the challenge of improving water quality through the Iowa Nutrient Reduction Strategy.
"I'm excited about the significant progress we have made in just a few short years," Northey said. "We are seeing thousands of farmers trying cover crops. We have gone from just a few tens of thousands of acres ten years ago to over 700,000 acres last year."
He also noted that there are 56 water quality demonstration projects across the state to help show farmers how to implement water quality practices. In addition, more than 200 partner organizations will provide $30.6 million to go with the $19 million in state funding going to these projects.
IDALS, Northey said, has partnered with the Iowa Department of Natural Resources and Iowa State University in efforts to improve water quality. He also thanked the Iowa Legislature for its work to provide additional funding to the department to support farmers' water quality efforts.
"There is still a tremendous amount of work to be done, but I truly believe we are on the right path. Through collaboration and partnerships, we will continue to make water quality improvements," Northey said.
Battling the bird flu
The greatest challenge for IDALS during Northey's tenure was the avian influenza outbreak in 2015. Considered the largest animal health emergency in U.S. history, it was centered in Iowa.
"It was hard to see the devastating impact this disease had on our farms and the farmers who have spent their life caring for these animals," Northey said. "However, the resiliency of our farmers is inspiring, and it has been encouraging to see their passion as they have worked to recover from the outbreak."
Northey thanked the IDALS employees and others who stepped up to respond to the avian influenza emergency. He also highlighted the support from the USDA and other partners in the response and recovery process.
"Since the outbreak, Iowa's livestock farmers have also stepped forward and invested millions of dollars in biosecurity on their farms to better protect their animals," Northey said.
The 11 years of Northey's tenure as Iowa ag secretary were also marked by dramatic fluctuations in the farm economy. At the same time, Northey noted, the productivity of Iowa's farmers continues to rise. "The work to continue to build and grow markets for the products we produce remains critically important," Northey said. That demand, he said, will continue to come primarily from livestock, renewable fuels and exports.
The best part of the ag secretary job is meeting people and representing Iowa agriculture around the country and around the world, Northey said.
"As I have had the opportunity to work with so many partners and friends on these issues and many others, I have had the opportunity to see upclose the kindness, goodness, passion, hard work and humility that is the hallmark of Iowans," he said. "Our rich soils and favorable weather (most of the time) are obviously important, but I have learned, over and over again, that it is the people that make our state and its agriculture truly special."
Want more news on this topic? Farm Bureau members may subscribe for a free email news service, featuring the farm and rural topics that interest them most!