Members stress the need for state support for water quality efforts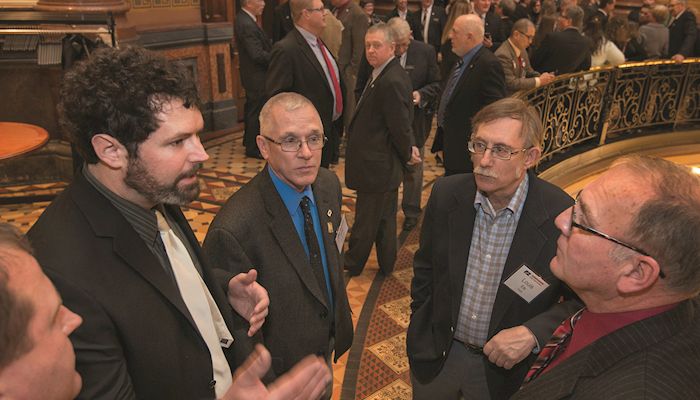 Farm Bureau leaders traveled to the Iowa Capitol in Des Moines last week to meet with lawmakers and stressed the importance of adequate and sustainable state funding to support conservation programs as farmers take on the challenge of improving water quality through the science-based Iowa Water Quality Initiative.
"We really think it's important to keep visiting with our representatives about the importance of the state's role in supporting water quality," said John Moritz, a Davis County Farm Bureau member. "We are making investments in water quality and soil conservation on our farms, and we need to know that we can count on the state's support."
It's also important to stress that farmers value water quality and conservation even in the current periods of lower commodity prices and tight budgets, said John Sobotka of the Pocahontas County Farm Bureau. "We have made it a priority, and we need to make sure they keep it a priority as we go forward," he said.
Last week's legislative visit to the Capitol was part of Farm Bureau's annual Policy In­­formation Conference. Along with visiting the statehouse, members discussed issues for this year's grassroots policy development process and participated in the Iowa Farm Bureau Federation's Legacy Planning initiative.
In addition to highlighting to lawmakers the need for water quality funding, members urged lawmakers to adopt permanent coupling of Iowa taxes to section 179 of the federal code on asset expensing. They also stressed the need for a permanent solution to the state's formula to fund mental health services that protects property taxpayers and aligns costs to the state's population.
Conservation progress
As they met with legislators, Farm Bureau members explained conservation and water quality efforts they have done on their own farms, as well as what they are observing in their communities.
"We are definitely seeing more cover crops and other conservation practices in our area, and we want that to continue," said Dan Rickels, a Jones County Farm Bureau member. "There is just a lot more emphasis on water quality today."
Brad Cook, a Pocahontas County Farm Bureau member, said Iowa farmers are making soil conservation and water quality a priority and it's important that the state follow suit. "We want our representatives to make conservation funding a priority, and I think that most of them do," he said.
To bolster farmers' conservation efforts, Farm Bureau members urged lawmakers to provide adequate state money for conservation cost-share and funding for watershed projects through the state's Water Quality Initiative, officially called the Iowa Nutrient Reduction Strategy. It's critical that farmers know that they have adequate state support as they expand the use of scientifically proven conservation practices on their land, they said.
A current Senate bill, sponsored by Iowa Gov. Terry Bran­stad's office, would prioritize nearly $500 million in existing state funds over the next 13 years to create a long-term, sustainable funding source for water quality. The bill is nearly identical to a water quality funding bill that the Iowa House passed last year but was not considered by the Senate.
Permanent tax coupling
In last week's visit to the Capitol, Farm Bureau members also discussed the importance of making Section 179 asset expensing permanent. They noted that Iowa coupled with the federal measure in the 2015, but will not for the 2016 tax year, creating a lot of uncertainty at a time when the state's ag economy is suffering a downturn, they said.
"There is really enough uncertainty in farming already without having to deal with shifting tax policy," said Webster County Farm Bureau member Steve Peterson. "It's tough to know if you should make investments when you don't know what the tax rules are going to be going forward. And with the state and federal taxes uncoupled, you have to keep two sets of books."
Jay Gunderson of the Emmet County Farm Bureau stressed to his representatives that permanent Section 179 asset expensing in Iowa taxes would help businesses across the state, not just farmers. "It's really a big thing for all businesses as they make investments in equipment," he said.
Mental health funding
Members also urged lawmakers to protect rural property owners by keeping contributions from property taxes limited and controlled as they work to find a permanent solution to the state's mental health funding formula. Over the past several years, lawmakers have passed one-year extensions on the mental health care formula, capping property taxpayer contributions at $114.6 million statewide. But there have been moves in the Iowa Legislature to significantly increase the cap.
Farm Bureau members noted to lawmakers that the state's property owners will pay $5.3 billion in property taxes in the current budget year. That's double the $2.65 billion paid in 2000, and those increases need to be curtailed, they said.
"We just want to make sure they know that property taxes are really a big cost for us as farmers," said Butler County Farm Bureau member Kim Junker. "Property taxes are really affecting the success of our farms, especially with the downturn we've seen the past few years."
In addition to keeping a cap on spending, Farm Bureau members urged lawmakers to find a solution that aligns mental health costs to the population. Currently, Iowans living in incorporated areas are paying $27 per capita collected from property taxes to fund mental health, while those in rural unincorporated areas are paying $73 per capita collected from property taxes.
Want more news on this topic? Farm Bureau members may subscribe for a free email news service, featuring the farm and rural topics that interest them most!