Meat production expected to rise in 2020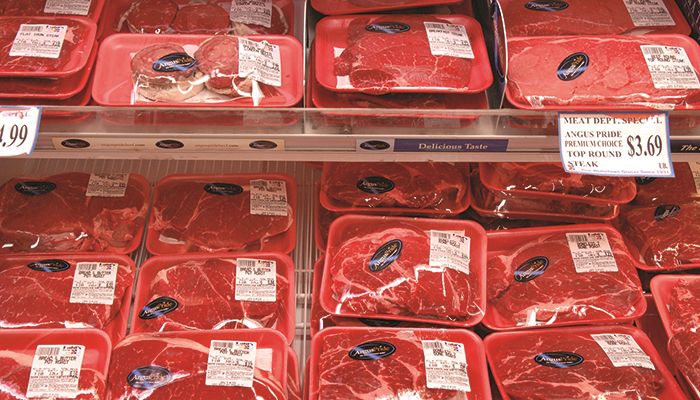 The forecast for 2019 total red meat and poultry production was raised from last month on the current pace of beef, pork and broiler production, according to the December World Agricultural Supply and Demand Estimates (WASDE).
For 2020, the total red meat forecast was increased from last month as higher broiler production more than offsets a lower beef production forecast. Recent hatchery data, lower feed costs and expected gains in exports will likely support a more rapid pace of expansion during the year.
Beef production was reduced on slightly slower pace of both fed and non-fed cattle slaughter in the first half of the year. The pork and turkey production forecasts are unchanged.
Corn and soybean supply and use outlooks for 2019-20 are unchanged from November estimates. The U.S. season-average soybean price for 2019-20 is forecast at $8.85 per bushel, down 15 cents. The projected season-average farm price for corn is unchanged at $3.85 per bushel.
USDA extends dairy margin program deadline
The U.S. Department of Agriculture (USDA) extended the deadline to Dec. 20 for producers to enroll in the Dairy Margin Coverage (DMC) program for the 2020, "due to the prolonged and extensive impacts of weather events this year." The original deadline was Dec. 13.
Additionally, USDA announced it will continue to accept applications for the Market Facilitation Program through Dec. 20.
The specter of USMCA passing the house also may have played into the extension, some speculate.
According to Purdue University Research Economist, Maksy Chepeliev, U.S. dairy exports could increase by more than $280 million or approximately 5% of total U.S. exports under the USMCA.
A boost in dairy sales could impact how producers fare within the DMC program.
Federal judge blocks Arkansas meat label law
A federal judge has blocked Arkansas from enforcing a meat labeling law designed to prohibit vegan or vegetarian products from being advertised with terms such as "burger" or "sausage," Agri-Pulse.com reported last week.
Food labeling on products sold by Tofurky, which sued the state in July, are not "inherently misleading," U.S. District Judge Kristine Baker said in her decision, issued Dec. 11.
After looking at seven Tofurky product labels, including "Slow Roasted Chick'n," "Original Sausage Kielbasa," "Hot Dogs," and "Vegetarian Ham Roast," the judge concluded consumers had ample information to determine the products were not made from animals. She said there was "no indication" any consumers were confused by Tofurky's labels and said Tofurky faced "irreparable harm" without an injunction stopping enforcement of the law.
Brazil's beef exports hit new record
Brazil is poised to break its own beef export record next year as it boosts trade ties with Asia, tries to enter the Japanese market for fresh beef and expands sales to Russia, Reuters reported last week.
Brazil's 2019 beef exports reached an estimated 1.828 million tonnes, up from the previous record of 1.643 million tonnes in 2018. Next year, volumes are projected to soar 13% to 2.067 million tonnes. The estimated value of Brazil's 2019 beef exports was $7.449 billion whereas next year it could reach $8.568 billion.
Want more news on this topic? Farm Bureau members may subscribe for a free email news service, featuring the farm and rural topics that interest them most!