Local meat with a story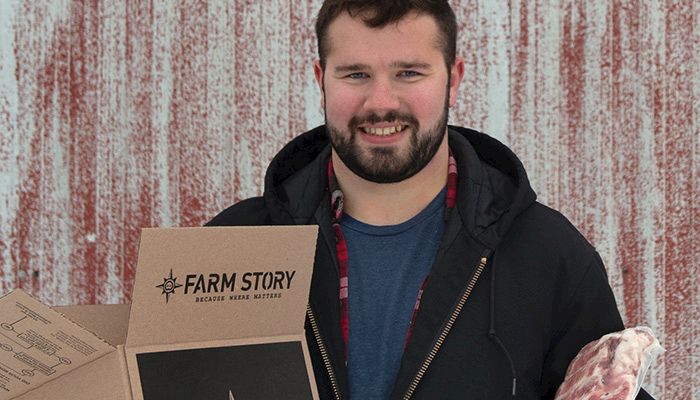 Every pork chop tells a story. That's Ray Schmidt's premise.
At Farm Story Meats in Ames, Schmidt distributes meat from a few select producers directly to consumers. He believes every farmer has a story to tell.
Orders are placed online and shipped across Iowa and to 30 states. They are hand-deliver­ed to customers in Ames and Ankeny.
"Farmers have a good story to tell," says Schmidt. "And the meat helps them tell it."
Others agree. Schmidt and Farm Story Meats placed third in Farm Bureau's 2021 Grow Your Future Award contest.
Schmidt hand-selects the producers for Farm Story Meats. He studies their operations. He visits the farm. His criteria revolve around animal stewardship and sustainability.
"I'm all about transparency," says Schmidt. "People want to know where their food comes from. I want to tell them. It's like our motto says, 'Because Where Matters.'"
Pasture-raised chickens and turkeys come from the Vandenbroeks at Up a Creek Farm near Hubbard. Beef comes from Trevor and Bailey Smith of Marengo, and the Schultz Farm near Lake View will supply Angus beef as of March.
CHESTER WHITE PIGS
Farm Story Meats is the sole source for certified Chester White pork, a heritage breed known for its meat quality.
Ray's father, Randy Schmidt, has worked since the 1960s to perfect the breed. Certification requires meeting rigorous quality standards of color and texture, as well as genetic proof that at least one parent is purebred Chester White.
The hogs are raised on the Schmidts' farm near Williamsburg.
Ray Schmidt began his venture in 2018, but he's been preparing for it most of his life. As a teen, he worked with his dad to perfect pork genetics.
He saw there is a strong demand for local meat as customers would drive from as far away as Denver or St. Louis twice a year for half a hog.
At Iowa State University, he studied business management, marketing and graphic design. By the time he finished his education, he was connecting dots.
Technology enabled direct sales, making the selection and purchase process easy for consumers. The digital age also brought opportunities for mass marketing — and a way to effectively tell the story. COVID brought a need for contactless food delivery.
SHORTENING SUPPLY CHAIN
"Our goal at Farm Story Meats is to bring the customer and the product together through easy-to-use e-commerce and to keep the supply chain as short as possible so the producer receives the best financial outcome," adds Schmidt.
He pays his producers a premium for their product, and he navigates the system of food processors that often doesn't cater to smaller operations. "We're too big for the local locker and too small for the big lockers," he says.
Once USDA inspected, meat is kept frozen until delivery. Shipped orders are packed in dry ice with environmentally friendly packaging. Hand-delivered orders arrive in insulated totes.
Meat is primarily sold in bundles that offer a variety of traditional cuts and specialty meats.
A STARTER BUNDLE
A starter bundle includes pork chops, bacon and brats in a variety of flavors, specialty meats, ground products and a bonus cut. "Ray's Faves" includes Iowa chops, sugar bacon, applewood bacon, cheddar brats, BBQ beef jerky and ground pork. There are whole chickens and turkeys, hot Italian sausages and cured pork belly. A subscription makes delivery of a customer's choice of cuts automatic every four weeks.
Schmidt says Iowa chops are one of the most popular items on the list, along with premium items like St. Louis ribs, pork loin roasts and holiday hams. House specialties are the jerky and meat sticks, along with ground meats and sausages.
Schmidt is hoping for stable, steady growth in the years to come. He wants to become more efficient with economies of scale and is looking for ways to make his product more affordable for low-income households.
SCOUTING FOR SUPPLIERS
He is always scouting for new farmers to join the network.
Schmidt treasurers his ISU roots and is a die-hard Cyclone fan, making it natural to tap that market through podcast advertising.
"I appreciate all the support we've had already. Being part of the Grow Your Future Award contest is very humbling," says Schmidt. "Where matters. People want to know the farm behind what they eat, and they want transparency in the farm to fork journey. We give them that along with a great meat eating experience."
Queck-Matzie is a freelance writer from Greenfield.
Want more news on this topic? Farm Bureau members may subscribe for a free email news service, featuring the farm and rural topics that interest them most!