Iowans admire innovation and grit of South African farmers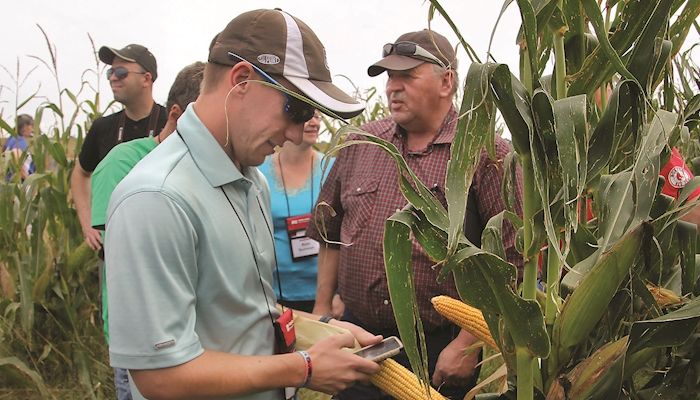 Iowa Farm Bureau members developed a strong appreciation for the resourcefulness, innovation and overall grit of South Africa's farmers after a recent 12-day tour of that country's farms and cultural sites.
Farmers in South Africa, the Iowans said last week, face a number of daunting problems. They are struggling through a severe drought that has slashed crop yields in much of the country. They also face a weak currency that increases input costs. Operating loans are almost non-existent and South African farmers have no access to crop insurance or other safety net tools that American farmers rely on.
"It really struck me how creative they have to be to survive," said Joan Maxwell, a Scott County Farm Bureau member who was one of 24 members and Iowa Farm Bureau Federation (IFBF) staff that traveled to South Africa. "They are adapting to some very difficult conditions and are still working to make a go of it."
A good example of that adaptability, Maxwell said, is the growing number of South African farmers who have converted some of their land to game farms. These preserves attract tourists from all over the world to view elephants, rhinos and other wild animals, and sometimes hunt them.
"That really shows how they are adapting to the drought and difficult economy and using the resources they have," Maxwell said.
Adair County Farm Bureau member Brian Jones was also impressed by the resourcefulness of South African farmers. "They just have to be very adaptable to survive there," he said. "It's not like you can just call the co-op to apply fertilizer or spray a pesticide when you need it, like we can here in Iowa. They have to figure out a way to buy it, pick it up, store it and apply it."
Adam Gibson, a Story County Farm Bureau member, was struck by the fact that farmers in South Africa operate with no crop insurance or other safety net programs, as well as difficulties that farmers there have obtaining financing. "They really have to finance everything out of their own operations and have to have deep pockets to cover a disaster, like the drought," he said.
During the 2016 IFBF market study tour, Iowans crisscrossed South Africa to meet with local farmers, learn about their operations and view cultural sites. They started in Pretoria on March 15 and worked their way southwest to Cape Town. Earlier market study tours have explored agriculture in the Black Sea region, China and Brazil.
Familiar aspects
While South African farms face different challenges, the Iowa Farm Bureau members found many familiar aspects during the study tour, said Dave Miller, IFBF director of research and commodity services.
"The commercial agriculture there is significantly advanced. Some of the farms we visited in South Africa were using precision farming and GPS guidance like farms here in the Iowa," said Miller, who led the market study trip. "Many of them are running big John Deere tractors and combines that were likely built in Waterloo or Moline, Illinois."
Like the United States, South Africa allows farmers to plant biotech or GMO crops, such as glyphosate-resistant corn and soybeans, Miller said. But their government's approval rate is slow and that is creating some problems with trade as South Africa is needing to import significant quantities of white maize this year and most U.S. white maize varieties have not yet been approved, he said.
Because of an enduring drought, South Africa will be forced to import both white and yellow corn this year, Miller said. The country uses yellow corn for livestock feed and white corn for human food. In most years, South Africa harvests a surplus of white corn and exports it to neighboring countries.
Jones said he was impressed with the sophistication of the cattle operations the group visited in South Africa. The animal care, genetics and record-keeping is on par with top cattle farms in the United States, he said. "I think they really stress management and record keeping because their margins are so narrow," Jones said.
Direct marketing
A visit to a South African pig farm stood out for Maxwell. To tap into a premium market, the farmer raises free-range pigs and markets them directly to a local supermarket chain, she noted.
"I was really impressed because he was able to set the prices he needs for the pigs he sold," Maxwell said. "It showed he was very assertive to get a premium price for his hogs."
South African farms are often more diversified than those in Iowa, in part to hedge against the risk of severe crop loss, Miller said. Farmers also use less financing because of high interest rates and the clear risk of losing an entire crop, he said. "So many farms have to finance everything from internal growth and with little reliance on outside capital," he said.
An over-arching issue in South African agriculture is land reform, Miller said. Since 1994, with the end of the country's Apartheid system, South Africa has worked on programs to provide land to small-holder farmers, he said. "The government did not meet its goal of having 25 percent of the land transferred to majority black citizens by 2015, but it's still working on it," Miller said.
Emerging farms
The Iowa group visited one emerging farmer working to make a go of cattle raising in a pilot program operated by a large agribusiness company. "This man didn't have a farm background, so he's learning on the go and the company is offering advice and guidance to him, similar to being a private extension service for him," Miller said.
Still, Miller noted, the failure rate for the small, start-up farms remains very high.
South African farmers, like their American counterparts, are often forced to deal with government regulations and laws that make little sense in the real world, Miller said. For example, one proposal would cap landownership at a level that would be so low that ranching in the semi-arid areas would be nearly impossible, he said.
"I think there's a lesson there for those of us in U.S. agriculture when we are dealing with a population that is so far removed from the farm," Miller said. "These laws and regulations are being made for emotional reasons, instead of science. So, like here in the United States, farmers there need to understand and address consumers' and politicians' emotional concerns."
Story County's Gibson highlighted another similarity of the Iowa farmers and their South African counterparts. Even though they farm on different continents and face different challenges, it was clear farmers from Iowa and South Africa are really pursuing the same goals, he said.
"We are all trying to raise crops sustainably for a growing world population," Gibson said. "So we had a lot in common and a lot to talk about in our visits."
Want more news on this topic? Farm Bureau members may subscribe for a free email news service, featuring the farm and rural topics that interest them most!