Iowa Farm Bureau scholarship winners represent next generation of agriculture leaders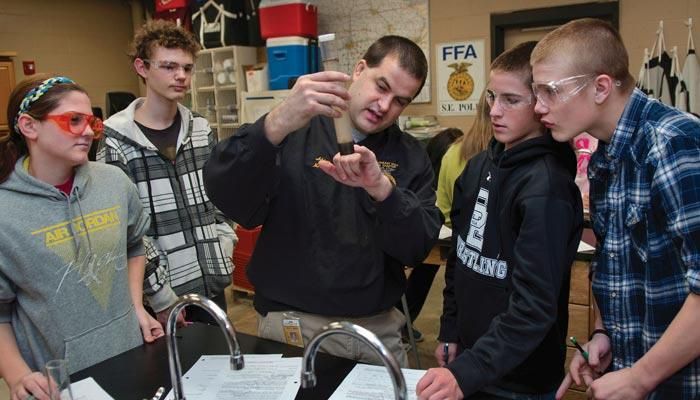 Iowa Farm Bureau Awards More Than $190,000 to Current and Future College Students
Agriculture is an industry that tackles challenges like increased productivity to meet the demands of a growing population, while also protecting the natural environment through innovation. To push Iowa agriculture forward will require fresh ideas and minds, and to foster that education, Iowa Farm Bureau Federation (IFBF) has awarded 27 emerging young leaders with a $2,500 scholarship to support their agricultural education at their chosen university or college.
"We know farming today is about more than putting a seed in the ground. It's about research, technology and environmental improvement, and we need young people to keep this progress moving forward," says IFBF Community Resources Manager Ronnette Vondrak. "We're proud to be able to offer the next generation of agriculturalists these scholarships, which are renewable for four years, up to $10,000, as they proceed throughout their college experience."
In addition to this year's 27 new IFBF scholarship recipients and 126 renewals, two memorial scholarships were also awarded.
Emma Palm of Wapello County received the Daniel Johnson Memorial Scholarship. This one-time $500 award honors Johnson, a former Iowa Farm Bureau director, farmer, volunteer firefighter and school board president, and is reserved for a student from one of eleven counties in southeast Iowa representing IFBF's District 7: Keokuk, Washington, Louisa, Muscatine, Wapello, Jefferson, Henry, Des Moines, Davis, Van Buren and Lee.
Wyatt Brinegar of Wapello County was named the recipient of the Edward W. and Isabelle M. Klodt Memorial Scholarship, a one-time $500 award for a Wapello County student pursuing a degree in agriculture. The Klodts were community leaders who believed in the value of leadership, hard work and higher education. As progressive farmers and conservationists, they were focused on the future and improving their farm and community.
Three graduating high school students from each of IFBF's nine districts were selected to receive a first-time Farm Bureau scholarship to put toward a two- or four-year degree at an accredited higher education institution, including community colleges and technical schools. Eligibility is based on Farm Bureau membership, academic achievement, financial need, community and extracurricular involvement and letters of recommendation. Applicants were asked to write an essay on the contributions they expect to make to agriculture and their rural communities through their studies. These recipients are eligible to renew the scholarships for up to four years by being a student in good standing and maintaining a minimum grade point average of 2.5.
Editor's Note: First-time scholarship winners (listed alphabetically by hometown), parent names and future or current college are listed below.

IOWA FARM BUREAU FEDERATION FIRST-TIME SCHOLARSHIP WINNERS
Ackworth, Jared Overmann, Marty & Kathy Overmann, Iowa State University
Batavia, Simeon Buie, James Buie, Kansas State University
Bennett, Keith Urmie, William & Patricia Urmie, Iowa State University
Bondurant, Rachel Currant, David & Kelly Currant, Iowa State University or University of Iowa
Charles City, Evan Bjelica, Tom & Roxann Bjelica, Iowa State University
Charter Oak, Dawson Gress, Aaron & Deb Gress, Northwest Missouri State University
Davenport, Aden Mess, Rick Mess & Tammy Wells, Iowa State University
Eagle Grove, Shea Whaley, Bryan & Allison Whaley, Iowa State University
Emmetsburg, Lex Kassel, Craig & Debbie Kassel, Iowa State University
Estherville, Kendyl Ruschy, Neal & Bobbi Jo Ruschy, Northwestern College
Greenfield, Jennifer Holliday, Doug & Jodie Holliday, Iowa State University
Guthrie Center, Rylee Sloss, Darin & Carrie Sloss, Iowa State University
Hawkeye, Molly Niewoehner, Brad & Gina Niewoehner, Iowa State University
Imogene, Samuel Martin, Tom & Sarah Martin, Iowa State University
Knoxville, Reilly Finarty, Mike & Liz Finarty, University of Missouri
Lenox, Chelsey Hoakison, Vincent & Jaime Brown, Iowa State University
Marcus, Kristina Goth, Jeff & Ann Goth, Iowa State University
Marion, Stacia Drey, Steffanie & Daniel Drey, Iowa State University
Marshalltown, Delaney Nichols, Brad & Marci Nichols, Iowa State University
Mason City, Olivia Brcka, Kent & Holly Brcka, Iowa State University
Mt. Sterling, Kayla Livesay, Rod & Sheila Livesay, Culver-Stockton College
Nevada, Aubrey Gibson, Adam & Michelle Gibson, Central College
Osceola, Nelson Fry, Nelson & Heather Fry, Central College
Pisgah, Brylee Sherer, Jason & Jami Sherer, Midland University
Washington, Roy Carter, John & Kim Carter, Iowa State University
Waukon, Madalyn Palmer, Eric & Stephanie Palmer, Iowa State University
Waverly, Myah Swanson, Kerry & Kendra Swanson, Iowa State University
Want more news on this topic? Farm Bureau members may subscribe for a free email news service, featuring the farm and rural topics that interest them most!