Iowa Farm Bureau names three young farmer "Grow Your Future" award winners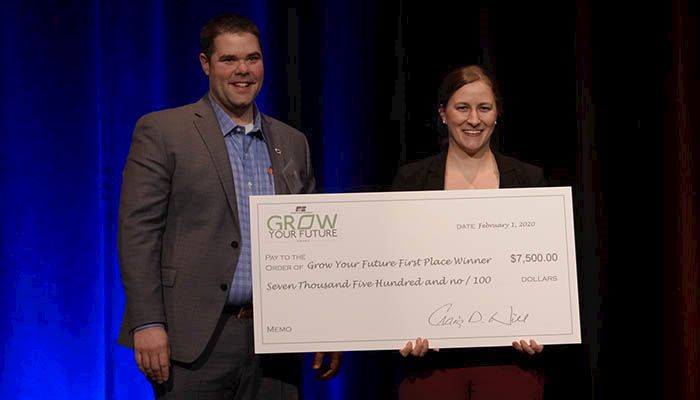 Have you ever thought about powering up with crickets for a protein boost, browsing Airbnb to find a way to sleep next to cows or buying beef directly from an Iowa family farm? Winners of the Iowa Farm Bureau Federation (IFBF) Grow Your Future Award—Gym-N-Eat Crickets, New Day Dairy Guest Barn Bed and Breakfast and McGreal Family Farm— hope through their businesses, people will do exactly that.
At this year's IFBF Young Farmer Conference, Jan. 31-Feb. 1, more than 500 young Iowa farmers, ages 35 and under, joined in fellowship to learn more about farm business management and ways to add value to their bottomline. During the lunch hour, six farmers participated in a Grow Your Future pitch-off to vie for cash prizes. The top three winners include:
Gym-N-Eat Crickets, a Story County business owned by Shelby Smith, took home the top prize of $7,500. Smith raises her own crickets to make dried cricket powder, energy bars and a variety of roasted cricket flavors from dill pickle to fiesta. Crickets are high in protein by volume, low in fat and high in iron while being grown using very little resources. Smith's customers have used crickets as salad and pizza toppings, in baked goods and more.
New Day Dairy Guest Barn Bed & Breakfast in Butler County was awarded second place with a $5,000 cash prize. Owner Lynn Bolin and her family added three private bedrooms with a shared kitchen and living space to their barn where guests can have a 24/7 view of 150 dairy cows. Guests can get a closeup look of the latest technology that ensures animal health and comfort.
McGreal Family Farm was awarded a $2,500 third-place cash prize. Lara Mangialardi, along with her partner Jake McGreal, run this Clayton County Farm where they specialize in raising 100 percent grass-fed beef, vegetables, herbs, maple syrup and fruit preserves. They sell direct to customers from their farm and through farmers markets and even offer a customizable 'beef box' which offers a month's supply of roasts, ground beef, steaks and beef sticks.
The Grow Your Future Award launched in the summer of 2019. Iowa Farm Bureau's members ages 35 and under were encouraged to submit an application with a short video to showcase their ag business. Six finalists were narrowed down through public voting and went on to the final 'pitch' round at the Young Farmer Conference.
"Young farmers continue to find opportunities to add value to their farms or seek out non-traditional avenues in agriculture. You often hear 'fortune favors the bold,' and although it can be risky to take on something new, many are finding success in it," says Ben Hollingshead, IFBF Young Farmer Advisory Committee chair. "Having Iowa Farm Bureau as a resource for business planning and mentoring is a tremendous value for young farmers, and for entrepreneurs to be able to showcase their big ideas through the Grow Your Future award not only helps those businesses but provides inspiration to many other young farmers looking to add more value to their farm."
Want more news on this topic? Farm Bureau members may subscribe for a free email news service, featuring the farm and rural topics that interest them most!