Iowa Farm Bureau celebrates 'Real Farmers, Real Food, Real Meat' at 2019 Iowa State Fair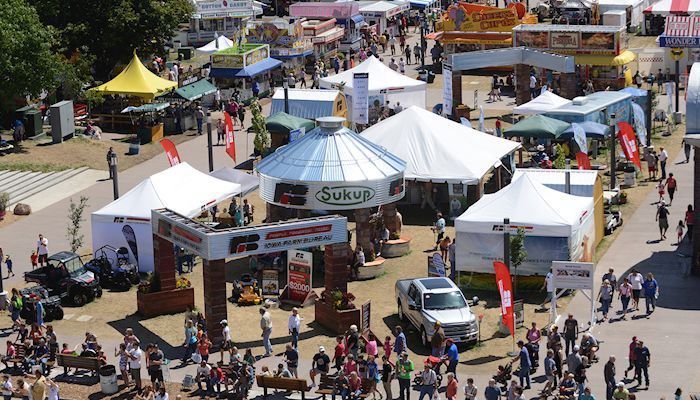 Farm Bureau Park to Feature Farmers, Educational Games and Prizes Valued at Nearly $5,000
The 2019 Iowa State Fair brings crowds from far and wide who seek entertainment, education and food, and they'll be able to find all three again this year at Farm Bureau Park on the Grand Concourse. Iowa Farm Bureau Federation (IFBF), the state's largest grassroots farm organization, has plenty of activities going on throughout the State Fair, Aug 8-18, designed to help fairgoers learn more about the many ways their food is grown today.
"Iowa Farm Bureau believes in the innovation of agriculture, and we're proud to showcase the hard-working men and women who grow our food, renewable fuel and fiber," says IFBF President Craig Hill. "Our ability to overcome obstacles is all part of what puts Iowa agriculture on the map. Our livestock farmers are the envy of the world, and we certainly know Iowans like what our farmers produce. According to our Iowa Farm Bureau Food and Farm Index®, more than 9 in 10 (95 percent) Iowa grocery shoppers say their households eat meat at least weekly. More than 8 in 10 eat beef (88 percent), chicken (84 percent), and eggs (83 percent) at least weekly, 6 in 10 (60 percent) eat pork at least weekly, and more than half of Iowa households consume milk daily. This demand shaped our theme this year in Farm Bureau Park: 'Real Farmers, Real Food, Real Meat.' We plan to celebrate our many hard-working farmers who put food on our family table, and we know fairgoers will enjoy what we have on the menu."
Free, family-friendly games with prizes will help visitors to Farm Bureau Park learn more about farming. Dozens of Iowa farmers will also be on hand to meet guests and help them learn more about how their food is grown and raised. This year, IFBF members should stop by Farm Bureau Park to claim their free membership gift. Members can also enter a drawing to win a Traeger Timberline Wood Pellet Grill and a Fareway meat package—a value of more than $2,500. Iowans who sign up to become a new Farm Bureau member can register to win a Yeti Haul cooler and a Fareway meat package. All visitors can also register to win $500 in free groceries by taking the Member Benefit Challenge.
Farm Bureau Day at the State Fair is Aug. 13 and the day includes many activities, including the kickoff of the 56th annual Farm Bureau Cookout Contest on the Grand Concourse. The contest, which runs between 9 a.m.-noon, features the county Farm Bureau Cookout Contest contestants who come to the State Fair to vie for cash prizes and the title of Cookout Champion. Celebrity judges for this year's contest include 'Mr. State Fair' WHO-TV13 Chief Meteorologist Ed Wilson, KCCI-TV8 morning anchor and host of the popular "This Is Iowa" segments Eric Hanson and Fareway grocery store's CEO Reynolds Cramer.
Several invited partners have important health screening and educational opportunities for fairgoers. Highlights include the giveaway of 1,000 free bike helmets on August 12, sponsored by 'On with Life.' New this year, Unity Point Health and the Iowa Clinic Trauma Services set a goal to train 10,000 fair visitors to help save a life during trauma. Their important campaign, called 'Stop the Bleed,' will be featured on six days of the fair: August 9, 10, 13, 15, 16 and 17. For a complete listing of events and activities going on this year at Farm Bureau Park, visit www.iowafarmbureau.com.
Want more news on this topic? Farm Bureau members may subscribe for a free email news service, featuring the farm and rural topics that interest them most!