Iowa Farm Bureau awards $230,000 in college scholarships for Iowa students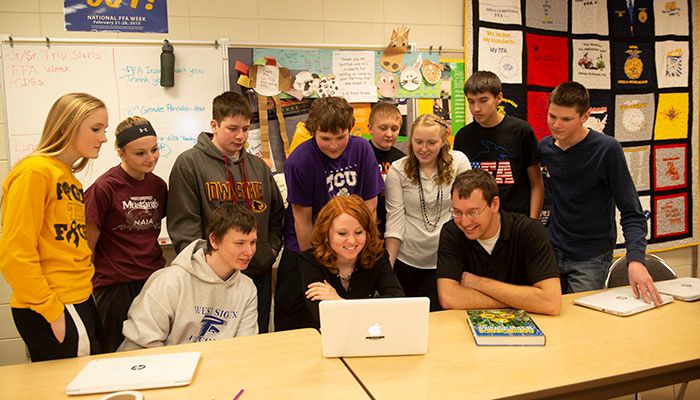 Farm Bureau announces 116 current and future college students as scholarship recipients
To support students seeking opportunities in the agricultural industry, the Iowa Farm Bureau Federation (IFBF) has awarded scholarships to 116 students continuing their educational pursuits following high school. 
"Iowa agriculture is a dynamic industry with countless opportunities. IFBF is honored to support students pursuing an education in agriculture or in one that will play a significant role in advancing Iowa's farms and rural communities," said IFBF Community Resources Manager Ronnette Vondrak.  "One in five jobs in Iowa is tied to agriculture, and innovation continues to bring about exciting new opportunities and career paths for the next generation.  Iowa agriculture leads the nation in production, research and innovation, and Iowa Farm Bureau is proud to support these students with a quarter of a million dollars in scholarships for the next school year as they pursue their goals and dreams." 
Twenty-seven scholarships were awarded to first-time recipients who are planning to obtain a two- or four-year degree at an accredited higher education institution. This includes community colleges and technical schools. Eligibility is based on Farm Bureau membership, academic achievement, financial need, community and extracurricular involvement and letters of recommendation. Additionally, students prepared an essay outlining their commitment to rural Iowa.
Scholarships are renewable up to four years for students who maintain a minimum grade point average of 2.5 and are in good standing with the organization.  IFBF approved 88 scholarships for renewal in 2023.  
In addition, Tinley McLain of Milton received the Daniel Johnson Memorial Scholarship, a one-time $500 scholarship award for a student residing in southeast Iowa. Johnson is a former Iowa Farm Bureau director, farmer, volunteer firefighter and school board president. 
Editor's Note: First-time scholarship winners (listed alphabetically by hometown), parent names and future or current college are listed below.
IOWA FARM BUREAU FEDERATION FIRST-TIME SCHOLARSHIP WINNERS
Argyle, Everlee Harvey, Leonard & Tonya Harvey, Iowa State University
Bancroft, Maggie Vaske, Greg & Annette Vaske, Buena Vista University
Boone, Karli Herrstrom, Jason & Lori Herrstrom, Iowa State University
Cedar Rapids, Lindsey Hospodarsky, Leon & Heather Hospodarsky, Iowa State University
Centerville, Lauren Long, Jenny & Jeremy Long, Simpson College
Cherokee, Allie Bouchard, Maria & Cory Bouchard, Texas A&M University
Clermont, Alexis Steffens, Aric & Wendy Steffens, Iowa State University
Corning, Anjali Kathikar, Jackie Kathikar & Jamy Zinke, Iowa State University
Creston, Keegan Bailey, Kelsey & Larry Bailey, Iowa State University
Decorah, Morgan Moen, Ronald & Kathleen Moen, Iowa State University
Doon, Kadence Boender, Mark & Katie Boender, Iowa State University
Earlville, Tessa Tauke, Mark Tauke, Iowa State University
Farmington, Nehemiah Westercamp, Steven & Christine Westercamp, Iowa State University
Fonda, Braden Wells, Gary & Jennifer Wells, Iowa State University
Greene, Alexis Brinkman, Kurt & Elizabeth Brinkman, Iowa State University
Kensett, Jadyn Beland, Jeff & Steph Beland, Iowa State University
Mapleton, Katie Brenner, Matt & Corey Brenner, Iowa State University
Marengo, Kaitlyn Ballard, Martin & Melissa Ballard, Northwest Missouri State University
Millerton, Claire Carpenter, Dan & Ashley Carpenter, Iowa State University
Murray, Jayda Chew, Sherri & Monty Chew, Southwestern Community College
New Providence, Nathan Miller, Terry & Nancy Miller, Iowa State University
Okoboji, Caleb Frostestad, David & Emily Frostestad, Iowa State University
Persia, Revin Bruck, Melanie Bruck, South Dakota State University
Red Oak, Lainey DeVries, Dave & Tammy DeVries, Iowa State University
Sperry, Jack Myers, Chad & Joni Myers, Iowa State University
Stanhope, Amanda Ostrem, Marilyn & Jared Ostrem, DMACC then Iowa State University
Vinton, Annabelle Newton, Chad & Kim Newton, Iowa State University
Want more news on this topic? Farm Bureau members may subscribe for a free email news service, featuring the farm and rural topics that interest them most!