Iowa Farm Bureau and Fareway's "Fill Your Freezer" contest shows real meat tops the family dinner table in Iowa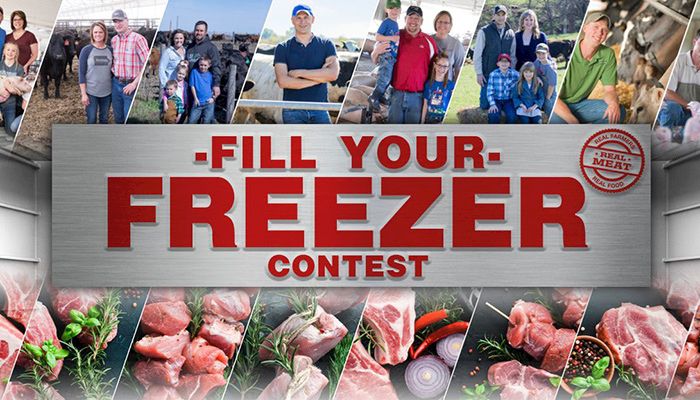 Despite many options at the grocery store, meat is still the center of many Iowa meals, as more than 33,000 Iowans entered the Iowa Farm Bureau and Fareway's "Fill Your Freezer" contest for a chance to win $200 of free meat. The month-long contest was part of Iowa Farm Bureau Federation's (IFBF) Real Farmers. Real Food. Real Meat. initiative, which showcases the nutritional benefits of meat and the innovation of Iowa livestock farmers who raise it.
The 2019 Iowa Farm Bureau Food and Farm Index® shows 96 percent of Iowa grocery shoppers eat meat at least weekly and 97 percent consume cheese or dairy products at least once a week.
"Like many livestock farmers across the state, our family's number one concern is the care of our animals to help ensure the safest product possible for consumers. The enthusiasm for this contest is a nod to the quality, taste and great value of Iowa-grown meat. We're grateful for this partnership with Fareway and the connections we can make with consumers who come together to enjoy the nutritional benefits of animal protein with their families," says IFBF President Craig Hill.
"We are proud to continue our unmatched legacy of providing the best quality meat for our customers and we stand behind the hard-working men and women-the farmers who provide that protein," said Fareway President and CEO Reynolds W. Cramer. "We will continue to work hard and partner with local farmers to give Iowans the chance to fill their freezers with quality meats from Fareway."
Experts agree that animal-based protein stands above the rest as the best option for health and weight maintenance, since it is a natural source of Vitamin B12, which dietitians say is crucial to maintain brain and nervous system function.
Store contest winners listed below:
Adel--Gerald Cruz
Algona--Debra Murphy
Altoona--Pam Dearden
Ames--Susan Niehoff
Ames--Terry Hubby
Ames--Christopher Grosz
Anamosa--Dan Jeffrey
Ankeny--Holly Peters
Ankeny--Pat Olson
Atlantic--Bonnie Knutsen
Belmond--Etter Watne
Bettendorf--Cheri Oliver
Boone--Ida Williams
Burlington--Mark Watterson
Carlisle--Ron Tate
Carroll--Patricia Louis
Cedar Falls--Craig Williamson
Cedar Falls--Kimberly Spier
Cedar Rapids--Elizabeth Bascom
Cedar Rapids--Kathy Wiebold
Centerville--Ed Phillips
Charles City--Byron Lessin
Cherokee--Trudy Schaefer
Clarinda--Anne Sunderman
Clear Lake--Mark Wellik
Clinton--Kathy Casperson
Clive--Lewis Meusburger
Council Bluffs--Mike Brown
Cresco--Matt Rickard
Creston--Deb Lynch
Davenport--Elizabeth Peckenschneider
Decorah--Betty Wagner
Denison--Darla Lloyd
Des Moines--Vivian Srark
Des Moines--Cindy Claussen
Des Moines--Linda Hauser
Dubuque--Carol Krohmer
Dyersville--Dane Wilwert
Eagle Grove--Joyce Jeanblanc
Eldora--Robin Goodlick
Emmetsburg--Melissa Hall
Estherville--Krista Masters
Evansdale--Troy Lindholm
Fort Dodge--Shelly Block
Fort Madison--Kristi Keller
Greenfield--Sharlene Elwood
Grimes--Fran Bears
Grinnell--Candy Albertson
Hampton--Tally Fink
Harlan--Roxanne Petersen
Hiawatha--Mark Dierks
Humboldt--Luke Erpelding
Huxley--Nancy Stensland Cross
Independence--Connie Werling
Indianola--Rande Seuferer
Iowa City--Geoff Burch
Iowa City--Bill Mishler
Iowa Falls--Jason Kelly
Jefferson--Charles Cleveland
Johnston--Patti Rouse
Knoxville--Genni Eaglin
Le Mars--Paul Dalton
Manchester--Anna King
Maquoketa--Jim Sprague
Marion--Jan Mercer
Marshalltown-- Sue Sumpter
Mason City--Tonya Hermann
Monticello--Chris Sasina
Muscatine--Nancy Mathias
Nevada--Scott Hutzell
New Hampton--Chandra Quigley
Newton--Barbara Works
North Liberty--Steve Meyerholz
Norwalk--Patrick Fergus
Oelwein--Julie Bachman
Orange City--Beverly Schreur
Osceola--Patty Garner
Oskaloosa--Lorretta Beghtol
Ottumwa--Mary Fountain
Pella--Robin Pfalzgraf
Peosta--William Maus
Perry--Traci Lillie
Pleasant Hill--Ryan Maakestad
Polk City--Noelle Gibbons
Red Oak--Paul Olson
Sergeant Bluff--Carol Groves
Sheldon--Michael Hanlon
Shenandoah--Deborah Marshall
Sioux Center--Rob Haan
Sioux City--Steve Ebsen
Sioux City--Kris Schonrock
Sioux City--Pearl Freemont
Spencer--Wayne Williams
Spirit Lake--Diane Pinkerton
Storm Lake--Bob Wells
Tiffin--Deanne Schwarting
Toledo--Janelle Murty
Urbandale--Mike Sobieski
Vinton--David Thompson
Washington--Lisa Fowler
Waterloo--Trent Gerdes
Waukee--Henry Hyda
Waukon--Chad Hackett
Waverly--Ashley Corson
Webster City--Paris McNelly
West Des Moines--Marty Thompson
Winterset--Jeanie Burgher
Want more news on this topic? Farm Bureau members may subscribe for a free email news service, featuring the farm and rural topics that interest them most!