IFBF young farmer tour explores agriculture in St. Louis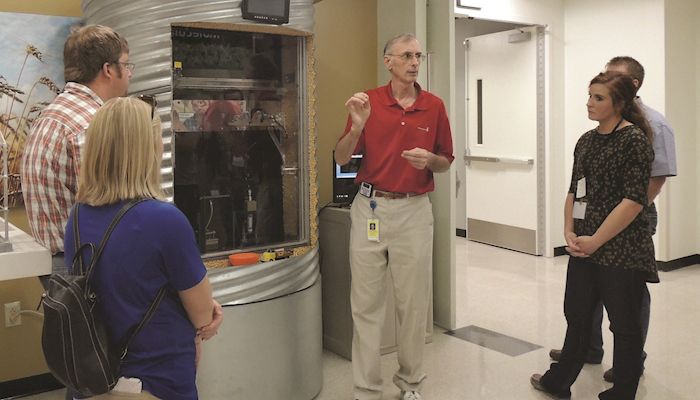 Iowa Farm Bureau members on the young farmer ag insights tour recently got an up-close look at research efforts taking place in Missouri as well as the importance of barge travel in the United States.
Farm Bureau members from across the state toured the Miss­issippi River Melvin Price Locks and Dams and the National Great Rivers Museum in Alton, Illinois, then traveled to Missouri where they toured the Donald Danforth Plant Science Center, Monsanto's Chesterfield Village Research Center and the Purina Animal Nutrition Center.
About 70 percent of the business done through the Melvin Price Locks and Dam is done within about 3.5 months, when grain is transported by barge, according to Andy Schimpf, St. Louis District navigation manager for the U.S. Army Corps of Engineers. Each year, more than 75 million tons of goods, valued at more than $23 billion, move through the locks.
"The most surprising aspect of the tour was the immense amount of barge traffic that travels through our locks and dams each year," said Andrew Lauver, a Calhoun County Farm Bureau member. "It is clear that without future investment in our lock and dam system, we will lack proper avenues to transport our ever-increasing supply of grain from across the state and nation, enhancing our market access," Lauver said.
Breeding innovations
Sam Bennett, an Ida County Farm Bureau member, said the trip provided an in-depth look at plant breeding techniques and technology, something he's very interested in.
Especially interesting, he said, was the research that the Danforth Plant Science Center was doing to help developing countries.
In one project, researchers are working to create a more hardy cassava plant, a crop important to farmers in Africa. The center is working on stacking traits to make the crop more nutritional and more resistant to viruses and diseases that are killing the crop there.
At Monsanto's Chesterfield Re­­search Village, the Iowa group got a behind-the-scenes look at research the company is doing on seed treatments and breeding. Guides showed the group scientific research projects such as how different lighting affects growth, how seed-chipping technology allows researchers at the company to analyze each seed and ways in which Monsanto is using 3D printing to make parts for its research efforts.
Bennett, a sixth-generation grain farmer near Galva, says seed technology has come a long way since his great-grandfather farmed the land.
"I know when my great-grandfather farmed it, it was probably 50-bushel-per-acre corn and now it is 250-bushel-per-acre corn. And I think a lot of that is through technology and plant breeding and obviously GMOs. So it's neat to see what the next step is in plant science and how we are going to get to the next level and feed a growing world population," Bennett said.
At the Purina Animal Nutrition Center, guides explained how animal nutrition trials are completed on their farms before their feed products are released for farmers to use on their farms.
The company's nutritionists and veterinarians have conducted more than 24,000 research studies in fields across the country and have registered more than 128 patents worldwide.
More than 1,100 acres are dedicated to nutritional research at the farm, located in Gray Summit, Missouri. The company recently opened an immunology lab and is researching alternatives to antibiotics. A fish research area has also recently been added to the farm.
Networking with peers
Farm Bureau members also had an evening to explore St. Louis, where some visited the top of the Gateway Arch at 630 feet.
But more than that, members said they enjoyed visiting with other farmers also taking the trip.
"I enjoyed the common bonds shared amongst young farmers on the trip, each of us possessing dreams and interests to improve and grow Iowa agriculture," said Lauver, a fifth-generation farmer near Lake City.
Aaron Hinnah, a Keokuk County Farm Bureau member, said sharing similar experiences and concerns about lower commodity prices and higher costs was reassuring. He works full time at William Penn University and works with his family on their corn, soybean and hog farm.
"It was interesting talking to other young farmers who are also trying to make farming work. When you are around farming and farmers, it kind of reignites any passion that might have been diminished by hard times," Hinnah said.
Want more news on this topic? Farm Bureau members may subscribe for a free email news service, featuring the farm and rural topics that interest them most!