IFBF 2017 annual meeting to celebrate achievements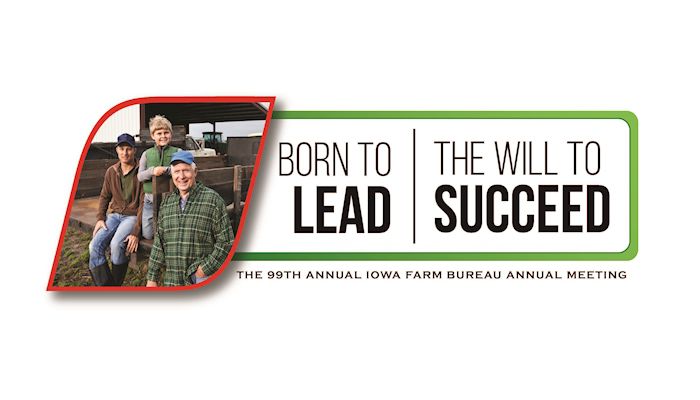 The Iowa Farm Bureau's (IFBF) 99th annual meeting, set for Dec. 5 and 6 in downtown Des Moines, will celebrate the achievements of county Farm Bureaus and the members of the grassroots organization.
The annual meeting will provide members information on a wide range of important topics, including conservation, connecting with consumers and the importance of entrepreneurship in rural Iowa. There will also be updates on the 2018 farm bill, the situation in health care and strategies to survive in today's ag markets.
Just prior to this year's IFBF annual meeting, for the first time, members are invited to participate in one of two pre-convention education tours on the afternoon of Dec. 4. The tours are set for Hawkeye Breeders in Adel and the Monsanto Learning Center in Huxley.
In addition, the 2017 IFBF annual meeting will close with a kickoff of the organization's centennial celebration, which will occur throughout the year in 2018.
"The program offers members a wide range of educational opportunities, and we're excited to offer the new pre-convention tours to Hawkeye Breeders and the Monsanto Learning Center," said Barb Lykins, IFBF director of community resources. "We'll take time to celebrate the accomplishments of our county Farm Bureaus, the achievements of young farmers and look forward to our exciting centennial celebration next year."
This year's annual meeting will again be held at the Community Choice Credit Union Convention Center in downtown Des Moines, formerly known as Veterans Auditorium.
The first session of educational seminars this year will discuss how farmers are taking on the challenge of improving Iowa's water quality by taking a watershed approach. Other sessions will look at connecting with consumers through social media and creating economic opportunities through rural entrepreneurship. The seminars will begin at 10 a.m. on Dec. 5 and will be repeated at 2:30 p.m.
Farm Bureau will celebrate its counties and their achievements during the Farm Bureau Successes luncheon at noon on Dec. 5. Membership toppers, outstanding county Farm Bureaus and the Leo Waggoner award winners will be recognized during the luncheon. In addition, more than 30 county Farm Bureaus will celebrate their 100th anniversaries at the luncheon.
The IFBF voting delegate session will begin Dec. 5 at 2:30 p.m.
A young farmer gala
Again this year, the young farmer events will be held during the first evening of the annual meeting. The evening gala event, which begins at 5:30 p.m. will celebrate the discussion meet winner, achievement award winners and the Young Farmer Leadership Award, which is in honor for former IFBF President Bob Joslin.
Entertainment by SIX, a musical group from Branson, Missouri, will round out the evening featuring young farmers. An ice cream social for all Iowa Farm Bureau members as well as district director candidate and vice president receptions will be held at 8:30 p.m.
On Dec. 6, caucuses for districts 2,7 and 9 director elections will be held prior to the beginning of the general session.
Former Navy Seal Commander Rorke Denver will provide a keynote address to members on the second day of the annual meeting. His keynote follows Iowa Farm Bureau President Craig Hill's address to membership and recognition of the distinguished service award recipients.
Another round of educational sessions is set to begin at 10:15 a.m. on Dec. 6 after the general session. Mary Kay Thatcher, an Iowa native who is American Farm Bureau's senior director of Congressional relations will discuss the 2018 farm bill, Steve Kammeyer of FBL Health Insurance Services will update members on health care issues and Chris Barron of Ag View Solutions will discuss management strategies in today's market. The three sessions will be repeated at 11:30 a.m.
Centennial kickoff
The kickoff to IFBF's Cen­tennial celebration will be held during a luncheon set for 12:30 p.m. on Dec. 6.
The voting delegate session is scheduled to reconvene at 1:30 p.m. and will wrap up this year's annual meeting events.
Members will soon receive more information about how to register for the meeting and hotel accommodations from their local county Farm Bureau office.
We can't wait to see you in early December!
Want more news on this topic? Farm Bureau members may subscribe for a free email news service, featuring the farm and rural topics that interest them most!