How FFA is training youth to understand "sustainability" in agriculture and rural Iowa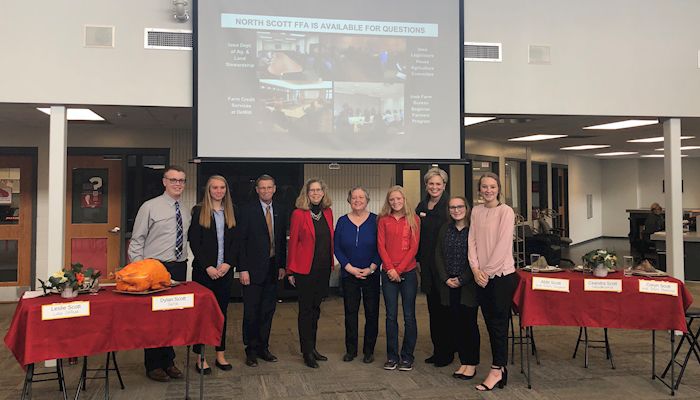 Through my work with Iowa Farm Bureau, I've been incredibly fortunate to be able to listen, and at times give feedback, to young Iowa FFA individuals and teams putting their agricultural knowledge and presentation skills to the test. I kind of geek out about it.
Seriously. Their perspectives… their ideas… their passion… I guarantee if you sat in on one of their conversations about agriculture sustainability, you too would be impressed.
For example, a couple weeks ago, an FFA team from the eastern part of the state came in to our office to practice a skit they would perform at their state competition. It was different than anything I had observed before. The scene: Thanksgiving dinner. The dilemma: Whether a college-aged daughter would take over the family dairy farm. The angles: a concerned father who worked in the mental health field, a supportive grandmother, an aunt who worked as an ISU ag professor with a focus in niche farming and another family member who was an ag loan officer.
I'm sure you can imagine how their "conversation" bounced back and forth between the various realities of farming: the current state of the dairy industry, the high cost of inputs against low commodity selling prices and heartbreaking mental health issues married with the opportunity to do something innovative and open up new markets along with the desire for their youngest family member to be happy and successful. There were as many "pros" as there were "cons." As someone whose husband is working to take over the family grain farm, it hit home for me. It was good for these young people to seek out real farmers and do the research to see all sides—not just for the sake of whether they want to get into farming in the future. They also got to hone in on valuable decision-making skills when making a substantial life choice.
Youth FFA teams at the recent State Envirothon completed challenges in forestry, wildlife, aquatics and soils, but also used their critical-thinking skills during the oral presentation portion of their competition. In this year's scenario, students were tasked to "advise" a local cattle farmer on how to make their farm more sustainable for the future with the goals of better fertilizer management while controlling soil loss and decreasing some costly inputs. I sat in on a presentation where five young women from a northwest Iowa school totally rocked it.
Not only did they consider practices like taking manure samples and soil samples to match up needed nutrients in more precise amounts to specific locations within a field, but they offered other water quality practices for their "client" to think about. One suggested a settling basin where manure can be stored, then adding cover crops, which keep soil and nutrients in place over the winter and can also be fed to cattle. But what I found most fascinating was the team's "holistic" approach to sustainability.
They look at the "big picture," which isn't just about the benefits the farmers would receive in yield, but how grassy strips on slopes and improved water quality could benefit wildlife, such as pheasants or fish, which in turn, boost the local recreational economy. They also embrace the importance of a farmer's profitability, so he or she has money to support local businesses and be active members of their community, bridging a connection between those who live on a farm and in town. It seems as though even at this young age, they understood "sustainable agriculture" is more than just what happens in the field.
When judges asked them questions at the conclusion of their proposal, they didn't have all the answers. But, at this point in their high school careers, it's more valuable to encourage them to become critical thinkers and future contributors to an agricultural industry where young people who possess individual skills and passions can find opportunities to succeed. After all, the FFA does say, "I believe in the promise of better days through better ways, even as the better things we now enjoy have come to us from the struggles of former years."
Youth are working harder and smarter even earlier in life to find their place in this industry that provides more beyond the farm gate. And I hope every single one of us—no matter where we live or what our occupation is—can find a way to support these young people in their journey and keep viable opportunities available to them.
That's worth "geeking" out over, right?
Want more news on this topic? Farm Bureau members may subscribe for a free email news service, featuring the farm and rural topics that interest them most!