Hill urges FB members to discuss conservation funding options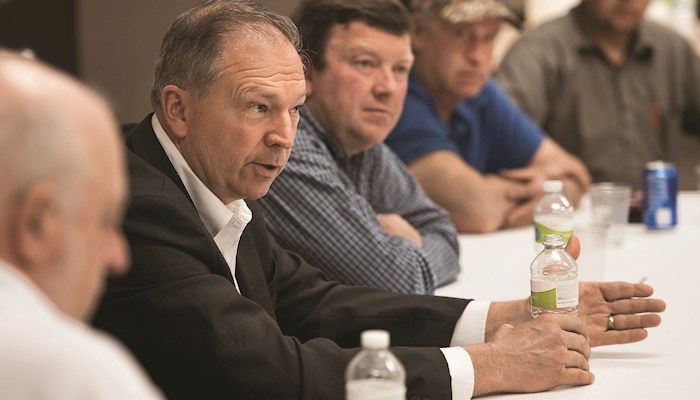 It's critical for Farm Bureau members to thoroughly discuss and develop potential funding solutions for Iowa's water quality and soil conservation issues during this year's policy development process, Craig Hill, Iowa Farm Bureau Federation (IFBF) president said last week.
"I think we have a moment in time to develop a committed and reliable funding source for water quality and it's up to all of us to work hard on that," Hill said last week during the policy development session held by the Poweshiek County Farm Bureau in Grinnell. "I really think we only have a few years to get this right."
Water quality and soil conservation funding is one of the primary issues this year in Farm Bureau's annual policy development process. Other key issues that have surfaced so far are the right to repair equipment, animal disease mitigation and nuisance lawsuits against livestock farms.
Farm Bureau members from across the state will discuss policy and develop resolutions over the next several months leading up to the annual Summer Policy Conference in September. At that session, to be held at the IFBF home office in West Des Moines, delegates from each county Farm Bureau will discuss and develop state and national policies for the Iowa Farm Bureau.
Push for mandatory rule
Hill said that finding a way to fund voluntary water quality and soil conservation programs, like Iowa's Nutrient Reduction Strategy, is essential because environmental activists and others are pushing for mandatory rules on agriculture.
An example of that, he said, is in the Chesapeake Bay area, where the Environmental Protection Agency has imposed mandatory rules that govern how farmers raise crops, as well as dictating which land can be farmed and where homes, roads and schools can be built.
"I don't want you to lose your voice on how you farm and care for your land," Hill said. "Our opponents are trying to take away your choices, and we don't want to let them do that."
Hill will be attending policy development meetings around the state over the next several months to discuss water quality and conservation funding, along with other issues.
Want more news on this topic? Farm Bureau members may subscribe for a free email news service, featuring the farm and rural topics that interest them most!