Hill: Grassroots focus helping Farm Bureau make a positive difference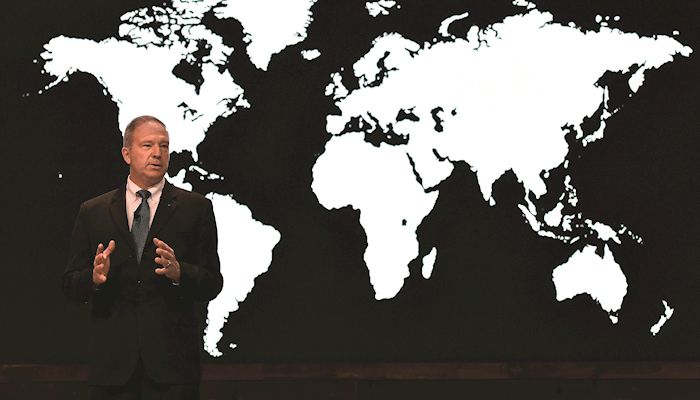 As it approaches its 100th anniversary, the Iowa Farm Bureau Federation (IFBF) continues to make a positive difference in the lives of farmers, rural residents and all Iowans because of its strong and enduring grassroots focus, said Craig Hill, IFBF president.
"A century ago, it was believed at the local level, that by coming together, Farm Bureau could make a difference. And we believe that to this day," Hill said last week at the 2016 IFBF annual meeting in Des Moines. "Our annual meeting theme this year — Believe, Lead and Achieve — is fitting. It really embodies what the Iowa Farm Bureau is all about."
Through hard work and dedication, the Iowa Farm Bureau has built a very strong position today. Membership is at a record level of 159,523 families; county Farm Bureaus from all over the state have launched a number of new initiatives to improve their communities; and statewide programs, such as Renew Rural Iowa and Take Root, are gaining strength in aiding farm families and rural communities, he said.
To build on 98 years of progress, IFBF this year launched a major, comprehensive legacy planning effort to chart a new vision to guide the organization into the future, Hill told Farm Bureau members and guests.
"A legacy planning committee of your peers has been named and is currently gathering input from a broad spectrum of people," Hill said.
The legacy planning effort, which is designed to set a strategic plan for both the near and long terms, comes at a time of great enthusiasm in the organization, the IFBF president emphasized. "It is not enough to have members, we want promoters: people who believe in our mission, people who believe in Farm Bureau and are willing to lead," Hill said.
That enthusiasm shows through strongly at the county level, where Farm Bureaus have been leading the way in conservation and water quality, in education efforts and in aiding those in need around the state, Hill said.
A prime example, Hill noted, is the Henry County Farm Bureau. It has organized a series of conservation field days to spread knowledge about cover crops and other practices to improve water quality and reduce soil loss. One of those field days, near Salem, drew more than 150 interested farmers.
Lee County's "Cram the Cab" event is another good example of a county Farm Bureau making a difference, Hill said. The event collected 4,000 pounds of food, in addition to funds for a local food bank, while helping to expand knowledge of today's farming practices.
County Farm Bureaus are also banding together to create a bigger impact in their communities, the IFBF president noted. He highlighted several counties in northwest Iowa — Cherokee, Ida, Plymouth, Sioux and Woodbury — that banded together to help students, and all local residents, learn more about today's farming. In two years the education program has reached nearly 30,000 students and adults to provide information on today's farming.
"I could go on and on, but it is the collective sum of all of your efforts that has yielded more activity than ever before in the counties, and that is what makes Farm Bureau unique," Hill told the annual meeting audience. "The key point is, just down the road from you, in every county of Iowa is a Farm Bureau promoter, a representative. And our activity level is growing."
The Iowa Farm Bureau's young farmer program continues to attract new energy into all 100 county Farm Bureaus and into the state organization, Hill said. Nearly 500 young farmers attended the 2016 state young farmers conference, and several of those young farmers are already taking on leadership roles in their counties, he said.
State initiatives are also making positive differences around the state, Hill said. The Renew Rural Iowa program, which is celebrating its 10th anniversary this year, has reinvested $125 million to bring jobs and new economic life to the state's rural communities, Hill said. The Take Root program continues to achieve success at sharing critical farm transition resources and, to date, it has served more than 3,000 members, he said.
In addition, IFBF's rural physician program has invested $225,000 to help medical residents pursue careers in rural communities, Hill said. "Of the 90 physicians awarded a scholarship so far, 68 are still practicing in a rural community," he said.
Farm Bureau has been successful at developing and enacting policy at the state and national level, Hill said. "Our efforts to assist political leaders in their election was unsurpassed this year with 77 of our 82 Friends of Agriculture designees being elected," he said.
Focus in the legislature
In the upcoming Iowa legislative session, Farm Bureau will aggressively seek long-term, dedicated funding to address critical needs in water quality and conservation, work to create equity in mental health funding and continue efforts to align state tax policies with federal rules, Hill said. At the national level, Iowa Farm Bureau will push farm bill policy objectives approved by IFBF voting delegates during the annual meeting, he said.
The success of Farm Bureau at the local and state levels does not happen by chance, Hill said. "It is purposeful, thoughtful and strategic," he said.
Those attributes will be vital going forward as farmers are called on to feed a growing world population while protecting the environment, Hill said.
"According to the Food and Agriculture Organization of the United Nations, if we want to avoid mass malnutrition, we are going to have to up our food production by 70 percent by 2050, and do it by growing more with less water, less land, less fossil fuel and less fertilizer," Hill said. "We as farmers believe in agriculture and are dedicated to leading in agriculture, and we are obligated to achieve in agriculture."
Want more news on this topic? Farm Bureau members may subscribe for a free email news service, featuring the farm and rural topics that interest them most!