Gaining a new perspective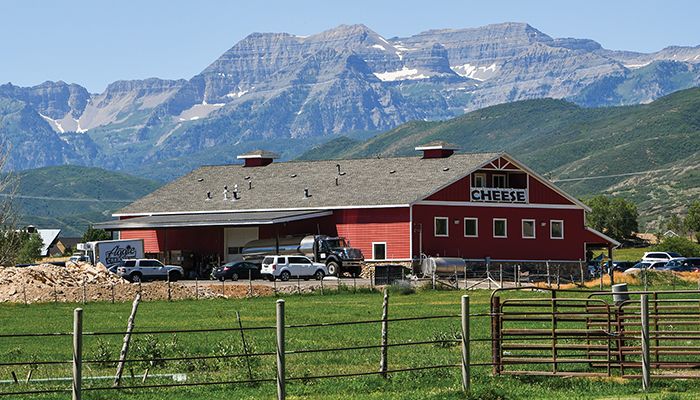 Here in Iowa, it's easy to take access to water for granted — only thinking about it when there is too much or too little falling on farm fields. But for many farmers, water, and more specifically the access to it, is basically all they think about.

Earlier this month, county Farm Bureau presidents and spouses from Iowa traveled to Utah to see firsthand how farmers operate in a region that gets less than 3 inches of rain on average each summer. The visit was part of the annual Iowa Farm Bureau County Presidents Incentive Trip, which included tours of several farms and agricultural-related attractions.

"The issues these folks have with water is almost unbelievable to me," said Erling Bilden, past president of the Clayton County Farm Bureau. "What they have to do just to get water distributed across this state, it's unbelievable."

On one tour, Farm Bureau members visited the Jordanelle Reservoir and Hydroelectric Dam, located east of Salt Lake City, which is part of a water capture and distribution system completed in the early 2000s.

"This trip has really made me think about how they have to control and capture all the water they get," Adams County Farm Bureau President Blake Anderson said. "We're blessed to have the rains come and water our crops for us."

Like much of western Iowa, Anderson's farm has seen drought conditions over the last few years. But, he noted, it's nothing like what they deal with annually in Utah and other western states.
"They use the [rain and snow melt] to its fullest and are really focused on sending it down river to where it's needed," he said.


Water systems
The Jordanelle Reservoir, which dams the Provo River, has a capacity of 320,300 acre-feet and provides water storage for Utah Lake, Strawberry Reservoir and for most of the water in 15 smaller reservoirs. It also provides power for the region through hydroelectric generation.
While many of the challenges to water use are different in Utah compared to Iowa, Anderson noted that a common denominator is water quality.
"How we impact the world's waters is something farmers are always considering," he noted. "That's a shared relationship. They have to be aware of how what they do affects their water, just like we do."
Value-added production
Urban growth is especially impactful in regions with limited area suitable for housing and basic amenities.
In Utah, farming and residential development are occurring in the same valleys between the peaks of the Rocky Mountains.
The Kohler family has raised dairy cows in Utah's Heber Valley for more than a century but in recent years has looked for ways to diversify the business just to stay afloat.
"Everybody wants to live in this valley. It's pretty here, and they have the ski slopes," noted Jasper County Farm Bureau President Doug Korte. "Meanwhile, (the Kohlers) are just trying to keep their business going without moving."
The family founded Heber Valley Artisan Cheese in 2011 and welcomes visitors to their 120-head dairy operation for tours and gatherings.
Technology use
They also transitioned to robotic milking in the last decade in response to consistent labor shortages and cost increases.
"You have to change with the times," Korte said. "Labor is a big deal. You just can't find help anymore, so you have to find other options."
Korte was impressed by the dairy's use of robotic milkers as a solution to this issue.
Erling Bilden was also im­pressed with the Kohler's operation.
"I always find the technology at dairies really interesting," he said.
"I used to dairy, and to think what they can accomplish now with so little help, it's amazing."
Last year, the farm saw more than 10,000 visitors, most paying between $8 to $15 per person for various activities and usually stopping by the cheese shop to grab something on the way home.
A different perspective
This was Linn County Farm Bureau President Nate Hofmann's second presidents' incentive trip; he visited Kentucky in 2021.
He said the trips are valuable on multiple levels. "It gives me the chance to meet a lot of the other county presidents, put faces to names and spend time with state leadership," he said.
On top of that, seeing how agriculture is accomplished in different parts of the country informs Hofmann's work here in Iowa.
"It's important to know what's happening out there in our nation," Hofmann said. "Our is­sues as farmers are more similar than different most of the time."
Bilden and his wife, Mary, agreed.
"This is a great chance, especially for smaller farmers, to get out to other parts of the country and see how others farm," Mary Bilden said of the trip.
"We probably would have never come out here if it wouldn't have been for the presidents' trip," Erling Bilden concluded.
Want more news on this topic? Farm Bureau members may subscribe for a free email news service, featuring the farm and rural topics that interest them most!