Future is bright for FFA students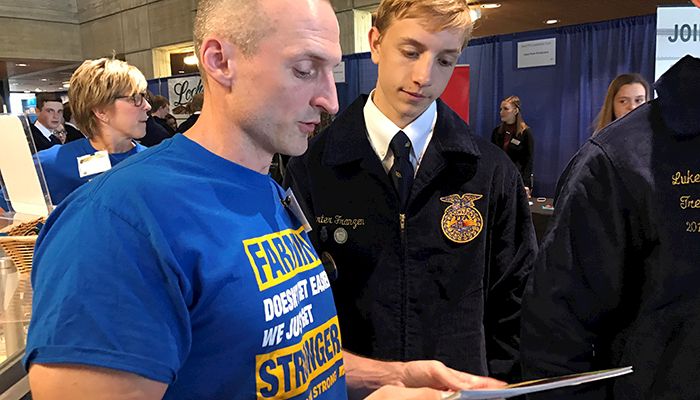 After graduating high school, I attended DMACC before transferring to Iowa State University. I thought it'd be an economical way to get those core requirements out of the way—especially for someone who didn't know what kind of career field they wanted to enter. Depending on what day you asked me, I wanted to be a psychologist, a general contractor, an archaeologist, a magazine columnist or something in the criminal justice arena (all steps up from my childhood dreams of becoming a marine biologist who did dance choreography on the side).
Working in the Iowa Farm Bureau booth at the 2017 Iowa FFA Leadership Conference, I met with young students who were not only Farm Strong but farm smart. Unlike me at that age, these young people know exactly where their passion lies, and that's within agriculture.
As I interacted with them, it was clear they have a thirst for knowledge. They wanted to know about wetlands and why farmers might restore them, how much nitrogen naturally occurs in Iowa's soil per acre, and why dog waste is an urban water quality issue. You could see the wheels turning as they recalled what they learned in class and how that compares to what's going on statewide.
I was blown away by one Waukee FFA student who was enthusiastic about entomology and aquaponics. She introduced me to another student whom she referred to as her "colleague," and they asked me for resources to help promote organic matter and earthworm activity on a test plot project. As I handed over the name of an ISU agronomist who could help, it occurred to me that the sky is the limit on what these pupils can accomplish with their incredible ideas and networking skills they're using to solve problems like dealing with undesirable soil conditions.
Agriculture provides many paths to be taken. Some may head back to the farm after graduation to carry on their family's legacy of growing crops and raising animals while caring for the land, while others may become veterinarians, geneticists, machinists, bankers—a whole gamut of jobs related to agriculture (one in every five jobs in Iowa, to be exact). Agriculture even took hold and found its way into the life of someone like me, who once dreamed of studying the migration pattern of Orca whales.
I'm proud to be working for a 99-county grassroots organization that can help these young leaders go from the drawing board to the board room and connect them to farmers, agri-business professionals and Farm Bureau employees looking to find ways to help them build upon this great agricultural state. We're happy to answer the call.
By Caitlyn Lamm. Caitlyn is Iowa Farm Bureau's public relations specialist.
Want more news on this topic? Farm Bureau members may subscribe for a free email news service, featuring the farm and rural topics that interest them most!