From first dates to hearty plates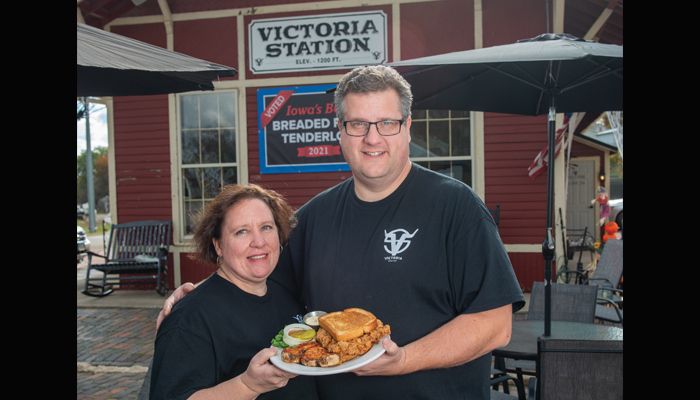 As a kid, Richard Buman dreamed of someday running a restaurant. 
"I always imagined it would be Italian," says Richard, even though that isn't his heritage. "It's probably because spaghetti and pizza were my favorite foods at the time."
He certainly never dreamed he and his wife, Angela, would one day be serving the top breaded tenderloin sandwich in Iowa, a state known for it's high-quality pork.
Victoria Station in Harlan was named the 2021 Best Breaded Pork Tenderloin winner by the Iowa Pork Producers Association. 
The rush of traffic and demand made for a challenge for the establishment that is primarily a steakhouse. 
"This is a whole different adventure," says Richard. The people started coming when Victoria Station was announced as a Top 5 finalist last fall. "Most people come here for a steak or seafood and a lingering dinner, not a quick sandwich."
Among their sandwiches, the tenderloin isn't even the top selling item. Most who go the sandwich route order the prime rib French dip, maybe a Rueben.
That's not to say the tenderloin isn't award worthy.
The Victoria Station's pork tenderloin sandwich is 8 ounces of tenderized and seasoned pork, breaded, fried and served with house-made garlic aioli. A Buffalo version is also available.
It's now selling to rave reviews in quantities previously unimagined.
"Prior to the award, we were selling around 20 per week," says Richard. "After the award announcement, we sold 1,200 In 10 days."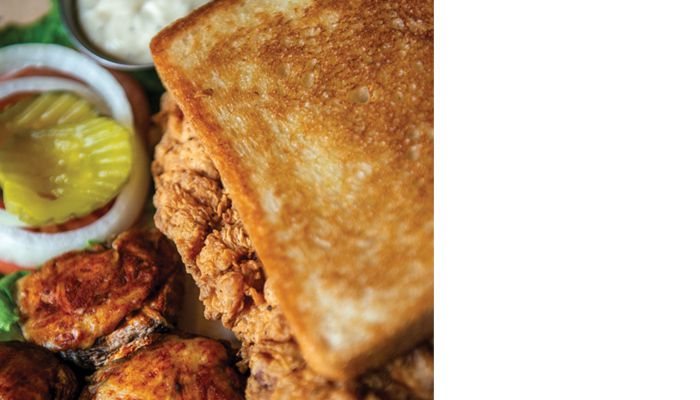 They've seen customers from across the state and beyond, some who make it an annual trip to try the state's best tenderloin.
What they find, along with a taste of quality Iowa pork, is a unique experience.
Building on the past
Victoria Station is filled with history.
The railroad came to Harlan in 1878 with the completion of a branch of the Rock Island Railroad from Avoca to Harlan.
The passenger depot known as Victoria Station was built by the Chicago Great Western Railway Company. 
Its career as an eatery began in the 1970s, and it has since served as the site of many gatherings of family and friends.
It's where Richard and Angela had their first date.
Richard was a senior at Harlan High School. Angela, a high school junior in California, was visiting relatives in nearby Westphalia.
Victoria Station performed its romantic magic. The life-long match was set.
They went on to build a life together. Angela made a career in the classroom. Richard spent time as a theater professional, then insurance sales. They have three kids.
Eventually, they both ended up working for Hy-Vee in what Richard describes as "just about every job from the check-out counter to the upstairs office."
The restaurant dream was always in the back of their minds. "But I didn't want to give up my evenings and weekends," says Richard.
Life changed in 2019, once again over dinner at Victoria Station. Conversation drifted to the owner wanting to retire and looking for a buyer. Richard and Angela joked maybe they should buy it and move home to Harlan.
It was a joke. At least, Richard thought so. 
"I didn't realize as I sat in the car, talking with my parents waiting to leave, that my wife was inside taking pictures."
They went home and talked. "We decided we were tired of working for others, and we weren't really doing much with those evenings and weekends anyway."
Building a future
The Bumans took possession in April 2020, fully aware of the history of the 130-year-old structure. Situated on the east edge of town surrounded by warehouses and auto shops, they thought briefly of moving the station to a more publicly visible spot, but decided it belonged where it was.
The same idea applies to upcoming needed kitchen renovations. "Our kitchen is very small," tells Angela. "But in planning its expansion, we need to be very conscious not to lose the historical qualities of the rest of the building. This is a local landmark, and we have an obligation to preserve that."
Bumans had the advantage of walking into a turn-key operation. "They owned it one day. We owned it the next. Business continued as usual," says Richard.
But it wasn't business as usual. It was in the midst of COVID, an element that worked to their advantage. "We were only doing take-out at the time," says Angela. "That meant we didn't have to deal with dining room management till later."
It also meant the Bumans' kids, now one in high school and two off to college, were available to help. And it meant they were able to pick up good, used equipment for the new kitchen from less fortunate establishments. "I still feel a bit guilty about that," says Richard.
Being able to tackle the business one step at a time meant they could focus on refining the menu that relies on traditional dishes customers have come to expect — with upgrades.
"We've tried to take things to the next level," says Angela. "It's fun trying to build on what's already here."
Salads use mixed greens; soups are made from scratch. The grilled cheese features three different cheeses. A burger can be either beef or pork, fresh ground and seasoned on site. Toppings include grilled peppers and thick-cut cherrywood bacon. 
Angus steaks and other meats are hand-cut. The roasted garlic encrusted prime rib is a popular Friday and Saturday night specialty.
Appetizers no longer come from the freezer. Jalapeño peppers are hand-stuffed with a cream cheese and dried beef mixture (also sold as a dip) before being broiled. A special Victoria Station creation uses the same filling in whole dill pickles that are breaded and deep-fried. Onion rings are hand-cut and hand-breaded, and so are banana pepper rings.
They try to use local products when possible, buying produce from the farmers' market and meat from a local producer. They serve Iowa-made Blue Bunny ice cream and Grandma Foster's BBQ Sauce (out of Omaha), along with Iowa wines and Templeton Rye whiskey.
Spirits also come from Lonely Oak Distillery in Earling and Mississippi River Distilling Co., run by two of Richard's high school mates from Harlan.
"We have to have a consistent product," says Richard, "and that sometimes confines what we can buy from local vendors, but we do what we can. We are, after all, from the part of the world that feeds the world."
Just 10 miles off of Interstate 80 and easily found via Google, the Bumans are determined to give every customer that comes in a reason to come back. They hope tenderloin eaters will have a bit of patience as the steakhouse adjusts to the increased sandwich traffic. Pick-up is available, and orders can be placed on the Victoria Station website.
"We're a steakhouse that has a great tenderloin," says Richard. Victoria Station is also a place to make great memories.
Queck-Matzie is a freelance writer from Greenfield.
Want more news on this topic? Farm Bureau members may subscribe for a free email news service, featuring the farm and rural topics that interest them most!