Fresh meat 24-7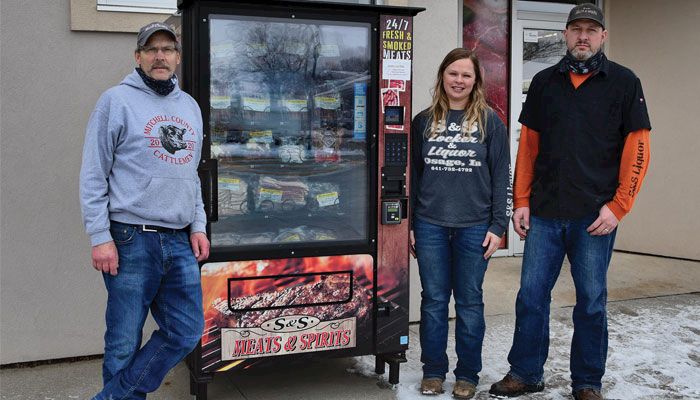 Customers in Osage found more in their vending machines than the usual pop and snacks recently when S & S Locker and Liquor introduced a custom meat vending machine in front of its store.
"Because of COVID, we started looking for different ways to serve our customers," said S & S co-owner Nathan Owen. "We really have to be willing to adapt everyday during this time, and the vending machine is one way we're getting product to folks."
The vending machine, which carries a rotating stock of their locker-made products such as beef sticks, bacon and cured pork, was introduced in November and is just one of the ways S & S has kept busy even while they couldn't always keep their doors open.
Early on in the pandemic, the locker shut down its storefront, in line with state health direction. Owen and co-owner Tom Smith stayed busy offering curbside pick-up of meat orders and custom butchering animals for their livestock clients.
Owen also put more emphasis on social media outreach, connecting with customers on Facebook to keep in touch even when he didn't see his regulars face-to-face.
More in-home meals
"One thing we saw through this pandemic was people learning more about eating at home," Owen said. "It's not just the younger generation either. I think there is a move toward buying from lockers that wasn't there before."
Another new option to generate sales at S & S are meat bundles curated by the locker's staff. The idea is to give customers, who may not have the finances or freezer space at home for a half or quarter of beef or pork, a larger selection of meat at a reduced per-pound price.
In addition to local sources of meat and custom butchering, beef products sold at the locker's counter and in the vending machine come from Upper Iowa Beef in Lime Springs.
The plant slaughters the animal and ships the carcass to S & S for processing. Pork is sourced from both local farms and Kenrich Foods.
A good way to market meat
The growing popularity of buying meat from a locker doesn't surprise Mitchell County Farm Bureau board member Rodney Koch. He has worked as a part-time butcher at S & S for the last decade, on top of managing a beef herd and row crops on his nearby farm.
"For me, this is a good way to market my product," he said of the local locker. "For others, they know they're getting good quality meat from a local source."
Koch is part of a tight knit team of 15 full and part-time staff, which also includes Owen's wife, Heather. They work hard to provide high quality protein to their rural community.
Owen's first high school job was at S & S, learning the trade and eventually becoming co-owner several years later.
"You've got to want to work if you get into butchering," Smith noted. He has been a co-owner since 1994 and watched Owen grow into the job, starting out on clean up duty to eventually moving up to breaking down meat.
They both noted that Osage, like a lot of other places, has been hard hit by the pandemic.
"I think the town is hanging in there," Owen said. "A lot of the businesses here got creative, and we're making it through."
Want more news on this topic? Farm Bureau members may subscribe for a free email news service, featuring the farm and rural topics that interest them most!