Fresh from the farm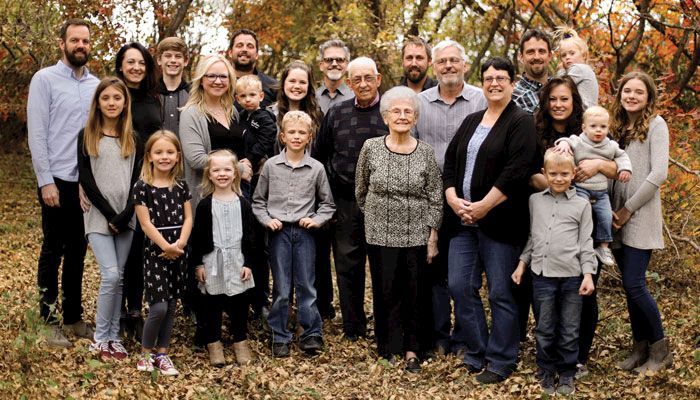 Northwest Iowa dairy farm opens an ice cream shop, featuring local favorite Twin Bing ice cream and more.
Stensland Family Farms near Larchwood, in northwest Iowa along the Big Sioux River, has survived for a century by meeting challenges head-on and adapting to change.
Last year, they dealt with floods. This year, it is the COVID-19 virus.
The operation includes milking 170 cows per day, farming 1,500 certified organic acres to feed the herd and producing enough milk, cheese and ice cream to supply a multitude of retail stores and eateries in South Dakota, Iowa and Minnesota, as well as their own establishments.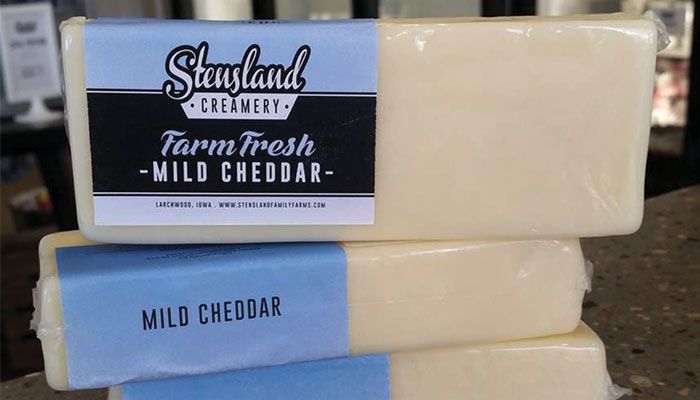 To keep customers safe during the COVID-19 crisis, the dairy offers curbside pick-up at their east and west Sioux Falls, South Dakota, establishments. Customers can pre-order and pre-pay online or by phone and have their purchases delivered or loaded into their car.
This is good, because no one wants to go without Stensland ice cream. What began as 13 flavors of ice cream now exceeds 50. The newest is Orange Creamsicle. Twin Bing, inspired by the candy crafted in Sioux City, is another customer favorite.
Stensland Family Farms is the very definition of family farm. Multiple generations of family members work together to manage a 360-cow dairy operation, a creamery and two retail locations. Patriarch Art, at age 90, is on hand nearly every day to make sure things are done right.
"There are four generations represented on the farm," says Mark Stensland, a Lyon County Farm Bureau member and manager of the Sioux Falls store. "We are your typical local, family-owned, farm-to-table operation."
The Stensland farm was founded by Grandpa Tobias in 1915, when milking cows was common. The dairy end of the farm continued until the farm crisis of the 1980s.
The dairy barn sat empty until Mark's twin nephews, Jason and Justin, were 16. They approached their dad, Doug (now farm manager), about getting dairy cows as a 4-H project.
That was 18 years ago.
What was a 100-cow dairy in the 1980s now consists of 360 cows. Around 170 are milked each day using the latest technology.
Three milking robots, added eight years ago, milk cows up to five times per day, at their leisure. A collar on each cow measures the cow's temperature, activity, weight and how many times it chews its cud, diverting milk from any cow suspected as unhealthy into a separate tank.
"Our cows are definitely happy and healthy," adds Mark. They sleep on waterbeds, milk when they feel like it, and an "R2D2-like" robot keeps their feed accessible.
Doug says the decision to add creamery processing to the farm came a few years ago. "My boys are exceptional at thinking outside the box. Most dairies just milk and the truck picks up the milk. We do processing, distribution, delivery, marketing and retail."
The Stenslands sell product through several area groceries, eateries and retail establishments, including their own. Stensland Family Farms Ice Cream and Country Store is located on the west and east side of Sioux Falls.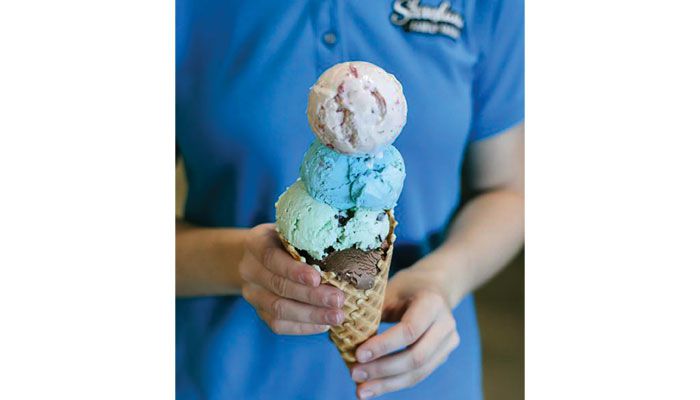 There, one can enjoy a hand-dipped, made in-house ice cream sandwich as well as ice cream by the cone or dish.
Some flavors are seasonal, like summer's Dubble Bubble, spring's Honey Lemon Lavender or fall's Black Licorice. Twin Bing comes out each New Year's Day and is available through March.
Popular floats include the Birthday Cake — one-half dip Lick the Spoon and one-half dip Carnival Craze topped with cream soda. Sundaes range from the ever-popular hot fudge or banana split to the Cherry Nutella – one-half dip How Now Brown Cow and one-half dip Farmhouse Original topped with hazelnut nutella drizzle, ferrera roche, whipped cream and a cherry.
They also sell pizzas, salads, cooler sandwiches and take-home meals. "Since the virus, we've worked to incorporate more local products, sort of a one-stop shop for our customers," says Mark.
They now have locally grown eggs, honey, popcorn and other products. Chef Jeni creates the meals. Anna, the Cake Lady, makes bars, pies, cheesecakes and other treats.
"Local foods have always been an interest," says Mark. "And now more than ever, people are more aware, and they like the convenience of so many products in one place."
Located near the interstate, the shop is fighting to maintain its customer base with fewer travelers and nearby mall shoppers.
Cheese gift boxes can be ordered online, and an on-farm store sells milk, cheese, ice cream sandwiches and ice cream by the quart.
The stores maintain social distancing and allow only 10 customers in the store at one time, along with the curbside pick-up and online delivery options through mercato.com.
Despite the challenges, the Stenslands remain positive. They are doing what they love, and are able to stay focused on the reasons they do it.
"Nothing is as it used to be compared to years ago, or last year. We learn from history and take it forward with us. We don't have to follow the status quo," says Doug.
"We have great customers and an efficient operation, and we know it's not just about the almighty dollar. There's nothing like the success you feel when you create a product and hand it off directly to a satisfied customer."
Queck-Matzie is a freelance writer from Greenfield.
Want more news on this topic? Farm Bureau members may subscribe for a free email news service, featuring the farm and rural topics that interest them most!