Farming in the DNA of achievement award finalists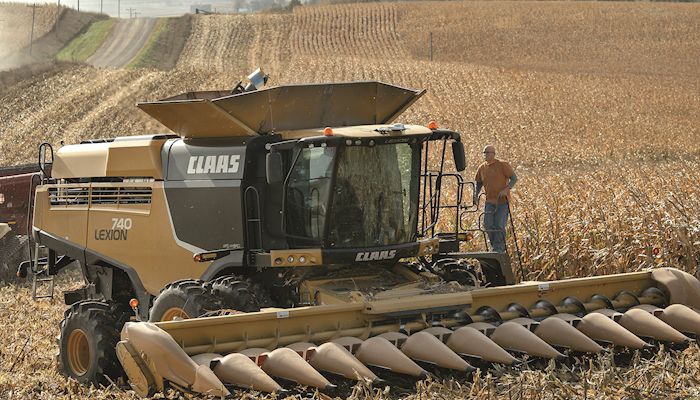 For young farmer Ben Klocke, there isn't such a thing as a typical work day when he is harvesting crops, feeding hogs and managing an ag manufacturing business, all in his quest to secure a future in agriculture.
"Ever since I was little, farming has always been a dream of mine," says Klocke, a Carroll County Farm Bureau board member who farms near Templeton.
"I've always said, I am here to make money, of course. But as long as the bills are paid, I love what I do. I can't imagine doing anything else," he adds.
Klocke is one of two finalists for the Iowa Farm Bureau Young Farmer Achievement Award. The other finalists for the 2017 Iowa Farm Bureau Achievement Award are Dustin and Shana Johnson of Clinton.
The winner will be announced at the 2017 Iowa Farm Bureau annual meeting in Des Moines.
The Young Farmer Achieve­ment Award honors Iowa farmers between the ages of 18 to 35 who show outstanding management ability in their farming operations and involvement in community activities.
"It's nice to give recognition to young farmers who are doing great things, and not only that, you are nominated by your peers, which is a tremendous honor," Klocke says.
Learning to adapt
Klocke, 32, is a fifth-generation row-crop farmer and pork producer. He started farming his own acres when he was 21 years old. He also is an employee in his dad's farming operation, managing the family's 2,800-head sow farm and helping with the row-crop business.
In 2007, Klocke built a 2,400-head hog finishing barn, which receives pigs from their sow farm.
Klocke said he chose a Euro­pean-style ventilation system for his hog barn, one of only 15 barns with this type of ventilation system in the U.S. at the time, to offer improved air quality for the pigs and employees.
"The hog barn has been a great tool to gain equity on the bank statement and also utilize the manure from the hogs for my crop side to help with offsetting cost of commercial fertilizer," Klocke says.
Klocke also manages his family's manufacturing business, PigEasy in Templeton, which provides equipment and supplies for pig and sow farms. He oversees a crew of up to 15 employees who work at either the sow farm or the row crop/manufacturing side of the farm business.
Klocke says he continually tries to improve and keep up with new technology on the farm. Over the years, he has adopted auto-steer equipment, yield mapping and variable-rate spreading of fertilizer. He also switched from conventional tillage to vertical tillage on the farm to allow the ground to retain more moisture and encourage root-system growth.
In addition, Klocke said he has made it a priority to educate himself on crop marketing strategies and works closely with a financial advisor to help take advantage of pricing opportunities when they arise.
"Early on (in my farming career), it was pretty easy with high dollar corn and high dollar soybeans," Klocke says. "But I had to learn a lot in a short amount of time — just being able to change and adapt, technology-wise, and with farming practices and marketing strategy."
Klocke is active in community organizations and recently joined the Carroll County Farm Bureau board. He said he's looking forward to taking an active role in speaking out about issues important to young farmers and Iowa agriculture.
"Knowing that you have a voice (in Farm Bureau) and can get your input in and bounce ideas off other people, it's a fun process to be a part of," Klocke says.
Conservation focus
Johnson and his wife, Shana, started farming in Clinton County soon after they got married in 2007. They built the farm "from scratch," adding more acres to the farming operation each year.
The Johnsons grow corn, soybeans and hay, plus wheat and rye to produce seed to plant cover crops on every acre they operate and extra seed to sell to neighboring farmers.
They also raise about 188 head of cattle, plus about 58 head of sheep so their kids can show smaller livestock for 4-H.
Johnson, 35, says one of the biggest changes he's made is converting every farm they operate to reduced tillage. He also added more conservation structures, including about 7 miles of waterways on just one farm alone.
On a farm he acquired that suffered from severe erosion, Johnson experimented with cover crops. He invested in improving the fertility of the soil, and he planted corn into terminal cereal rye without any spring tillage. In five years, the yields on that farm improved from about 140 bushels per acre to over 200 bushels an acre.
Continual improvement
"Year after year, we try to continually improve land that we operate, whether that's adding more conservation features or improving fertility management. That's our business model," Johnson says.
In addition to their farming operation, the Johnsons are active in their community and in Farm Bureau. They served on the Iowa Farm Bureau Young Farmer Advisory Committee, and Dustin is currently the Clinton County Farm Bureau president.
Shana is a teacher at Northeast Community School District in Goose Lake. The Johnsons have three children: Olivia, 10; Veranya, 7; and Dylan, 1.
Award prizes
The winner of the Young Farmer Achievement Award will receive either a John Deere tractor/loader combo (5 Series-7 Series) for one-year or a 300-hour lease or a TX Gator, valued at $9,500.
The winner will also receive a 90-day NPNI (no payment, no interest) John Deere Financial certificate (up to $5,000) and an expense-paid trip to the 2018 Growmark annual meeting in Chicago.
In addition, the winner will represent Iowa in the national Young Farmer Achievement Award competition at the 2018 American Farm Bureau annual meeting in Nashville. The national winner of the Young Farmer Achievement Award will receive a 2018 Ford truck (valued at $35,000), sponsored by Southern Farm Bureau Life. Second place will receive a Case IH Farmall 50A. Third- and fourth-place finalists will receive a Case IH 40-inch combination roll cabinet and top chest.
Want more news on this topic? Farm Bureau members may subscribe for a free email news service, featuring the farm and rural topics that interest them most!