Farmers hit by derecho should immediately contact crop insurers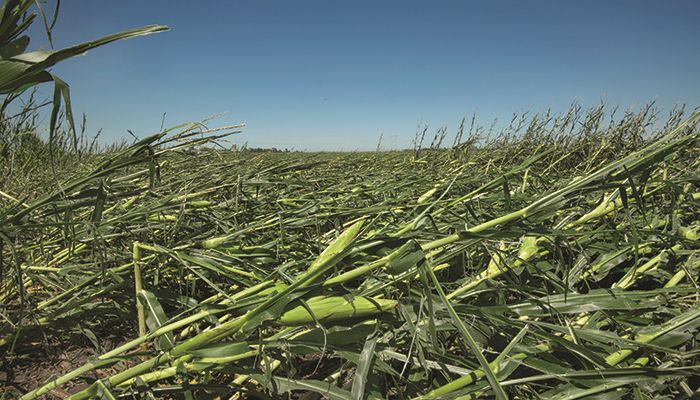 Farmers impacted by the Aug. 10 derecho that slammed Iowa should immediately contact their crop insurance agents to file a notice of loss, USDA Risk Management Agency (RMA) officials said in a call with Farm Bureau and other commodity groups.
"The storm has been devastating to farmers over a large part of Iowa. Farm Bureau is working closely with RMA, crop insurers, state officials and others to assist farmers as they navigate this difficult recovery process," said Iowa Farm Bureau President Craig Hill.
Federally-insured corn and soybean liability in the 56 Iowa counties most impacted by the derecho totals nearly $6 billion, potentially making it one of the most damaging storm events on record, the RMA said. Multi-peril crop insurance covers damage to the crop in the field, but not damage to farm infrastructure such as grain bins and livestock barns, the agency noted.
With widespread damage stretching from border to border, farmers are advised to schedule an assessment with their insurers as soon as possible so they can begin planning their next move.
After a notice of loss is filed, an insurance provider will appraise the production loss. If it is determined that field conditions prevent farmers from harvesting the crop, the production will be considered a full loss. If a field can be harvested, an indemnity will be paid on the amount that falls below the insurance guarantee.
The most important thing to remember is that producers cannot tear up or abandon the crop without giving their crop insurance agent notice and having it inspected by one of their adjusters first.
Farmers who purchased non-federal wind and hail insurance policies from private companies may have additional coverage for storm damages.
The RMA officials noted that it will likely require crop adjusters a number of days to assess every Iowa farm affected because the storm damage was so widespread and because there are nearly 58,000 crop insurance policies in the state.
Want more news on this topic? Farm Bureau members may subscribe for a free email news service, featuring the farm and rural topics that interest them most!