Farmer says livestock and grain farmers must work together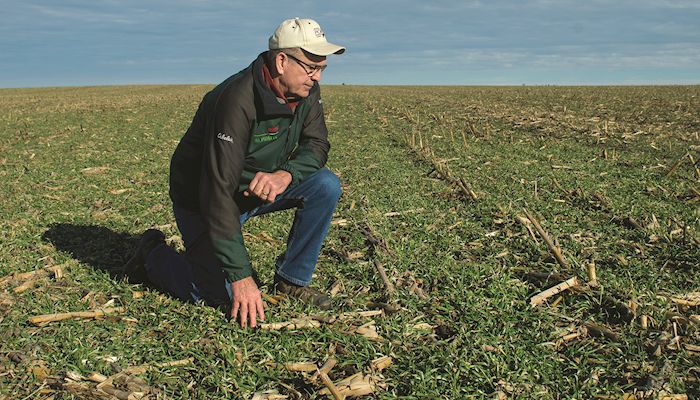 For Tama County Farm Bureau member John Weber, conservation is at the heart of his livestock and grain farm.
However, he said, cover crops and other conservation practices weren't always a part of the farm.
"I remember my younger days farming with my dad, the master plower. The fields were black as coal with full tillage," he said.
But as the years progressed, so did farming practices and equipment, he said.
Finally, it was the soil loss that he was seeing in his fields that convinced him he needed to make a change.
"We experience too many heavy rainfall events and erosion occurrences that we didn't want to see. We thought there had to be a better way," he said.
So he began researching different methods and talking to experts to learn more about ways he could cut the soil loss and erosion on his fields.
"That's the neat thing about farming, you never stop learning how to do a better job," Weber said.
Farming practices on his farm have certainly changed since the heavy plowing his father did in the early days on the farm, he said.
It used to be that Weber would harvest seed corn in late August or early September, and then rush to get the field chiseled before they got busier on the farm.
"When I look back at it today, it was really the wrong thing to do from a conservation standpoint," Weber said. "It was a long time from the first of September to the middle of May when you planted soybeans. The ground was basically exposed to all the rain and weather events."
Projects propel change
He said the Iowa Nutrient Reduction Strategy and the Benton/Tama Nutrient Demonstration Project has really propelled his conversation efforts on his farm and fields.
He and his son, Brian, have experimented with cover crops, trying out various species like kale, annual rye grass and hairy vetch. They've also tried planting cover crops using an aerial application and a drill.
"There are different ways to handle cover crops. For us it's about protecting the soil and what we think that's worth and holding nutrients in place," he said.
The Webers have found the best success using winter rye as their primary cover crop, he said.
"Today we use cover crops on every acre of seed corn, right under 500 acres," Weber said. "It works well for seed corn producers because you have that extra time, that extra window. We have continued to raise very competitive soybeans on cover crops. I wouldn't say they've yielded more, but I haven't seen any yield drag."
'Starving for data'
The Webers have installed a saturated buffer on their farm near Dysart.
"I wanted to know the nitrate level in my water. This was a good farm to do it on, the tile going into Rock Creek from my farm is just my acres (and doesn't include any other farmers or farmland)," Weber said.
"Agriculture, I think, is starving for data and information," he said. "There are things we can do to improve what we're doing; we just have to know that they are making progress. That's why I did the saturated buffer."
Working with the Natural Resources Conservation Service (NRCS) and Iowa State University, Weber is able to monitor the levels of nitrates in the water. He's able to compare from one year to the next, and make adjustments in his fields.
Weber said he's impressed with the data that he's been able to obtain from the saturated buffer.
"There's no reason we couldn't do (measure) all the water leaving this farm. I know where my outlets are, and it's not that expensive to put a saturated buffer in," he said.
He's also enrolled half of his acres in Pioneer's Encirca program, a nitrogen management program.
"It's not cheap, but it's another tool where someone keeps track of your soil test, your applications and rainfall. It bases your final application on that combination," Weber said.
Reducing nutrient levels
Weber is also working to reduce the amount of nutrients he applies to his fields.
"We've reduced the amount of anhydrous that we apply in the fall in two ways. We're only doing about half of the acres in the fall, and on those we're putting at least 30 percent less on," Weber said.
They apply the second application during the growing season. A split application means using less anhydrous overall, and delivers the nutrients to the plants when its most needed during the growing season, Weber said.
Improving livestock, grain farms
As a livestock farmer, Weber said the Iowa Nutrient Reduction Strategy helps livestock and grain farmers get on the same level when it comes to conservation and nutrient management.
"Pork producers have been required for years to follow a nutrient management plan: three-acre grid soil samples, testing manure and applying manure according to the soil fertility and the soil test and rate removal. We follow that plan," Weber said. "But the commercial corn and soybean guy never had to worry about that. He may look at the soil test and crop rate removal, but he's free to put on whatever he wants to put on."
The strategy helps livestock and grain farmers—like himself—take a closer look at their practices and improve.
"I think both livestock farmers and row crop production needs to look at the issue of nutrient management and water quality the same. We're both applying nitrogen, phosphorus and potassium. We may be doing it differently, but we all need to be responsible," Weber said.
Weber works to encourage other livestock and grain farmers to try new conservation practices on their farms.
He's hosted farmers, lawmakers and others on his own farm so they can learn about the practices available.
"Farmers watch what their neighbors do, and if the neighbor is successful and he's taking better care of his farm, it spreads like wildfire to other guys who will try it in a hurry," he said.
Continuing efforts
On his own farm, Weber said he's looking at ways in which he can incorporate more cover crops and conservation practices on his acres.
"I'm really looking forward to the next step where we can grow corn in rougher conditions where that seedbed doesn't have to be so perfect," he said. "We're not going to slow down. I anticipate this fall to do more in soybeans, to apply rye (cover crops) prior to the leaf droppings in the soybeans."
He said he's noticed a change both on farms in his area, and a change in farmers' attitudes toward conservation practices. His son, Brian, who operates the Pioneer seed business, is answering more questions about conservation practices and cover crops.
"There's a lot of interest out there. That bodes well for the nutrient reduction strategy and for the learning we all need to do to protect ourselves from 2-inch, 3-inch, 4-inch rainfall events and still be able to farm," Weber said.
Want more news on this topic? Farm Bureau members may subscribe for a free email news service, featuring the farm and rural topics that interest them most!