Expanded Cherokee Locker celebrates grand opening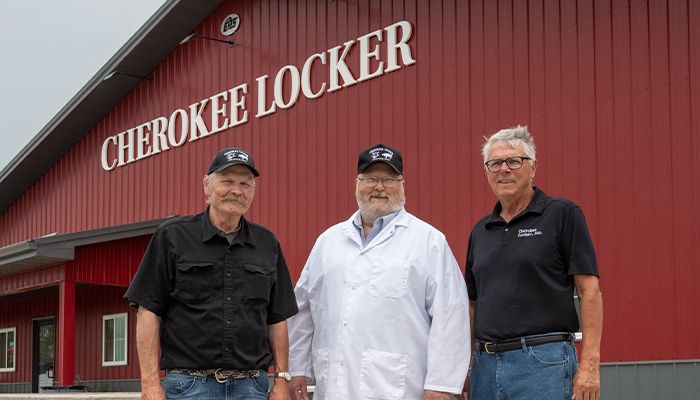 The frailty of the U.S. food supply has been a focal point for farmers and consumers since 2020, when many grocery stores experienced product shortages due to panic buying and supply chain issues resulting from the COVID-19 pandemic.
Recognizing an opportunity, the Cherokee Locker began making plans to relocate and expand its capacity at a new facility, which opened earlier this year south of town, along Highway 59. The facility spans about 8,000 square feet, including processing, cooler, office and retail space. 
The business currently handles about 20 animals a week, mostly cattle. It is also set up to process hogs, sheep, goats and deer. 
That capacity could double in the future, if staffing and demand allow.
At the locker's grand open­ing last week, Iowa Secretary of Agriculture Mike Naig praised the efforts of Cherokee Locker to increase capacity and offer farmers the ability to help feed their communities.
"We had a convergence of a couple of things," Naig said. "We saw a growing trend of people wanting to shop local and know where their food is coming from … But then we also had a disrupted supply chain … It reminded us that we need to shorten the supply chain, to reduce the distance between the farm and the table."
Funding for the facility came in a variety of forms, including bank loans, federal and state grants, and, uniquely, the sale of ownership shares last year. 
The locker offered 100 shares, selling 83 shares in total to 70 investors, and holding the balance for future sales. 
While many investors are cattle producers in the area, Cherokee Locker CEO Dale Allen said the whole community got on board and supported Cherokee Locker.
"We have a lot of support. There are a lot of very helpful people in this community," Allen said. "And I think this cooperative set-up is good for the community. It's not just one person or a small group taking profits out of the business."
USDA, state grants
The locker, which previously operated from a smaller downtown location, received a $542,000 grant from the U.S. Department of Agriculture and a $50,000 grant from the state of Iowa.
Allen said he is proud of what the locker and the surrounding community have accomplished. 
In addition to the sale of shares to locals, almost all the work on the facility was done by local contractors, and much of the equipment was sourced from local vendors.
"We were very lucky to be able to keep the vendors local," Allen said. "We are really honored to be in this community. I grew up about 20 miles away from here and have basically been in this community my whole life. It's a special place."
The change in ownership also meant a new role for Allen. Before the share sale, he was the owner and operator. Now, as CEO of Cherokee Locker Investment Inc., he reports to a board of directors.
Allen said the new structure is best for the community and the longevity of the business. He noted that when the time comes for him to retire, the board will oversee finding a replacement.
Perhaps even more excited than Allen are local farmers who will no longer have to wait months to get a processing slot at the Cherokee Locker.
Allen said the locker is currently booked out about two months, but "if a guy needs help, we can usually fit him in."
The locker is using its new retail space to sell meat sourced from a variety of producers, offering fresh and frozen meat products, including T-bone and ribeye steaks, hamburger patties, brats, summer sausage, pork sausage and Dale's special beef sticks, a popular local item. 
Eventually, the Cherokee Locker hopes to provide branded local meat. 
"After working at a facility that you made work for a long time, it must be nice to have this state-of-the-art space," Naig said. "It is a state-of-the-art facility, one that will serve this community for a long time."
Want more news on this topic? Farm Bureau members may subscribe for a free email news service, featuring the farm and rural topics that interest them most!