Economist: Farmers must keep up pressure to boost trade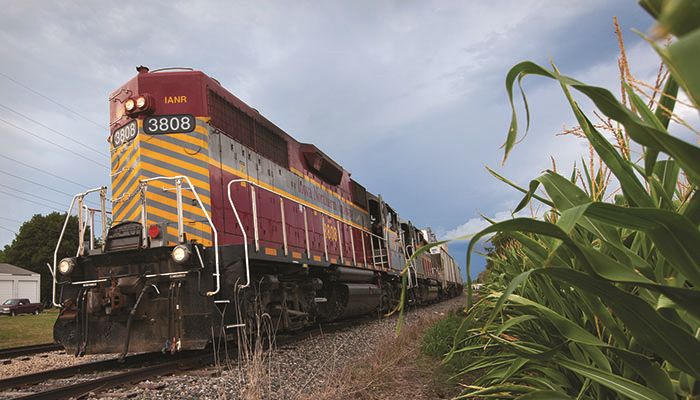 It's critical for farmers and others involved in American agriculture to strongly emphasize the importance of trade as the Trump administration works to renegotiate the North American Free Trade Agreement (NAFTA) and rework other trade deals, an Iowa State University (ISU) economist said last week at the 2017 Iowa Farm Bureau Federation Economic Summit in Ames.
"Trade is really a gigantic issue for us now because of our growing productivity in agriculture. It is really what moves our markets these days," said Chad Hart, ISU Extension crop market specialist.
Worldwide demand for U.S. grains, meat and other ag products is strong now. But trade is clearly an area where U.S. farmers face plenty of uncertainty, Hart said.
"I think the next year is going to be very crucial for trade. It's going to set the tone for the market for years to come," he said.
Access a big concern
The biggest worry is that U.S. farmers could lose access into key international markets after the renegotiation of NAFTA or other trade agreements, Hart said.
Any loss of market access would put pressure on commodity prices because additional grains, meat or other commodities would be forced onto already saturated domestic markets, Hart said. "I don't think any of us want to think about what our markets would be like without international trade," he said.
First up is the renegotiation of NAFTA, and U.S. agriculture has a lot at stake in the reworking of the free trade agreement linking that United States with Canada and Mexico. Farmers, Hart said, have been some of the biggest beneficiaries of NAFTA, which was implemented in 1994.
"With the implementation of NAFTA, we saw a tremendous expansion in agriculture exports, both to Canada and Mexico," Hart said. "The three countries have really developed an integrated, North American agricultural system and have created a tremendous amount of value."
While President Donald Trump sharply criticized NAFTA during his presidential campaign, he and others in his administration appear to have recognized NAFTA's importance to agriculture and want to maintain access to markets in Mexico and Canada, Hart said. That was reflected in the Trump administration's goals for the NAFTA renegotiation, which were released last week, he said.
"I think that is a testament to how hard that people in agriculture have worked to emphasize the importance of the agreement," Hart said.
Updating provisions
Along with protecting market access, many of the administration's NAFTA goals highlight the need to update outdated language and make sure that any non-tariff barriers, often called sanity and phytosanitary barriers, are science-based, Hart noted. That's a positive approach, because it will set the tone for other bilateral and multi-lateral trade agreements, including the World Trade Organization or WTO, he said.
Beyond NAFTA, agriculture needs to emphasize the need to sign new trade agreements and to maintain existing ones, such as the free trade pacts with South Korea and Colombia, Hart said. Agriculture, he said, typically comes out as a big winner in any free trade agreement because of the productivity and efficiency of U.S. agriculture.
Competitors active
John Newton, director of market intelligence for the American Farm Bureau Federation, cautioned that the United States must move quickly to negotiate free trade agreements.
Competitors in the global ag market, such as Australia and the European Union (EU), are "not standing still" and are actively working to establish their own agreements with key buyers, such as Japan, he said
"Our move to pull out of the TPP (Trans-Pacific Partnership) really left a void, and others are moving into to fill it," Newton said.
Newton said the EU's new free trade agreement with Japan is a signal that other countries are planning to be aggressive in trade. "It really set a tone, and that's going to make it tougher for us to compete," he said.
Want more news on this topic? Farm Bureau members may subscribe for a free email news service, featuring the farm and rural topics that interest them most!