Dairies partner to provide natural gas to Sioux Center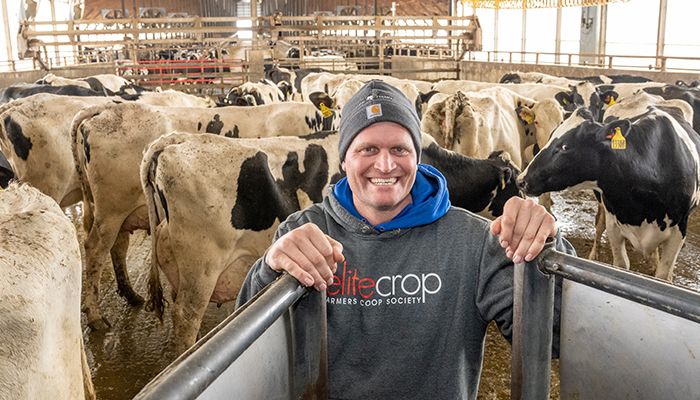 Three northwest Iowa dairy farms are partnering with Michigan-based Novilla RNG to construct anaerobic digesters that will acquire methane from their operations and, in an innovative initiative, clean and pipe the captured gas for use in nearby Sioux Center.

Maassen Dairy, Hoogland Dairy and Brian Roorda Dairy are taking advantage of new technologies that capture methane gas from dairy cows and convert it into fuel, while also working to become carbon-neutral operations and benefiting the environment.

The effort has been in the planning stages since 2021 with construction set to begin this spring, generating excitement for not only the dairies but also for the neighboring community.

"The city is excited about this project because it provides partnerships with our local ag community," said Adam Fedders, Sioux Center assistant utilities manager. "One of the mottos that Sioux Center has had for a lot of years is 'Progress Through Cooperation,' and this project is exactly that."

Aaron Maassen, Maassen Dairy, said he's thrilled to see livestock farmers and local communities working together.

"I'm most excited that it's something that can be utilized locally," he said. "The manure is a resource we currently have, we're capturing more value from what we have and it's benefiting the local economy."


Combined effort
Junior Hoogland of Hoogland Dairy said he started researching digester projects in 2021 and welcomed his two neighboring dairy operations on board for the combined endeavor after meeting with representatives from Novilla.

Novilla's management team has extensive experience developing digester projects, with ap­proximately 10 expected to be up and running across the Upper Midwest and northeast United States by 2024.

Approximately 300 such facilities have popped up across the United States, many in California. The advanced technology is gaining further traction as it becomes more economical and the industry looks to become more environmentally friendly and carbon neutral.

"I was skeptical at first," Hoogland said, but when advised to consider a project sooner than later as the industry evolves, "I thought I better get on the ball and start checking it out."

He said cooperation with businesses seeking "green" initiatives when purchasing milk also is anticipated, an additional incentive to consider a methane capture project.

"In the future, we might have to have something like this in order to produce milk," he said. "Maybe the Walmarts, the Costcos, Hy-Vee, Fareway, they might require the milk comes from a green dairy."


Project design
Combined, the dairies total ap­­proximately 8,000 dairy cows, a good benchmark for the venture.

Novilla will finance the $20 million approach and oversee construction of the facilities, hiring local contractors. Project design and ordering of equipment currently is under way, with project completion tentatively set for the end of 2023.

West Branch RNG, a subsidiary of Novilla, will install one above-ground complete mix digester each at the Maassen Dairy and Hoogland Dairy. Manure from the Roorda dairy will be pumped in underground pipes to the Maassen operation, where manure from both dairies will be combined and pumped into the digester, mixed and heated.

Methane gas will be collected from the slurry over 20 days, then injected into a raw biogas pipeline and sent to the Hoogland operation, where a similar process is taking place.

The combined biogas will be cleaned, scrubbed, compressed, checked for quality and pushed via pipeline to Sioux Center for city use.

The remaining liquids will be transported to an outdoor lagoon as much cleaner water, and the remaining concentrated solids will be returned as high-quality, nutrient-dense fertilizer to be land applied, much like is currently being done.

Jared Williams, Novilla co-chief executive officer, said the digester project will have numerous benefits, from reducing odors and emissions coming from the lagoons and reducing carbon emissions to providing local jobs as well as a viable energy product to be used locally. Minimizing methane emissions and capturing the gas helps the environment.

"The gas that is being produced is considered to have a negative carbon intensity since we are minimizing methane emissions from the existing manure lagoons," Williams explained. "We anticipate the eventual carbon intensity score to be in the negative 200s."

The project will produce roughly 140,000 MMBtus of renewable natural gas annually, equal to 1.25 million gallons of gasoline, 1.525 million gallons of propane or a greenhouse gas emissions removal equivalent to 8,800 cars from the road.


Local benefits
Nearby Sioux Center will get the end energy product.

Fedders said the city is investing $200,000 of its own funds to organize and construct the distribution gas lines to serve the digesters and, in turn, will receive all the gas to be used daily — enough gas to provide 8% to 9% of the town's needs in the summer months. West Branch will cover the remaining cost of the $5.24 million city-to-dairy pipeline connection.

"The benefit to the city is locally produced natural gas," said Fedders. "We will gain some capacity increase, which will help; we will also gain a steady lower cost gas resource, then buy natural gas on the open market."

Williams said when Novilla was looking for a natural gas pipeline to inject the gas into, it saw that Sioux Center was nearby and had the capacity to handle the gas injection, so officials approached city leaders.

"Once we started working with Sioux Center, we were impressed by their speed and forward thinking and decided that's where we wanted to inject our product," he said.

The dairies will see some financial gain from the end product's value, while Novilla will be able to take advantage of carbon credits — incentives to reduce greenhouse gas emissions — and other available renewable attributes such as through its cooperation with Sioux Center.

Maassen said he's excited to realize yet another side benefit of the project — improving the recycled sand used as bedding for the animals.

"We're not necessarily in the business of producing gas," he said. "But one thing we learned is we're actually going to improve the quality of our sand that goes back into our facility, which in turn will improve cow health, less mastitis and improve milk quality.

"We want our cows to be comfortable, and we want to produce high quality food and do that the best we can."

Even better is knowing that in this small area of northwest Iowa, these three family farms are helping not only the environment, but also their local community.

"The value of these projects and the amount that they can offset other carbon parts of our economy, this is a really efficient way to do that," said Maassen. "We're working together, headed in the same direction."

Added Hoogland, "I'm pleasantly surprised (the gas) is re­maining local.

"Our community is unique … it's one of the few areas that is growing. Sioux Center, Orange City, Rock Valley, Hull … to have them growing as fast as they are, it's great.

"Animal agriculture working together with this bustling economy in towns that are growing is fantastic."

Want more news on this topic? Farm Bureau members may subscribe for a free email news service, featuring the farm and rural topics that interest them most!