Boosting local meat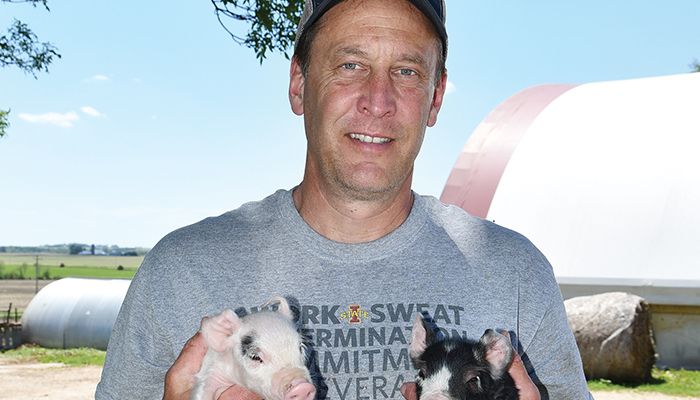 Late in the 2021 session, Iowa legislators ap­­proved providing infrastructure funding to small meat packers with an eye toward adding jobs and expanding processing capacity.
The bill was led by freshman Representative Chad Ingels, a hog and row crop farmer from Randalia in eastern Iowa.
"I had talked to other farmers over the years. We've all struggled to get scheduling right with the lockers," Ingels said last week. "I think the beauty of this bill is it's an economic development plan. This will help lockers and other entrepreneurs create jobs here in Iowa."
Expanding processing
The measure, which is still awaiting Gov. Kim Reynolds' signature, provides $750,000 to expand processing across the state by offering new and existing small meat lockers — those with fewer than 50 employees — grants, low-interest loans and forgivable loans to help them grow.
Ingels hopes this spurs the development of new lockers, in addition to expanding those already in place. One of the new styles of meat processing, the mobile or semi-stationary meat locker, is specifically allowed in the bill.
"I don't think there are a lot of mobile lockers in Iowa yet, but I know they are being used in California," he said.
Artisinal butchery
In addition to funding for lockers, the measure also creates a task force to research creating a new "artisanal butchery" workforce training program in the state. Ingels said this will help further expand the worker pool, which is needed if lockers hire new staff for their expanded business.
"Lack of skilled employees has been one of the most mentioned challenges for local meat processors," he said.
Challenging times
Ingels said the idea for the bill grew out of the struggles livestock farmers experienced in 2020. He raises between 400 to 500 head of hogs a year for Niman Ranch and also sells half and whole hogs to friends and family members.
Last year, when it was time to process a portion of his herd, there was no place to send them.
"I called the locker in April (2020), and they said they couldn't get me in until December," Ingels said. "It was a real challenge."
He said the local lockers he has spoken to, even right now, are still booked well in advance, "There's room for more lockers in this state."
A learning experience
The story of how the legislation came about is, on its own, an adventure. Ingels had the idea for the funding early in 2021 but thought someone else in his party would bring it to the floor. The week of the first legislation deadline in February, when bills for the session must be filed to be considered, it became clear no one else was taking the lead. So Ingels did it himself.
"We delivered it just a few hours before the deadline," he said. "After that, the response was almost immediate and very positive."
After being considered in both the economic development and the appropriations committees, the bill passed unanimously in the state House. Though it took a few more weeks, the bill also made it through the Senate and is now ready for Reynolds' final approval.
Back on the farm
Now that the 2021 session is over, Ingels is at work back on his Fayette County farm. He was able to get planting wrapped up on days the House wasn't in session.
"The last month or so we were only in session two days a week. That allowed me to stay on top of things back home," he said.
He was hoping to catch a rain at the end of last week to combat the dry weather his area has experienced. He was also getting ready to make hay and settling back into his normal routine.
"I really enjoyed the work in Des Moines, but it's good to be home," Ingels concluded.
Want more news on this topic? Farm Bureau members may subscribe for a free email news service, featuring the farm and rural topics that interest them most!