Bacon Buddies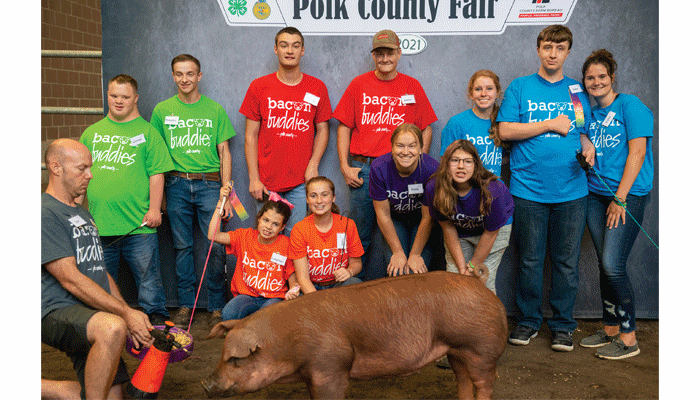 Special Olympics athletes learn how to care for livestock and discover the pride of showmanship through the Bacon Buddies program.
Everybody could use a buddy.
The Bacon Buddies program gives FFA members and 4-Hers a chance to make a new one.
Bacon Buddies is a partnership between Special Olympics Iowa and the Iowa Pork Producers As­­sociation designed to create friendships between 4-H and FFA youth and Special Olympics athletes by bringing them into the showring — with a pig.
The youth mentors work with the athletes to prep and show a pig at county fairs and at a special swine show at the Iowa State Fair. The goal is to give the Bacon Buddies participants an opportunity that they would otherwise not have.
"This is a great opportunity for our Special Olympics athletes," says John Kliegl, president and CEO of Special Olympics Iowa. "They want to do what their peers are doing, and it's great to work with the 4-H and FFA youth who see them as their equals."
The camaraderie is hard to miss. 
Barbara Clawson's son Tyler Osborn showed as a Buddy at the inaugural Bacon Buddies Pig Show at the 2019 Iowa State Fair. He was on hand this year and asked to fill in for an athlete who canceled at the last minute. (There was no show in 2020 due to COVID.) "It was so great to see him reconnect with his initial mentors," says Clawson. "It was fun to see their interaction. They decided they had all grown."
Sixteen Buddies took to the ring at the 2021 fair. Each was accompanied by two mentors. IPPA says 100 youth mentors applied for the project; 32 were chosen at random. 
James Shiflett of Diagonal was one of the lucky ones. "It was pretty fun and I would gladly do it again," says Shiflett. "I like to show pigs (he has the ribbons to prove it), and this gave me an opportunity to teach, something I've never done before."
Youth not chosen as mentors were on hand at the fair, forming a human tunnel at the entry to the ring and adding to the excitement of the day.
Bacon Buddies in Iowa began in 2019 when then Earlham High School senior Kylee Brown heard of similar programs in Wisconsin and Texas and decided to bring it here. She reached out to contacts at the National Pork Board, the Iowa State Fair and Kliegl at Special Olympics Iowa.
"It provides an opportunity for our youth to be exposed to something new and socialize like they may not have been able to do," says Kliegl. "When they work with local high school kids and local farmers, they then see them in the cafeteria or around town and they're friends."
For some, the connecting begins before the State Fair. Buddies may have had the opportunity to go to the farm, meet their mentors and practice with their pig. They learn to wash it, groom it, feed it.
Especially for kids from urban areas, the event may be the first time up-close and personal with an animal. More than one Buddy fell in love. "He has cute ears," said a beaming Buddy with her pig.
For the first-timer, it can be a daunting experience. For experienced livestock showmen like Osborn, a 4-H and FFA member as well as a Special Olympics athlete, the roles can be flexible. "Tyler had a friend from school who is very afraid of large animals," says Clawson. "His family and mentors were trying to talk him into the ring. Finally, Tyler convinced him to give it a try. He knew him from school and trusted him." 
That was at the Boone County Fair, one of at least six county fairs preparing participants for the State Fair. IPPA offers online materials for counties wanting to host a show. The package includes templates for show organization and communication.
Clawson is leader of the Harrison Hilltop Hustlers 4-H Club, and her 4-Hers took the project a step further. Led by club member Hannah Chesnut, they sold small pink plastic pigs, then held a contest to see who could throw and hit a toy barn in the middle of the showring. The fundraiser produced $310 for Special Olympics Iowa.
Other counties have taken the idea into other realms. Youth in Buchanan County have started Goat Getters, based on Bacon Buddies with goats.
Kliegl says Bacon Buddies gives the athletes a chance to learn about ag and gain an awareness of where their food comes from. They visit family farms and get out of the classroom and involved with the larger world. They develop confidence, a soft skill they can fall back on later when applying for a job.
"It gives them a chance to compete against their peers, and it gives them the opportunity for socialization that any kid gets from participating in an activity," says Kliegl. "It's the practices, the ride there and back, the pizza after, and maybe a water fight at the washing hydrant."
"We became involved with the Bacon Buddies show because it is a reflection about so many good things in Iowa: 4-H and FFA members, the focus of our partners at Special Olympics Iowa on inclusivity and the way Iowa pig farmers can bring that all together," says IPPA Communications Director Dal Grooms. "This is the second year of the show at the Iowa State Fair, and we once again saw the 'We Care' spirit in the stands, and more importantly in the alleyways as those youth worked together to get their pigs ready and bring them to the show ring."
One of the six "We Care" ethical principles that guide pig farmers across Iowa and the country is "contributing to a better way of life in their communities."
For some Buddies, the program helped them obtain a life-long dream. "We had one athlete, around 50 years old, whose siblings had shown swine, but he did not get to. He had tears in his eyes at the idea of doing what he never thought he would be able to do," says Kliegl. "It meant the world to him." 
The excitement in the air of the State Fair showring, the bond with the animal, the visit with the judges and knowing a friend is by your side — it's part of an experience open to Iowa kids of all types.
"It's not easy for some," says Clawson. "There may be attention span or mobility issues. But with this program, there are no barriers or limits. Mentors and participants are equal. Everyone is doing the same thing as everyone else."
"It's all about equality," continues Kliegl. "We've moved the needle a long way. I hope in my lifetime we will reach a point where we won't need programs like this."
Queck-Matzie is a freelance writer from Greenfield.
Want more news on this topic? Farm Bureau members may subscribe for a free email news service, featuring the farm and rural topics that interest them most!