An entrepreneurial spirit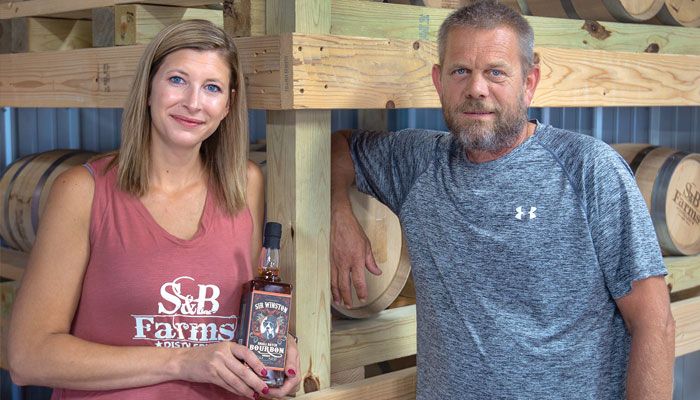 Sara and Brian Winkleman are turning corn grown on their Kossuth County farm into award-winning spirits at S&B Farms Distillery in Bancroft.
The beginnings of the venture can be traced back about four years ago when a friend who wanted to use Iowa-grown sweet corn to make a batch of moonshine hooked them up with a distillery in Georgia. Watching the process kicked Sara's entrepreneurial instincts into overdrive.
"I went down there, and when I saw the process, it was very fascinating and intriguing," she says. "I decided I wanted to learn how to do this. From that day forward, it was full on."
After much research, they op­­ened S&B Farms Distillery in 2018.
Brian, who was born and rais­ed on a farm near Ledyard, says growing corn for whiskey isn't much different than typical uses like livestock or ethanol. While their initial experience involved sweet corn, S&B Farms uses field corn to make its products because it is better suited to the distilling process.
The corn is milled at the farm and brought to the distillery, where Brian tends to the process of distilling the grain into alcohol using Sara's carefully crafted recipes.
"When we're done distilling, we haul the mash back out and feed it to our cattle," says Brian, who raises corn, soybeans, peas, sweet corn, cattle and hogs with longtime farming partner, Ryan Steenhard. The Winklemans' 15-year-old daughter Grace and 10-year-old son Garrison also help out with chores on the farm.
Rich, black Iowa soil
The area's rich, black soil is one of the secrets to the award-winning taste of S&B Farms' products, Sara explains.
"We are very, very blessed here in the Midwest. One thing that I learned through this process is that corn grown in different areas of the United States all has a different flavor," she says. "The black soil here makes a huge difference. The corn that is being distilled (at S&B Farms) is nice, sweet, very good tasting. There's no bitterness to it."
All of S&B Farms' products carry names with deep connections to their family, such as Private First Class named after Sara's grandpa, Ray Baade, a World War II veteran and one of her biggest supporters; and Hog Wild, a nod to the Winklemans' background as hog farmers. There's also Field Fire, a spicy pineapple jalapeno moonshine, and a trio of spirits named after the family's dog — Sir Winston Bourbon, Sir Winston Peach and Sir Winston White Whiskey.
Sara pours her time and ef­forts into perfecting the recipes for each product, experimenting with different flavors until she hits on the right formula.
Perfecting recipes
"It's a lot of trial and error," she admits. While she was working on the peach bourbon, she had a group of her friends taste test several versions until it elicited the reaction she wanted.
"It's got to be, 'Wow, this is amazing.' So until we hit that 'amazing,' I don't stop."
The process is then turned over to Brian, who learned how to run the still by watching an experienced moonshiner the Winklemans hired to help get the enterprise up and running. The distilling process is as much art as science, Sara notes, with smell and taste playing a big part in the final result.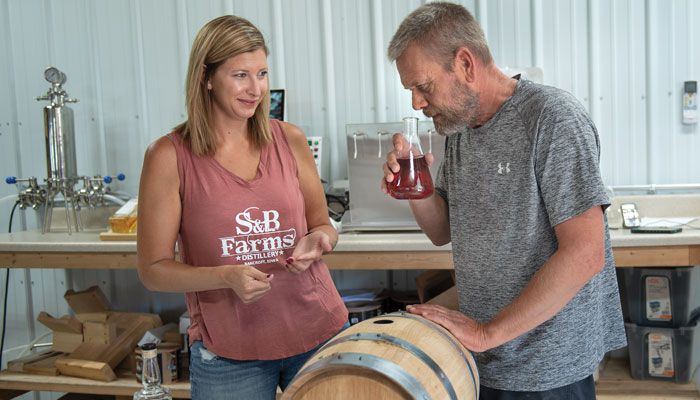 (Photo above: Sara Winkleman watches as her husband, Brian, checks the aroma of a new batch at S&B Farms Distillery in Bancroft. The couple started their distillery in 2018 after plenty of research. At right, Winklemans use names with connections to their family for their award-winning spirits. PHOTO / GARY FANDEL)
"Everything is done to our palettes. If somebody else used the same recipe, it would taste different," she explains. Their efforts have been recognized with several awards, including a silver medal for Sir Winston Peach at the 2020 Denver International Spirits Competition.
IFBF RRIA Award
The Winklemans, who won the Iowa Farm Bureau's Renew Rural Iowa award in June, plan to maintain that hands-on ap­­proach even as they embark on an expansion that will more than double the size of their production and warehouse area. They hope to have the expansion completed before winter so they can add more stills to meet growing demand for their products.
They worried sales would suffer when COVID-19 forced bars and restaurants across Iowa to close their doors in March. The distillery briefly shifted its production focus after being contacted by local emergency management officials regarding shortages of hand sanitizer, pumping out 1,100 gallons of the sanitizer for distribution across 15 counties in Iowa and Minnesota.
However, they noticed sales of their spirits were also taking off as homebound customers adjusted their buying habits for at-home consumption. Many, it seemed, were looking for products with a local connection. In addition to their store on Bancroft's main street, S&B Farms products can be found in stores statewide, including large retailers such as Hy-Vee, Fareway and Casey's.
"Shortly after we got into the hand sanitizer, we saw increased sales of our products," Sara says. "The way it was increasing, we had to turn back and start making products because it was going crazy. We are running at maximum capacity right now."
Attracting tourists
Their storefront and tasting room, housed in a former dentist's office, has become a tourist attraction. They estimate nearly 2,000 customers came through the doors in the first three weeks of July. In addition to S&B Farms products, the store carries homemade barbecue sauces, jams, salsa and T-shirts, among other items.
"Never in my wildest dreams did I think we'd be where we are now. It's been a whirlwind," says Sara. "People are driving hours to see us. People like that they can drive here in Iowa and meet the people who are making their product."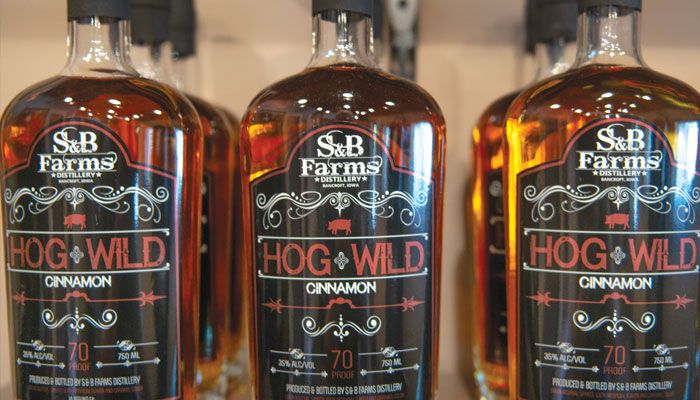 Want more news on this topic? Farm Bureau members may subscribe for a free email news service, featuring the farm and rural topics that interest them most!