'An absolute life changer'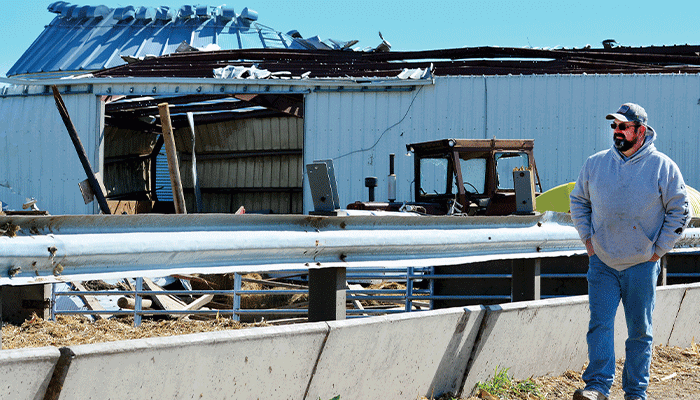 The eight of them and two dogs huddled in a basement bathroom as dangerous weather rumbled and roared above.
Only minutes before, Clint Whetstine had stood on the front porch of his Wellman farmstead with wife, Karmen, and son, Case, watching the storm roll in. A tornado warning had been issued for the powerful twister that raced across Washington County during the late afternoon of March 31, and they now had a front row seat, witnesses to the impending devastation that would unfold.
"I saw the funnel with this farm silhouetted in front of it," Clint recalled, now a couple weeks later standing in a debris field of where his cattle barn once stood, one mile away to the west of his house. "I said to myself, 'Oh my God.' Then ran downstairs and took cover."
Tucked away underground elbow-to-elbow were Clint; 
Karmen; Case; daughter, Allie; four of the kids' friends; and two dogs. They listened as the EF4 tornado made its way across the landscape and directly through their homestead in a matter of a minute or two.
"Sounded like someone was banging pop cans on the ceiling on top of us for 10-20 seconds," explained Clint. "It got a little quiet, and then Karmen noticed there's water running down the wall. We didn't know at that point the house was gone."
Summoning up the nerve to emerge from safety, Clint opened the bathroom door and first saw that the stairwell was filled with debris, and then noted the open sky above. The walk-out basement door was blocked by the collapsed east wall of the home, making escape impossible.
A quick phone call to the fire chief, a longtime friend, dispatched emergency personnel, who upon arrival cleared a path for the family and friends to be rescued. Once outside, it became evident what utter destruction had occurred.
"You get out of the house and think, holy cow," Clint said. "Everything in our world is turned upside down ... the house, the shed, no cars. The SUV ended up 600 yards away, and it looked like it rolled the whole way.
"It was an absolute life changer."
Assessing damage
Within a few hours, there were approximately 100 neighbors and community members on hand to assist, and there was much to do. Two of the three Whetstine homesteads were destroyed completely — Clint and his uncle Ed's place. Clint's father Larry's place nearby also sustained damage.
Four buildings were demolished, including three hog units and a cattle barn. Much of the machinery saw some type of damage from falling debris. A recently emptied bin at his dad's place folded in like a pop can, Clint said.
"It's probably easier to say what wasn't damaged," he said. "Unbelievably,  the combine didn't have a scratch on it. The planting tractor had light damage … the mirrors were busted … but so far it checks out.
"Every day we carry a notebook around — what are we missing and what did we lose."
Miraculously, Allie's 4-H calves were spared, and most of the nursery pigs and cattle were saved. Of the 172 fat cattle, 13 perished, and 54 cows located in a pen behind the barn ready to calve were able to push out once the fence went down.
"Those poor girls didn't have anywhere to go," Clint said, having estimated losing 14. Calling them now to feed "is like a war movie with the walking wounded coming out of the trees," he said, but they're alive, with a few birthing calves since the storm.
Overall damage assessments total in the millions of dollars, but the family said insurance will help and plans are being made to rebuild.
To the rescue
Pat Cady, a neighbor who lives a mile to the east but was spared damage, stood on his front porch, too, and watched the tornado rip through the landscape. "It was just so big when it came through," he said. "I've never been that close to a tornado before. When they say it sounds like a train, believe them, it does."
Cady was one of the first on the scene once the tornado had cleared, initially assisting another neighbor in the round-up of horses and then racing over to the Whetstine farms. They rescued the hogs and cattle and relocated them to other farms, and then picked up trash and debris in the fields. Three weeks later, he was rebuilding a shed housing a well. 
"This is their only supply of electricity right now to run the well for the cows," he said. "There's no way to tackle this by yourself. They have to get some sense of normalcy back to where it feels like a farm."
On April 18, the nonprofit Farm Rescue, based in North Dakota, arrived on site to help the Whetstines with spring fieldwork. Volunteers brought with them a JD 8R410 tractor and planter and set out tilling and planting a few hundred acres of soybeans.
"We're here just to lighten the burden for the family and community, bringing in the volunteers and equipment necessary to help with a specific task whether it be planting, haying or livestock feeding assistance," said Farm Rescue's Dan Erdmann, marketing program manager.
"We're helping wherever we can, and we'll be here until the job's done."
Founded in 2005, Farm Rescue has aided nearly 1,000 families who have experienced a major illness, injury or natural disaster across eight Midwestern states. "Volunteers are here just out of the goodness of their hearts," said Erdmann. "It's about coming in to help during a time of crisis."
Former John Deere engineer Mike Youngblood of Fergus Falls, Minnesota, jumped at the opportunity to help. Having lived and worked in the Waterloo/Cedar Falls area for years, volunteering with Farm Rescue the last six years has been rewarding.
"We are getting the cornfields ready for planting, and we're getting the planter hooked up to plant soybeans," Youngblood said. "When I first pulled over that hill and saw the farm, I thought 'wow.' I saw all those trees cleared out and all the buildings gone … and the houses gone … it's just a terrible thing to go through.
"It's very rewarding to help … We do what we can."
For Clint, it's both emotional and hard to put into words the gratitude the families have for everyone's assistance. Thankfully, they're on the road to recovery.
"It's just been amazing," he said. "We can't say thank you enough."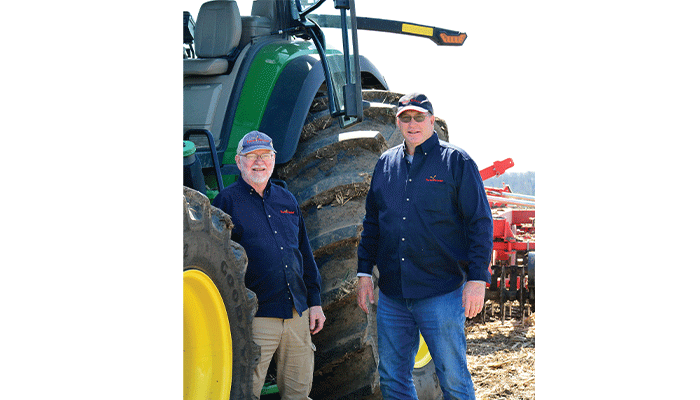 Pictured above:  MIke Youngblood, left, and Paul Zierke helped get fields ready and planted for the Whetstine families after the tornado. The two are volunteers with Farm Rescue, an organization that assists those who have suffered illness, injury or a natural disaster. PHOTO / BOB BJOIN
Want more news on this topic? Farm Bureau members may subscribe for a free email news service, featuring the farm and rural topics that interest them most!