Aid is welcome, but farmers need trade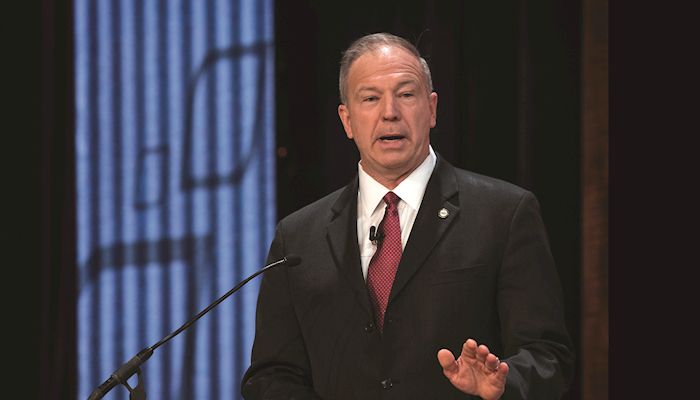 Iowa agricultural leaders and lawmakers last week welcomed a $12 billion aid package that would include direct payments to farmers. The package was announced by the Trump administration to provide short-term relief for farmers from the economic impact of retaliatory tariffs placed by major importing countries on U.S. agriculture exports.
Still, the agricultural leaders all maintained that expanding markets and increasing overall exports would be a far better long-term solution for farmers than a one-time package of government assistance.
"Iowa farmers are hopeful the $12 billion package of agricultural assistance will help mitigate the financial effects the trade war has had on farmers, and we look forward to learning more details about the package," said Craig Hill, president of the Iowa Farm Bureau Federation. "But, the bottom line is that farmers prefer trade over aid."
As global demand for food, fuel and fiber continues to rise, farmers need increased access to global markets, Hill said. "We continue to encourage the administration to end this trade war, and the clear preference for farmers is negotiating new trade agreements where we can grow demand for American-grown food, fiber and energy and have free access to markets, unencumbered by tariffs."
Hill's remarks about the short-term aid package were echoed by the Iowa Congressional delegation.
"In Iowa alone, more than 456,000 jobs are supported by global trade, and these new tariffs are threatening $977 million in state exports," said Iowa Sen. Joni Ernst. "While a trade mitigation package could boost farmer morale in the short term, this is ultimately a short-term fix. We need a longer-term strategy to ensure that farmers are able to sell their goods around the globe."
Iowa Sen. Charles Grassley said: "The president's announcement of billions of dollars in aid that will be made available to struggling farmers later this year is encouraging for the short term. What farmers in Iowa and throughout rural America need in the long term are markets and opportunity, not government handouts."
Ernst, Grassley and others pledged to continue to push the Trump administration to build markets and to finalize trade deals to boost sales of U.S. grains and meats.
Three-pronged approach
The Trump administration's aid package, announced July 24 by U.S. Agriculture Secretary Sonny Perdue, is designed as a three-pronged approach to offset the effect of retaliatory tariffs imposed by China and other key importers of U.S. farm goods. The importers imposed retaliatory tariffs on U.S. imports in retaliation for the Trump administration tariffs on several countries over steel and aluminum exports. The administration also imposed tariffs on China over intellectual property disputes.
"This is a short-term solution to allow President Trump time to work on long-term trade deals to benefit agriculture and the entire U.S. economy," Perdue said. "The president promised to have the back of every American farmer and rancher, and he knows the importance of keeping our rural economy strong."
USDA officials said the agency has the authority to launch the aid package and does not need Congressional approval.
Direct payments
The first part of the aid plan, called the Market Facilitation Program, will use Commodity Credit Corporation (CCC) funds to provide direct payments to farmers who raise soybeans, corn, dairy, hogs and other commodities affected by retaliatory tariffs from China and other countries. The payments will be administered by the U.S. Department of Agriculture's (USDA) Farm Service Agency (FSA) and will likely be based on a farmer's 2018 production of these commodities, USDA officials said in a conference call announcing the package.
"These payments will help farmers deal with unexpected storage and handling costs caused by retaliatory tariffs," said Greg Ibach, USDA undersecretary for marketing and regulatory programs. "It's going to provide more hope to farmers and ranchers that the president and the secretary do have their back."
Ibach added that the agricultural aid package will also show other countries "that we are serious about improving trade."
Details on the payment program are still being worked out, with more details likely available around Labor Day, the USDA officials said.
For the second prong of aid program, the USDA would use CCC funds to purchase the unexpected surplus of affected commodities such as beef, pork, milk and fruits. The department would then distribute the surplus to food banks and nutrition programs.
Finally, the USDA would work with the private sector to help develop new foreign markets to help offset the loss of sales to countries that have imposed the retaliatory tariffs.
Unjustified retaliation
The USDA said it is developing the aid package because "of the total unjustified retaliatory tariffs imposed on the United States, a disproportionate amount was targeted at American farmers." The tariffs, the department said, disrupt normal marketing patterns, harm prices and raise costs by forcing farmers to find new markets.
In addition, the USDA said there is evidence that sales of American goods are being singled out when they reach the ports of importing countries and are facing unusually strict and cumbersome entry procedures.
Want more news on this topic? Farm Bureau members may subscribe for a free email news service, featuring the farm and rural topics that interest them most!