Ag secretary Vilsack reflects on end of an era, hopes for continued gains in rural America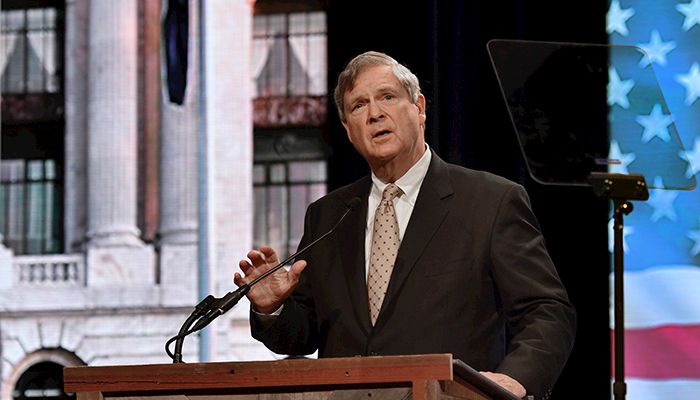 Tom Vilsack's voice quivered last week as he reflected on his eight years as U.S. secretary of agriculture, a position he has held longer than anyone in the past four decades.
"People ask me why I have stayed," Vilsack said during his keynote speech at the Iowa Farm Bureau annual meeting in Des Moines. "I stayed because I love the people I work for. I stayed because I love the people I work with. I've gotten to meet a lot of hard working farmers and ranchers in this country, and as long as I live, I'll be forever grateful."
As he often does in speeches, Vilsack listed the many reasons he believes rural America is underappreciated — ranging from its high ratio of citizens that serve in the nation's military to impressive increases in food production that allow U.S. citizens to spend less of their income on food than people in most other countries.
"The 15 percent of the population that lives in rural America supplies 35 to 40 percent of our military," he said. "Over my lifetime, it has increased its production by 170 percent on 26 percent less land and with 22 million fewer farmers. That production has led to low-cost food that has stimulated our economy. Everyone that gets to consider doing something other than farming gets to do it because of agriculture."
But he also set the agenda for agriculture going forward, reminding the farmers there is much work yet to be done to ensure clean water, free trade and a workable immigration system.
Conservation initiative
During his speech, Vilsack announced a new conservation initiative that will pay farmers 90 percent cost-share to install bioreactors and saturated buffers to filter nitrates and other nutrients from tile-drained cropland. The initiative, known as Clean Lakes, Estuaries and Rivers (CLEAR), is targeted to areas where traditional buffers have not been enough to prevent nutrients from reaching bodies of water, he said.
"We think this is a tremendous opportunity to partner with producers," said Vilsack, adding that he hopes the state of Iowa will also commit substantial funding for water quality improvements. "I want to make sure we do everything we can to help Iowa producers deal with this issue."
He urged farmers to reach out to their urban neighbors to bring greater understanding on water quality and other issues like trade and immigration that affect food production.
In many cases, groups are pushing social agendas without realizing their impact on food costs, Vilsack said. He relayed a conversion he had with food industry representatives about their plans to move to cage-free eggs. It's estimated that commitments made by restaurants and grocers will require some 210 million cage-free eggs in a few years, a 12-fold increase from current production capabilities, he said. The shift will require an estimated $8 billion investment by egg producers, but food industry representatives, Vilsack said, seemed unaware about the potential for farmers to recoup those costs.
"People don't understand how challenging (farming) can be," he said. "We have to continue to educate them so they will support what we need."
With negotiations on the 2018 farm bill beginning to ramp up, Vilsack said he hopes the talks start by assessing the needs of rural communities rather than a mandate to save a certain amount of money.
The rural economy is being retooled for the 21st century with an increased emphasis on a biobased economy, local and regional food systems, and conservation and natural resources, he said. Economic indicators show the rural population decline has stopped, unemployment is declining and incomes are rising, he noted.
"When you start with the need to save money, you're pitting programs against each other," he said. "It's a conversation that deserves to start with what the need is."
Speaking with reporters after the speech, Vilsack, who turns 66 years old this week, hedged on a question about his own future. He didn't rule out a return to public office, but suggested it was highly unlikely. Instead, he said he hopes to find a position which allows him to continue serving farmers and ranchers while also working with young people, possibly in Iowa where his political career began.
Want more news on this topic? Farm Bureau members may subscribe for a free email news service, featuring the farm and rural topics that interest them most!