A look back – and a look forward – as we close Iowa Farm Bureau's centennial year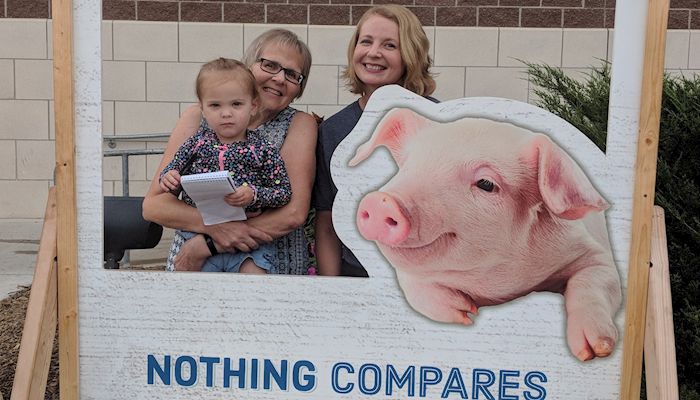 As we count down the final days of 2018, I can't help but look back at all that we celebrated during Iowa Farm Bureau's centennial anniversary this past year.
For me, one highlight I will always cherish is sitting in the grandstand at the Iowa State Fair alongside my mom, stepdad and daughter as we sang along with country star Brett Eldredge at the Iowa Farm Bureau centennial concert this summer.
My mom told me that it seemed like my entire North Iowa hometown showed up for the event. And sure enough, as we climbed the stairs of the grandstand, we ended up finding seats next to my high school science teacher and one of our long-time friends from church.
I also met several families who were thrilled to get tickets to the sold-out concert. They were quick to tell me that they've been Farm Bureau members for generations and appreciated all that Farm Bureau does to benefit their families, communities and the state.
Iowa Farm Bureau President Craig Hill summed it up best in his centennial annual meeting speech this month when he said that as a Farm Bureau member, you are not alone.
Indeed, when you're a Farm Bureau member, you're part of a family – a family committed to making Iowa the best state to live, work and grow.
As we advance into the future, Iowa Farm Bureau will continue its work to benefit farmers, agriculture and all of Iowa. A few of the many forward-looking programs include the following:
The innovative Renew Rural Iowa program, launched by Farm Bureau more than a decade ago, works to help boost the enterprise value of new and existing businesses in Iowa's rural communities through business education, mentoring and financial resources to help businesses grow. Since 2007, Renew Rural Iowa has helped generate more than $125 million in economic impact for rural communities.
Iowa Farm Bureau also recognizes Iowa youth for their academic success with one of the largest scholarship programs of its kind in the state, awarding $250,000 in scholarships to Iowa students in all 100 counties each year.
In addition, Farm Bureau Health Plan, a wholly owned subsidiary of the Iowa Farm Bureau that launched in November, provides an affordable health care option, particularly to Iowans who don't qualify for Affordable Care Act (ACA) subsidies and have been forced out the market by exorbitant premiums. Farm Bureau Health Plan is administered by Wellmark Administrators Inc.
To protect our natural resources, Iowa Farm Bureau has taken on the challenge of improving water quality – finding new and improved ways to reduce soil loss, fostering programs to develop conservation structures, advocating for conservation funding, funding research and developing partnerships to enhance watersheds.
Personally, Iowa Farm Bureau's centennial celebration has made me appreciate even more the value of the grassroots farm organization.
By being a member, I'm giving back to my community and making Iowa a better place to raise my family and live my best life.
Through the vast changes in agriculture and in our state over the next century, Iowa Farm Bureau will remain committed to the people, progress and pride of Iowa.
Want more news on this topic? Farm Bureau members may subscribe for a free email news service, featuring the farm and rural topics that interest them most!