2018 Iowa Average Cash Rental Rates by County
The 2018 average cash rental rates for corn and soybean acres ranged from $126/acre in Clarke County to $290 in Grundy County according to the ISU Cash Rental Rates Survey. The state average came in at $222/tillable acre which was up slightly from an average of $219/acre in 2017. In Iowa, 2013 was a record high average cash rental rate for corn and soybeans at $270/acre. This year is the first time since 2013 that the state saw an increase for average cash rental rates on corn and soybean acres.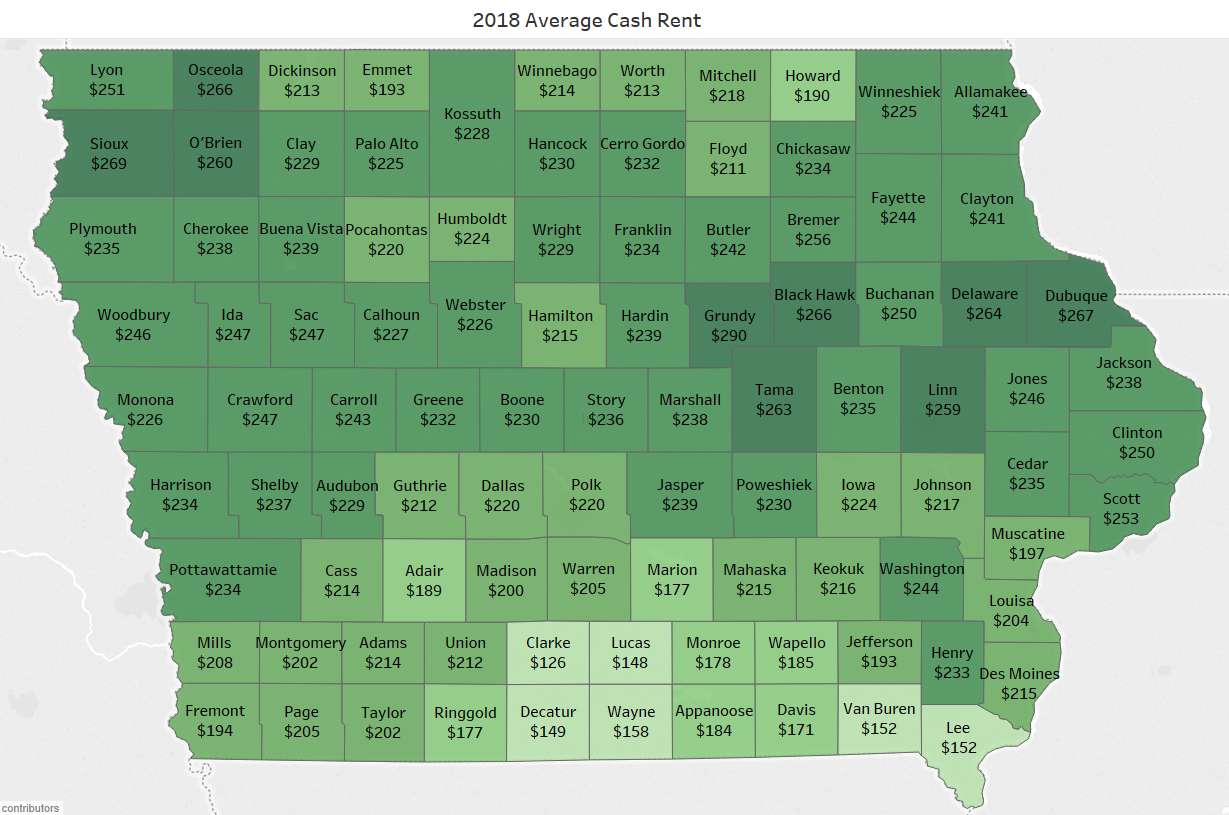 Over half of Iowa counties saw an increase in average corn and soybean cash rental rate from 2017 to 2018, with the largest percentage increase in Henry County at 14.2%. Clarke County and Lee County saw the largest percentage decline in average corn and soybean cash rental rates from 2017 to 2018 with declines of 28% and 21%, respectively.
This cash rent information is based on a survey of farmers, landowners, lenders, real estate brokers, and professional farm managers. More information on the survey and methodology can be found at https://www.extension.iastate.edu/agdm/wholefarm/html/c2-10.html. These rental rates can be used as a guide when setting rates, but will vary based on the geography of the land, soil type, accessibility of farm, crop prices, expenses and more.
Cash rent for improved pasture ground in 2018 ranged from the average low of $52/acre in Wright County up to an average of $144/acre in Shelby County. The average rates for cornstalk grazing varied across the state from $6/acre up to $15/acre.
Further detail on high, medium and low quality land, as well as average pasture rental rates and more can be found here by using the 'Category' dropdown on the map below. Historical information back to 2000 can also be seen by using the 'Year' dropdown.
Michelle Mensing, Research Analyst, Decision Innovation Solutions (DIS). DIS is an Iowa-based economic research firm which provides regular farm economic research for Iowa Farm Bureau staff & members.
Want more news on this topic? Farm Bureau members may subscribe for a free email news service, featuring the farm and rural topics that interest them most!