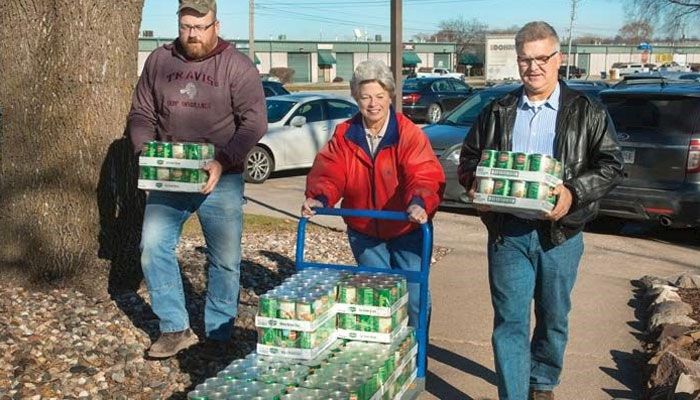 People quietly doing extraordinary things to help people in need is at the core of what it means to be an "Iowan" and what farmers have done for decades.

Iowa Farm Bureau believes this "neighbor-helping-neighbor" way of life is central to giving back to the great people of our state. That's why we support many great causes.

Our America Needs Farmers (ANF) partnership with the Iowa Hawkeyes and " Farm Strong" partnership with the Iowa State Cyclones have combined to contribute $161,045 to the Iowa Food Bank Association, helping the one in eight Iowans (including one in six children) who struggle with hunger.
Iowa Farm Bureau's ANF and Farm Strong partnerships have contributed $161,045 to the Iowa's food banks.

Through financial assistance, in-kind services, and sponsorships, Iowa Farm Bureau proudly supports the Iowa 4-H Foundation, Iowa FFA Foundation, Living History Farms, Iowa Blue Ribbon Foundation (Iowa State Fair), the Iowa Ag Literacy Foundation, the World Food Prize Foundation, Iowa Food Bank Association, Iowa Girls High School Athletic Union, Iowa High School Athletic Association, Iowa Hall of Pride and many more worthwhile organizations.

We're committed to serving our neighbors in all corners of the state for years to come! We hope you'll join our efforts, by becoming a Farm Bureau member today!
---
Recent News
Iowa Farm Bureau Federation supports Texas farmers and ranchers hurt by Hurricane Harvey
- IFBF donates to plains wildfire relief funds
- "America Needs Farmers" (ANF) celebrates Hawkeyes' West Des Moines spring practice with $32,000 donation to Iowa food banks
- Wildfires spur kindness from all directions