Wildfires spur kindness from all directions
The first winter after my husband, Craig, and I moved to our rural Dallas County home, we weren't quite ready for the snow. As new homeowners, we had yet to acquire a few essentials — like some type of snow-pushing apparatus. That first snowfall at our new home was picturesque as well as plentiful. We were trying to come up with a solution to our continually accumulating problem when we heard machinery outside our home. We peered out our snowflake-covered window to see someone in a tractor clearing out our driveway. Craig quickly put on his boots and coat and ran to find it was our closest neighbor, one we had only met once before. We thanked him profusely for this generous act.
I started to realize that Farm Strong® character means pitching in even when you least expect it. For me, that moment happened one sunny morning in early fall. I was driving down a gravel road on my way to work when I was met by Patches, my neighbor's "rescue" donkey who was munching on some roadside weeds. My neighbor wasn't home, and I realized it was my turn to do the neighborly thing, so I grabbed Patches' halter and began to guide him back to his pen. There I was, in my black blazer, blouse, dress pants and high heels, tromping through the morning dew grass, my shoes digging awkwardly into the dirt. Although a friendly donkey, Patches sure thought the grass was greener on the other side, and it took quite a bit of coaxing to get him back into his pen. If anyone had been watching, I'm sure it was quite a sight. My neighbor thanked me and said she owed me, but I said, it's just what neighbors do, help each other out in a pinch.
I'm seeing that same kind of Farm Strong spirit realized around Iowa, as Iowa farmers step in to aid the many ranchers affected by wildfires that have scorched roughly 1.6 million acres in Kansas, Oklahoma, Texas and Colorado, wiping out not only forage but many multi-generation homesteads, entire cattle herds and also causing a handful of tragic deaths.
Iowa farmers have been seen traveling by semi to deliver hay and fencing materials to areas affected by wildfire after Governor Terry Branstad signed a proclamation allowing the temporary transport of oversized loads of forage through Iowa (see photos below). Young Iowa farmers who didn't have extra money to spare donated their time in Kansas by reconstructing fences. Iowa-based efforts will continue April 7, as the Iowa Cattlemen sponsor an online auction with proceeds going those afflicted by the wildfires.
Across the Midwest in general, I've seen continuous stories of various ag groups, businesses, 4-H clubs, FFA chapters and non-farming individuals coming together to raise money, package food and assemble everyday items like socks for those who lost everything. The relief efforts have been incredible to see, especially at times like these, where headlines often showcase divisive actions, conflicts or protests.
These Midwest and Iowa-based ranchers and farmers won't ask for thanks or take any credit, they're just doing what they believe is the right thing to do. And they're a great example to us all that community isn't about zip code but the simple act of helping others whom we share a common bond. It can be as simple as holding the door, saying a prayer, donating needed supplies or leading a stubborn donkey safely home.
By Caitlyn Lamm. Caitlyn is Iowa Farm Bureau's public relations specialist.
Photos Caption: Several Iowa county Farm Bureaus, farmers, and local Iowa businesses teamed up to send a semi full of fencing supplies to Kansas farmers devastated by wildfires. They topped off the load with a box of Farm Strong t-shirts.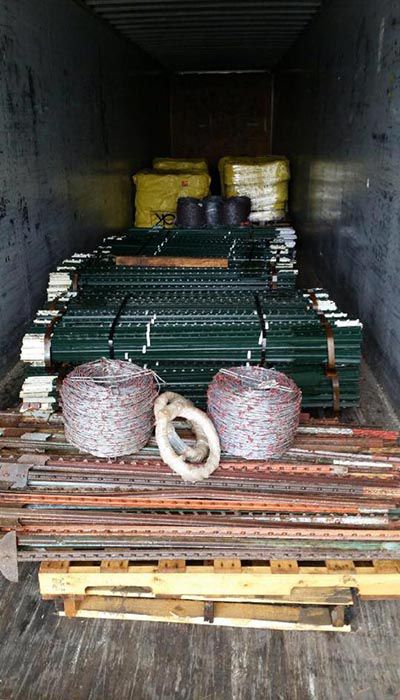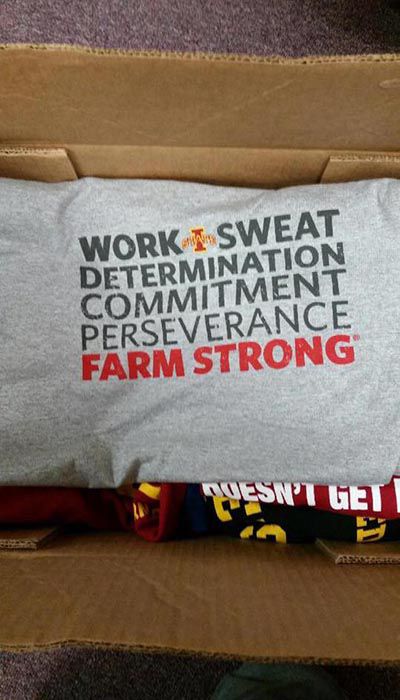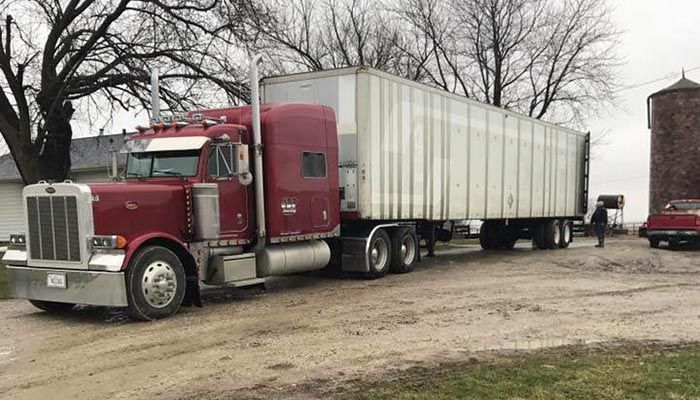 Want more news on this topic? Farm Bureau members may subscribe for a free email news service, featuring the farm and rural topics that interest them most!