Hanrahan demonstrates cow-calf care through live Facebook chat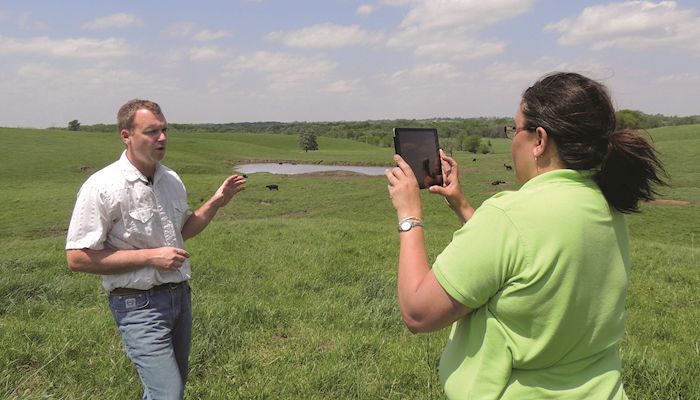 Last week, Madison County Farm Bureau President Dan Hanrahan gave a tour of his cow-calf farm to 150 visitors who didn't even have to step foot on his farm.
In collaboration with the Iowa Ag Literacy Foundation and the Iowa Beef Industry Council during May Beef Month, Hanrahan gave a tour of his farm through a FarmChat program broadcast through Facebook Live.
As Cindy Hall, education program manager for the Iowa Ag Literacy Foundation (IALF) held the iPad, Hanrahan showed viewers the cows and calves grazing and resting in one of his pastures on his farm near Cumming.
Hanrahan, a fourth generation farmer, talked about the calving season, how his family works to take care of the cows and their calves, and the life cycle of their herd.
At the ground level, Hanrahan pointed out the different types of grass that his cattle eat in the pasture.
"The thing about having different grasses is they all like a little bit different environments. So a wet, cool summer favors one grass over another. A hot, dry summer gives a different type of grass a chance to grow. So by maintaining a variety is kind of like having insurance for whatever Mother Nature throws at us," he explained.
The FarmChat program has been utilized by many in the state, Hall said.
"In 2016, Ag in the Classroom county contacts (staff and volunteers) reported doing 87 FarmChat programs that reached 5,465 students," she said.
That doesn't include programs organized by Extension staff, teachers and farmers on their own, she said.
Hanrahan said the FarmChat program via Facebook Live was a great way to show others what life is like on his cattle farm.
"It gives people the ability to ask questions in real time and communicate and interact that way. It makes it much more of a conversation than just being a one-sided conversation," Hanrahan said.
The FarmChat program through Facebook Live allowed IALF to reach more people than through a school field trip or a Skype conversation with one classroom.
"It enables anyone, particularly students, to be able to see cattle close up and become more familiar with what a farm looks like," Hall said. "It allows them to see the care the farmers take throughout the year and how farmers like Dan raise livestock."
Working with the Iowa Ag Literacy Foundation also helps extend the work of the beef checkoff, said Chris Freland, executive director of the Iowa Beef Industry Council.
"We know that less than 3 percent of the population is connected to production agriculture, so to be able to use technology and immerse students and others who may not know a farmer or understand farming is truly a mission of what we're trying to do," Freland said.
Want more news on this topic? Farm Bureau members may subscribe for a free email news service, featuring the farm and rural topics that interest them most!