Young farmers engage in 'food fight' to beat hunger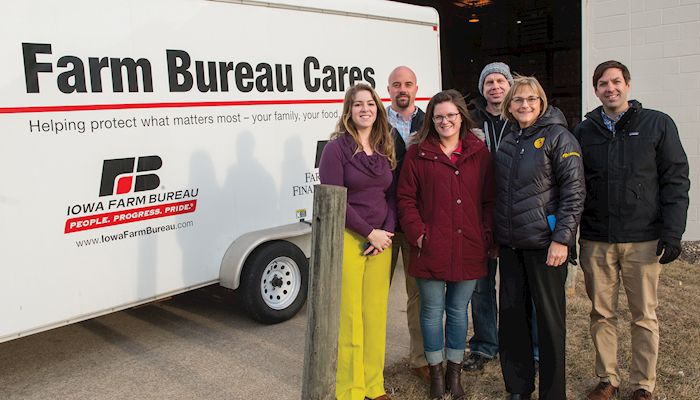 As a Cyclone fan, I have to celebrate wins as they come (especially if it's a win over Kansas at Kansas). So I'm super excited to announce Cyclone fans triumphed during the Young Farmer Conference "food fight."
Despite the name, no food was thrown about or wasted. Remember, farmers do their best to be resourceful and sustainable! Instead food was collected and money raised through the purchase of Farm Strong and ANF gear to see who would contribute the most to the Food Bank of Iowa—Hawkeye fans or Cyclone fans.
This good-natured competition brought in champs from both sides because it generated 343 pounds of food and $6,220. That's the power of using in-state rivalries for a good cause. To up the ante for next year's food fight, we might have to call our friends over at Iowa Corn to see if this competition can be added as a qualifier to win the Cy-Hawk Series trophy.
In all seriousness, I think these numbers are incredible, and no matter which fans contributed what, it's truly hungry Iowans who win.
After delivering the collections to the Food Bank of Iowa, the events and volunteer coordinator Michaela Devany gave five other Farm Bureau employees and me a tour of the facility. As we were walking around learning how donations are collected and distributed, one of my colleagues commented we take food for granted, and he's right.
There are kids and adults who go to school or work with the distraction of rumbling stomachs and worry about when and what their next meal will be. In fact, one in five Iowa children fights the pangs of hunger. I remember taking an intro to psychology class in high school and learning about Maslow's hierarchy of needs, which states the foundation of all wellness begins with food, water and shelter. Before we can even move up the pyramid to things like having solid relationships, accomplishing goals or feeling we have a purpose, we first need food.
From monetary donations alone, young farmers who participated in the 'food fight' will provide nearly 25,000 meals to Iowa families in need. I hope this will translate not only into satisfied stomachs but opportunities. Maybe for an adult, who can now focus at work and get that well-deserved promotion. Or maybe for a young student who is now able to concentrate in school and maybe even become class valedictorian.
Who knows, maybe that valedictorian with renewed interest in education and unlimited opportunities available to them will become our next Norman Borlaug. Now, wouldn't that be a big 'win' to celebrate and a story to tell?
By Caitlyn Lamm. Caitlyn is Iowa Farm Bureau's public relations specialist.