Young Farmer Conference begs question, what makes a real farmer?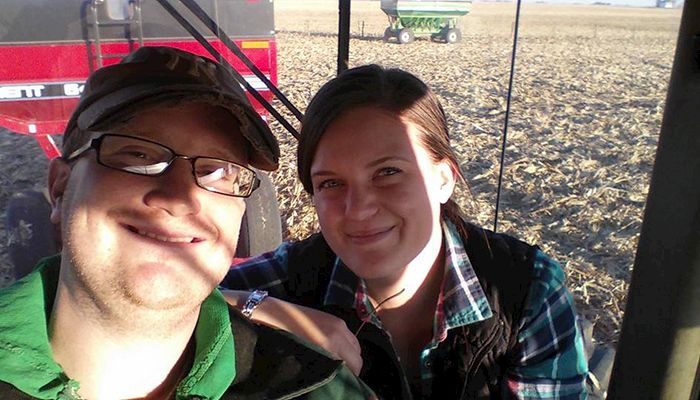 My husband, Craig, doesn't think he's a farmer.
When people say to him, "So, Caitlyn says you farm with your dad…," he usually shrugs and says he helps here and there. He doesn't think he is a "real" farmer because it's not his fulltime job, although I'd beg to differ when harvest rolls around. After all, we have spent my Halloween birthday in a tractor once or twice now.
I wish he could have been at Iowa Farm Bureau's Young Farmer Conference this past weekend when Lynn Bolin, who spoke on her transition from city to farm life, asked listeners to stand up if they had an off-farm job that wasn't related to agriculture. I think Craig would have been surprised to see more than half of the 35-40 people in the session stand up.
In fact, according to Iowa State University, one in three farmers has an off-farm job today. This number was only one in 16 back in 1929. Obviously, a lot has changed since then. Craig likes to tell the story of how during his grandfather's lifetime his "tractor" went from literally one horsepower to about 240.
With all of these changes in technology and lifestyles though, it begs the question - what makes a real farmer? There's no perfect answer, but through my observations at the conference I came up with two qualifiers I believe would make the list:
Being a caretaker in all aspects of your life. Not only did these young farmers drive from across the state to learn about cover crops and other conservation practices in order to do right by the land, many of them brought their children. During conference breaks, you could see little boots strolling around the hallways and finger print smudges on the glass revolving door from curious hands. These wandering two-foot tall sprouts are a good reminder that farmers believe in doing what is right for their farms and their families.
A willingness to collaborate and take on new challenges. Farmers seek out advice from Iowa State University, their local veterinarians and agronomists, but at this conference young farmers also found value in sharing with one another. I saw attendees greet new acquaintances and old friends, and I was incredibly grateful to have my acquaintances introduce me to others. Farming can be a smelly, messy and stressful job with few accolades and feedback (well, unless you've misread a hand signal, then you may get an earful of feedback). Being able to connect and share challenges makes it feel like whether we live in a town of 8,000 or 80, we are not on an island.
So, to me, farming is more than planting straight rows and raising livestock. Even though Craig may see himself as "just" a grain cart puller, rock excavator, fence fixer, corn bin leveler or straight truck driver, like these young farmers, it is his passion, integrity and commitment to his family farm that make him a "real" farmer.
By Caitlyn Lamm. Caitlyn recently joined Iowa Farm Bureau as public relations specialist.