Young farmer takes every opportunity to tell ag's story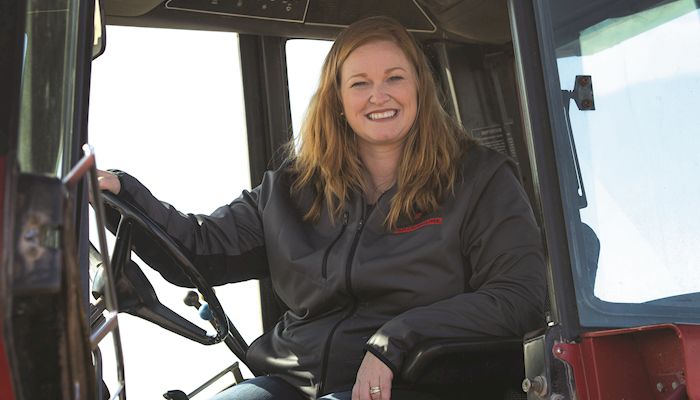 Young farmer Beth Rachut takes advantage of every opportunity she can to tell the story of agriculture.
Rachut volunteers to help at local Farm Bureau events and hosts tours of her family's farm. She reaches out to county supervisors to discuss livestock issues, and she lobbies on the state and national level to push for policies vital to young farmers in Iowa.
However, Rachut says it took training and a lot of courage for her to become more comfortable talking to consumers and lawmakers about modern agriculture.
"It just takes practice and a little bit of baptism by fire," says Rachut, 35, a Mitchell County Farm Bureau board member who farms near Osage. "You get thrown out there, you do it and you think, it wasn't so bad. Maybe somebody says thank you for telling the story, and you catch the bug.
"Because this is what we need to do. This is how the general public learns. Otherwise, they assume, and assumptions are never good," she continues.
In recognition of her dedication to agriculture and the community, Rachut will receive the 2017 Young Farmer Leadership Award, honoring Bob Joslin, at the Iowa Farm Bureau (IFBF) annual meeting Dec. 5-6 in Des Moines.
The award, presented by the Iowa Farm Bureau Federation (IFBF), honors young farmers who demonstrate outstanding leadership in Farm Bureau, agriculture and their communities.
The award was created in honor of Bob Joslin, IFBF president from 1986 to 1987, who was known for his support and encouragement of young farmers.
"This is where my heart belongs, is in agriculture. It's in my veins," Rachut says. "Once I had gotten involved, I found my place."
Living the dream
Rachut and her husband, Steve, have a diversified farm, growing corn, soybeans, onions, potatoes and sweet corn in northern Iowa.
Steve has grown sweet corn since he was in high school, setting up a stand in Osage and at local farmers markets. The Rachuts also are partners in Kittleson Brothers, a farming operation near the town of Fertile that has grown potatoes and onions for more than 100 years.
Rachut met her husband at Iowa State University, where she majored in ag communications and education. She grew up on a livestock farm in Guthrie County.
After graduation, she worked for the Natural Resources Con­servation Service (NRCS). Then four years ago, she and a business partner started Three Rivers Ag Consulting, a company that helps farmers develop manure and nutrient management plans.
Running the business from home gives Rachut the flexibility to help manage the farm while balancing her busy schedule as a mom to three: Abby, 8; Caleb, 7; and Ellery, 2.
"I ran into an old college friend right before I went to farmers market one day, and she said to me, 'You are living the agricultural dream.' At first I thought, sometimes that dream is an awful lot of work," Rachut says with a laugh. "But the more I thought about it, yeah, we are. We are living the dream."
Joining Farm Bureau
When Rachut married and moved to northern Iowa in 2005, her parents encouraged her to get involved in Farm Bureau to meet more people.
Rachut ended up joining the Mitchell County Farm Bureau board. She was a membership campaign manager for four years and currently serves as the board's vice president.
Each year, the Mitchell County Farm Bureau hosts a successful grocery cart race on Ag Day, inviting local businesses to compete at filling up their carts for local food pantries.
"We've actually gotten some memberships out of that, because businesses will want to do it, and we require you to be a member," Rachut says.
This fall, the county Farm Bureau handed out pizza and bottled water to farmers waiting in line at the local elevator during harvest.
"I have to give credit. We do a lot of really fun activities, and we are a very involved board. And you can't be a leader without a good team, and they're one heck of a good team," Rachut says.
Also this fall, Rachut traveled to Washington, D.C., with the Iowa Farm Bureau's Ag Leaders program to meet with lawmakers to discuss policy issues — including tax reform, the next farm bill and conservation funding — that impact Iowa farmers.
In addition, Rachut reaches out to state legislators and county supervisors to explain the importance of livestock farms to the local economy and to young farm families, like the Rachuts, who are just starting out.
"There are so many things that are happening with activist groups and misinformation about agriculture. It's more and more important to talk about it," Rachut says
Leadership advice
Even though she juggles family, farm and work responsibilities, Rachut says it's worth her time to volunteer for Farm Bureau, local agriculture groups and the community.
"My husband and I have seen the benefits by being involved in our community. It helps your farm," Rachut says. "People notice that you are being involved, and they know that you're becoming a better person because of it. I think it's almost crucial to your farm as you are starting out."
She encourages other young farmers to do what they feel comfortable with — whether that's volunteering for Ag in the Classroom, writing a letter to the editor or lobbying at the statehouse.
"It doesn't always have to be talking. It can be written. It can just be support. Support is just as important," Rachut says. "It takes all kinds of leaders on all different levels."
Want more news on this topic? Farm Bureau members may subscribe for a free email news service, featuring the farm and rural topics that interest them most!