Young farmer leaders honored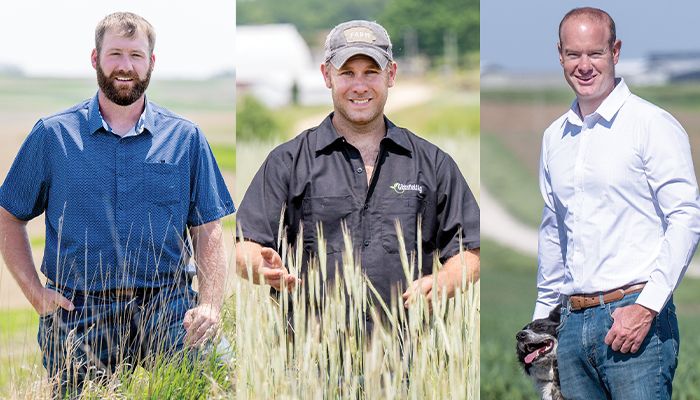 The winners of Iowa Farm Bureau's 2023 Young Farmer Leadership Award share a passion for farming, a drive for innovation and a desire to pass their knowledge along to the next generation of consumers and farmers.
This year's honorees — Josh Bierbaum of Cass County, Matthew Burt of Marshall County and Ryan Gibbs of Delaware County — took different paths back to roles on their multigenerational farms. 
While all three have a healthy respect for the past, they also have one eye on the future in terms of adopting technology, conservation and other innovations in hopes of keeping their farms thriving for generations to come.
The Iowa Farm Bureau Young Farmer Leadership Award was created in honor of former Iowa Farm Bureau President Bob Joslin, who was known for his support and encouragement of young farmers. It recognizes young farmers between the ages of 18 to 35 who are actively contributing to their communities and are growing as leaders through their involvement with their county Farm Bureau and the Iowa Farm Bureau. 
Bierbaum, Burt and Gibbs will be recognized at the 2023 Iowa Farm Bureau Federation annual meeting in December. In addition, the Iowa Farm Bureau will provide $2,000 community grants to local nonprofits designated by each of the award winners.
Community-minded focus
Josh Bierbaum wants to help ensure the community where he was raised and educated prospers long into the future. 
Bierbaum grows corn and soybeans with his dad and brother near Griswold, returning to the family farm in 2022 after several years working as a crop specialist in southwest Iowa and northwest Missouri.
"When you grow up, you think about how much the community gave to you, so you want to be part of that for the younger generations coming back to rural Iowa," he said.
For Bierbaum, that means volunteering for several community organizations, including the Griswold ag boosters association, which helps the local FFA chapter with various projects including the county fair, soil judging contests and a 10-acre corn and soybean plot. He is a graduate of Iowa Farm Bureau's Ag Leaders Institute and currently serves as Cass County Farm Bureau vice president. 
He says it is important for farmers to make their voices heard on key legislative issues both at the state and national level.
"It's really important to represent Farm Bureau and, more specifically, my own family farm. Let (lawmakers) know what the issues are that are affecting you day-to-day because if we don't tell our story, someone else will," said Bierbaum. 
The Bierbaums use an array of conservation practices including no-till, grass waterways, terraces and cover crops to protect soil and water on their farm's rolling hills in southwest Iowa. 
The family works with the city of Griswold to plant cover crops on fields that are in the capture zone for the city's water wells. They also participate in field trials with Iowa State University and the Iowa Soybean Association to study water quality and emerging pest threats like soybean gall midge. 
"We do water quality testing for nitrate levels and phosphorus, just making sure we're keeping it on our farm as much as possible. Results have shown that through our no-till practices and cover crops it's been working very well to keep the runoff low," he said. 
Bierbaum and his wife, Logan, elected to donate his grant award to the Cass County 4-H Endowment.  
"It was very important to both of us, being former 4-H members," he said. "4-H is very near and dear to our hearts, and we thought what better opportunity than to give back to the current and future 4-H members."
Farm Bureau legacy
Farm Bureau involvement runs deep for Matthew Burt's family. His great-grandpa was a Farm Bureau district director and his dad, Allen, is the current District 5 director. 
So there was little question that he would continue that involvement when he joined the sixth-generation family farm in Marshall County — not that he needed much of a nudge.
Soon after returning to the farm, he joined the Marshall County Farm Bureau board and participated in the Ag Leaders Institute. Burt has gone on to serve as county vice president and president and will soon be the county's voting delegate. He's also helped execute numerous county activities such as a farm-to-table dinner, tractor safety demonstrations and other ag in the classroom activities.
He and his wife, Karen, have a 1-year-old daughter.
Through Farm Bureau, Burt has developed a network of young farmers to bounce ideas around and help each other out.
"Establishing a network of farming friends as well as business contacts is critical for young farmers to improve their operations. You can see what's working for other farmers, what other young farmers are doing well that you can replicate," he said. 
He's also involved in advocating for Farm Bureau policy at the statehouse and in Washington. 
"People don't know what works and what doesn't work out here on the farm unless we tell our story," says Burt. "We need to tell our stories and show how the regulations impact us as a family farm that wants to pass it on to the next generation."
After graduating from Iowa State University and working for a farm co-op, it didn't take long for Burt to realize the farm is where he wanted to be. 
"I told my dad I don't care what I have to do, I'm going to work on the farm," he recalled. "So I ended up trucking and doing whatever needed to be done, and it's grown from there."
His goal is to continue evaluating different practices and products to improve management and increase yield on the farm, where the Burts raise crops, cattle and hogs. 
For example, Burt is trying strip-till practices on 200 acres of corn-on-corn this year. They've also implemented many conservation practices including grass waterways, cover crops and variable rate fertilizer.
"I'm really excited to see how I could use (strip-till) going forward to reduce my passes across the field from three or four to maybe one while still doing our corn-on-corn rotation and maintaining the same yields," he said.
Burt designated his grant award to the Seeds of Hope Foundation, founded in honor of his friend Chasen Stevenson who passed away due to cancer. The foundation helps farm families dealing with long-term and life-threatening illnesses.
Dedication to innovation
In some respects, Ryan Gibbs figures if his neighbors aren't talking about him, he's not trying hard enough. 
Gibbs said his family's Delaware County farm was very much a typical northeast Iowa operation when he joined his dad after graduating college, growing mostly continuous corn using conventional tillage.
But after noticing how cover crops were helping slow erosion on a neighbor's farm, he decided to try them out himself.
"I just knew it was time for a change. Originally, my dad was like, 'I don't know about this,'" recalled Gibbs. "That first harvest, the yields were the same as the previous year. So we started transitioning into all cover crops and no-till. 
"It has its challenges, but the benefits we see are worth it, both physically and financially. It is our goal to keep something growing on the soil 11 to 12 months out of the year."
Gibbs has moved into a multiple crop rotation with corn, soybeans, cereal rye, buckwheat and alfalfa, with the goal of incorporating a couple more crops and  livestock into the rotation. He also sells cover crop seed, and raises cattle, hogs and a few chickens.
When he plants into 4-foot-tall rye, he marvels at the plethora of pheasants, birds and butterflies that scatter from the cover.
"It's neat seeing there's a lot of life out there. When there's life above ground, I feel there's a lot of life below ground — making that soil biology work and making it healthy," he said.
Gibbs also assists the Maquoketa Valley FFA chapter with its 20-acre crop field, donating cover crop seed, helping take soil samples and making fertilizer recommendations. 
He designated his grant award to the FFA chapter to put in a hydroponic system to grow vegetables for the school cafeteria and a local business.
Gibbs and his wife, Kristy, have two children. 
He's a member of the Delaware County Farm Bureau board of directors and is involved in several county Farm Bureau activities, including educating students about his farm via FarmChat and other Ag in the Classroom programs. He also hosted Rep. Ashley Hinson on his farm to discuss current agriculture topics and conservation practices.
"Being involved on the board has enabled me to meet new people in the community who also share the same vision I have in regard to promoting agriculture," he said. "It feels good to be part of an organization that has the ability to give back to the community and associate with people not just in agriculture but everybody in the community."
Want more news on this topic? Farm Bureau members may subscribe for a free email news service, featuring the farm and rural topics that interest them most!