WoMEn in Agriculture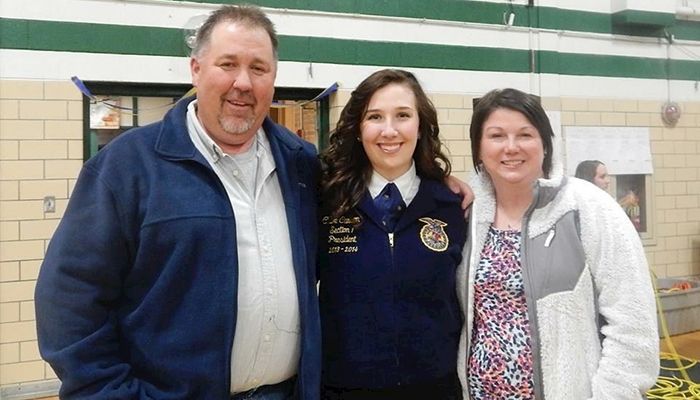 Nestled in the very northwestern corner of Illinois, you will find the place I call home. It is where I spent hours in a wagon pulled by my older brother's pedal tractor; where I fought with him over the "good" buddy seat, and hooked up our farm dog to my first tricycle in hopes of a wild ride. It is the place where the summer baby sitter was a Polaris Ranger, bottle calves were first pets, and hauling hay was a fun, anticipated event. It is the place where I decided who I wanted to be when I grew up and what I wanted to do. It is where my journey began.
I have worn the "sacred" blue corduroy FFA jacket, raised chickens, pigs, and cattle and walked across the stage at my high school graduation. I have ventured beyond Illinois' state lines and into the classrooms of Iowa State University where I am double majoring in Agricultural Communications and Public Service in Agriculture and am currently interning in the Marketing and Communications division of the Iowa Farm Bureau. Yes, that's right; I am pursuing a career within the agriculture industry, which, despite my fond memories growing up on the farm, isn't what I had expected.
When asked what I wanted to be when I grew up, I used to say, "a nurse, an artist, or a ballerina." Never in a million years did I think I would be an agriculturist. That was definitely my older brother, whose answer was always, "I want to be a farmer." I never had any intention of pursuing a career that would take me back there. After all, isn't an agriculturist a farmer; a guy who wears bib overalls, boots, and a hat?
Maybe you have a similar notion of agriculture, based on its history, where women assumed supporting roles versus operational or strategic business roles. Here in Iowa and beyond, I'm proud to have met so many women who are breaking these barriers and paving a new and unique place in an industry which was once thought of as strictly "a man's world." They are now the faces behind seed counters, tractor wheels, and blogs. They are becoming industry leaders too, as 10 Farm Bureau County Presidents in Iowa are currently women and even more are taking on other leadership roles within this organization every year. It's welcome news for young professionals like me, who are working to find their own place in agriculture.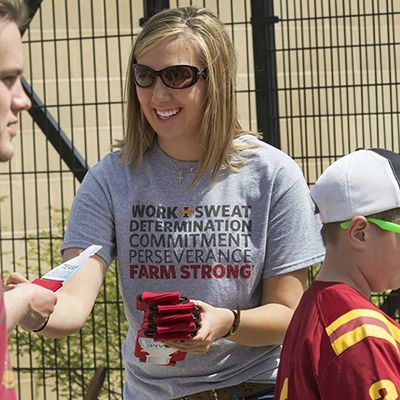 Laura Cunningham of Floyd County Iowa is an active participant in her family's farming operation. She's just one of the many women breaking barriers in agriculture. "If you were a woman previously in the agriculture industry it meant you were helping out on a family farm, but today women now have the opportunity to take on leadership roles professionally as well as add in some entrepreneurial practices," she says.
That doesn't mean it will be easy. Young women often confront obstacles that make it difficult to return home to the family farm, such as another sibling, a brother, who is already set to return. This is where Laura urges women to develop the determination and mindset to start something for themselves. "It is possible," she says, "For example, I currently have an off-farm job at a seed company and only farm part time, but in order to ensure that my husband, brother-in-law, and their father have the ability to farm together, my husband and I added cattle to expand. It's all about creating your own opportunity."
I agree! Opportunity is the deciding factor for entering this industry; we have to seek it out or make it. My advice to other young women and girls on farms today, hauling hay, feeding calves and vying for time behind the wheel of the family tractor, is to make a plan and decide today who and what they want to be. Seek out organizations like the Iowa Farm Bureau who have programs that can help you develop that plan, whether that's Farm Bureau's Take Root program, Renew Rural Iowa or Young Farmer program. Don't let history and the stereotypes too often associated with our industry stop you. Agriculture is no longer a man's world. It is a world filled with diversity, passion, opportunity and WoMEn.
By Chloe Carson. Chloe is a marketing and communications intern for the Iowa Farm Bureau.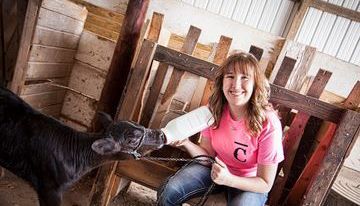 Photo captions
Top - Chloe Carson pictured with her parents
Middle - Chloe greeting Iowa State Cyclone fans with farm and water quality facts as part of an Iowa Farm Bureau event at Jack Trice Stadium.
Bottom - Chloe feeding a calf.