Why does Iowa's new water quality bill matter? Q & A with two Iowa farmers who attended Governor Reynolds' bill signing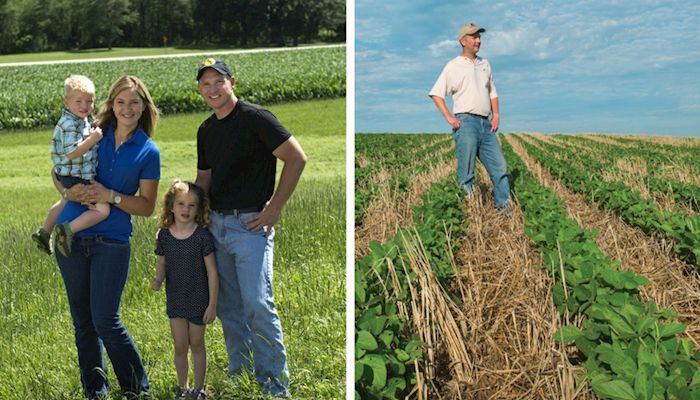 On January 31, Iowa Governor Kim Reynolds signed her first bill into law, a bill that commits long-term, dedicated funding ($282 million over 12 years) to conservation and water quality improvements. Mark Kenney, a corn and soybean farmer in Story County, and Doug Adams, a Humboldt County farmer and soil conservation technician for the U.S. Department of Agriculture's Natural Resources Conservation Service (NRCS), were two farmers on-hand for the bill signing.
Chances are, if you live in Iowa and follow the news, you've read or heard commentary on this funding bill. Depending on who you listen to, the bill is either an important step that will allow Iowa to keep making big strides in water quality or not nearly enough. But have you read a "hot take" from anyone who's actively involved in collaborating with others on water quality issues and actually implementing water quality solutions? If not, you'll want to read what Kenney and Adams have to say about the bill and water quality issues in Iowa.
Q: What kinds of practices are you using to protect soil and water on your farm?
Kenney: On our farm, what we've worked on and continue to build on, is establishing over 5 miles of new grassed waterways to act as a natural nutrient filter, in addition to putting about 30 acres of marginal row crop ground into grassed areas. Putting that marginal ground into grassed areas is something we've done on our own (because I thought it was the right thing to do), not through any government programs.
What we've really started to get into just in the last couple years is working with cover crops. I'm really starting to see that with the cover crops (in addition to the establishment of the grassed waterways and putting some of more marginal land back into natural habitat) we're leaving a lot more of that soil covered, doing a lot better job of controlling erosion, and doing a lot better job of scavenging nutrients."
Adams: I grow corn and soybeans. I plant the soybeans no-till and do my corn strip-till, and we added cover crops about 5 years ago. I'm also the soil conservation technician in the Humboldt NRCS office. As a technician, I talk with farmers about their soil health, some of the benefits of doing no-till and improving soil health with cover crops. I help raise their awareness, and then I help them decide what fits best for their farms.
Q: Why does this bill matter?
Kenney: I think the biggest thing, regardless of whether or not I farmed, as a citizen of the state, I think it sets the tone that this is an important issue to all Iowans. Of course, as a farmer I have a large role to play. I'm excited that there is so much importance being placed on it, not only from a monetary standpoint (that's very important, certainly), but I think the symbolic nature of this being the first bill signed by Governor Reynolds is a tone-setting type of action. It just says, hey, this is important. We're willing to invest in tackling this issue.
Adams: The bill signing represents that we're going to continue this water quality program. We're going to build on the momentum that we've already started. This is going to help show farmers that the cover crops, water quality programs, and funding will be there for the next 12 years. Long-term programs show that the state's committed to this, and so it's going to be around for years to come and be part of our Iowa landscape to help improve water quality, as well as soil quality.
I've helped with two bioreactors as an NRCS technician, and we've really seen the cost of those bioreactors come down quite a bit. When you're dealing with something brand new, early on it's hard to reduce costs on those programs. As contractors get more experienced, we're able to get some efficiencies built into it and lower those costs.
Q: Does this bill fully address Iowa's water quality issues?
Kenney: The passage of this bill is not going to magically solve the overarching environmental concerns that exist throughout Iowa. Certainly not. There is more work to be done. There is no question. But everything's got to start somewhere. The journey of 1,000 miles has got to start with that big first step. The biggest thing, I believe, is this sends the signal that we're all serious about this.
It's good from a legislative standpoint. There's money there for cost share and other things to address some of the water quality issues. But it also just says, hey, this is real. We're all going to work on it. We need to work on it together. There needs to be collaboration. We need to use what we've learned and move forward. Making this a political issue, finger pointing, and those kinds of things won't solve anything. The work is just starting now, but I think it's a really good, aggressive first step.
Adams: It's definitely a step in the right direction. Most of the time what we're talking about at water quality meetings is partners, such as our commodity organizations or even food retailers. I think when you put longer term funding under these programs that really gives them a more stable base, so hopefully we'll have more of these partners join and bring some funding as well. Those partnerships are good opportunities to help share the cost and in the end get a better product, as well as improving the environment.
By Zach Bader. Zach is Iowa Farm Bureau's Digital Marketing Manager.
Want more news on this topic? Farm Bureau members may subscribe for a free email news service, featuring the farm and rural topics that interest them most!