Why buy local flowers? Four flower farmers explain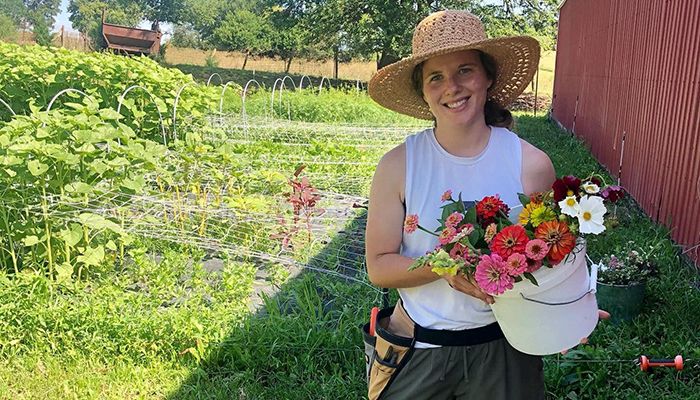 As Iowans, we know our state is blessed with fertile soil perfect for growing crops. 
While we tend to think of corn and soybeans, there is another type of agriculture blossoming around the state—flower farms. 
As Valentine's Day rolls around, perhaps you've historically picked up a bouquet on your way out of the grocery store or ordered flowers through a website.
However, there are many benefits to buying from a local flower farm. Plus, these farms offer gifts that keep on giving throughout the year through flower subscriptions. 
To learn more, I reached out to Iowa Farm Bureau members Anna and Shae Pesek of Over the Moon Farms & Flowers in Delaware County, Cassandra Kubik of Pine Hill Farm in Linn County, Jordian Dougherty of Main at Hart in Marshall County and Morgan Hibbs of HB Flowers & Beef in Johnson County.
Here's what they had to say about this budding sector of agriculture: 
What are the benefits of buying from local flower farms?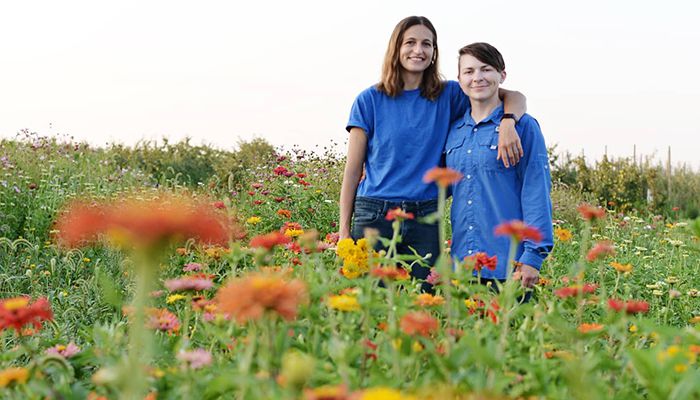 (Photo: Anna and Shae Pesek of Over the Moon Farm & Flowers in Delaware County)
Anna and Shae say people may be surprised to know most flowers on the market are imported. That means when you buy local, you're getting a fresher and high-quality product to enjoy longer. 
With this shorter proximity, Jordian reminds people local flowers carry a lower carbon footprint. And the dollars you spend with buying direct from a farmer go back into your town's economy. 
Buying direct from a farmer helps form relationships, too, says Morgan. "By shopping local, you support a family farm and can learn about the care that went into the product you're buying."
Another bonus—Iowa farmers may grow flowers—like dahlias—you can't find at a florist, says Cassandra, because those varieties cannot withstand being shipped out of water. 
Essentially, buying from flower farms near you checks all the boxes: a product that is high-quality, fresh, unique, more environmentally-friendly and supports people in your community. 
What do you wish people knew about growing flowers in Iowa?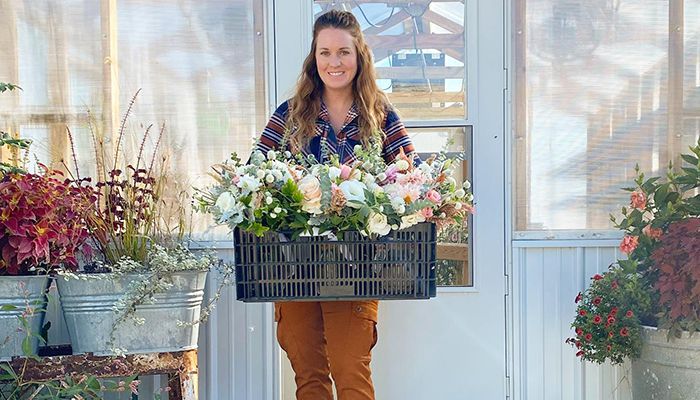 (Photo: Cassandra Kubik of Pine Hill Farm in Linn County)
"Growing flowers is so much more than the beautiful photographs you see of farmers holding big armloads of flowers," says Cassandra.
In fact, all agree it's one of the most labor-intensive types of agriculture there is. While many of the considerations are the same as traditional crops such as preparing soils, dealing with pests and adjusting to Mother Nature, it's manual work. Seeding, planting, weeding, harvesting—all is done by hand. 
However, for Anna, Shae, Morgan and Jordian, it adds value to their farm as a whole. Since growing flowers is a seasonal business, they've diversified with other direct-to-consumer products such as beef, chicken, turkey, duck and pork. 
What should people expect when they buy from a local flower farm?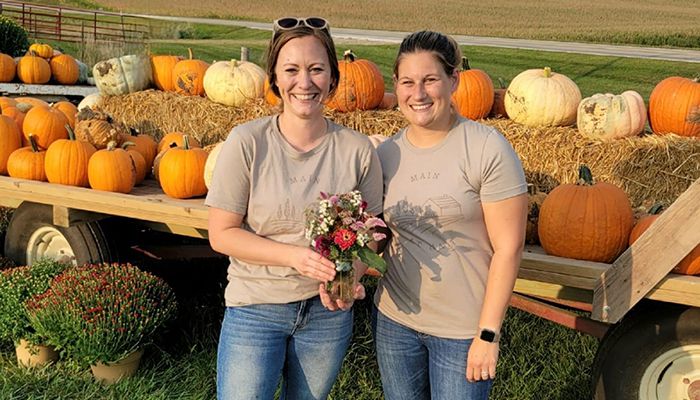 (Photo: Jordian Dougherty

 

and Kelci Carpenter of Main at Hart in Marshall County) 
"When people purchase flowers from us, they may be different than what you'd get at the grocery store or even a floral shop because we grow flowers that thrive in our Iowa climate," says Anna and Shae.
For Cassandra that means bouquets of ranunculus and anemones in the spring followed by peonies and garden roses. Sunflowers, zinnias and dahlias in the summer with fall collections featuring amaranth, chrysanthemums and asters.
Flower farms are subject to Iowa weather like any other crop. So, Morgan lets her customers know she can guarantee a bouquet's color palette but not always a specific flower if it is late to bloom.
But as Jordian says, farmers like her are happy to work with you directly to find the most in-season product.
Ok, we have to know—What's your favorite flower?
Despite the many varieties of flowers, many of these farmers had the same favorites.
For Anna, Shae and Jordian it was sunflowers because they're gorgeous, don't wilt easily and have a long vase-life. 
"Watching them 'chase' the sun all day in the garden is so much fun," says Jordian. "Plus, who couldn't smile when they see a gorgeous sunflower?"
For arrangements, Morgan leads toward zinnias for the color variety, size and diversity. However, she loves garden roses. This is also true of Cassandra who has fond memories of visiting her great grandma's cozy house and watching as she tended to her garden roses. 
"I now have a rose garden on the farm filled with David Austin roses," she says. "I adore their delicate petals and spicy fragrance."
What are your current offerings? 
Each farm offers flower subscriptions during specific seasons. It's the perfect gift to bring cheer throughout the growing season. (And no, I won't judge if you buy for yourself.) 
Want more news on this topic? Farm Bureau members may subscribe for a free email news service, featuring the farm and rural topics that interest them most!