Water quality academy showcases farmers' conservation efforts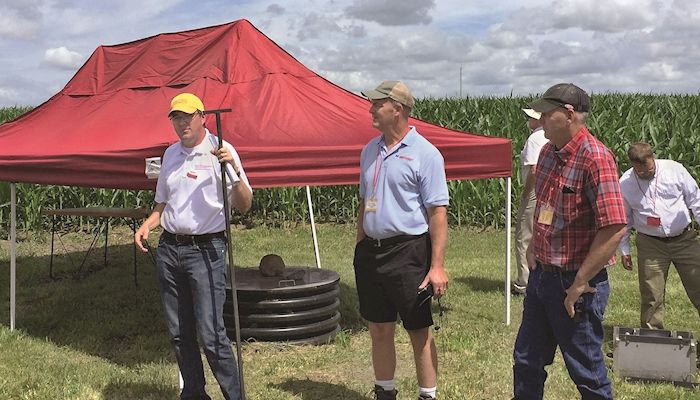 Legislators got a closer look recently at what farmers are doing to protect water quality in northern Iowa. The Iowa Farm Bureau hosted the water quality academy in Nashua to educate legislators about the conservation practices happening in the state.
Nearly 15 legislators attended the academy, which highlighted some of the conservation efforts in the area.
"Farmers really stole the show," said state Rep. Todd Prich­ard. "I think it showed that farmers are concerned about maintaining the land and doing things in a sustainable way. These farmers are taking a long-term approach to being good stewards."
Mitchell County Farm Bureau member Dean Sponheim and Bremer County Farm Bureau member Mark Mueller explained how the use of cover crops can help in the state's water quality initiative.
Sponheim has been incorporating cover crops in his corn and soybean fields for four years.
He said cover crops are able to utilize the naturally-occurring nutrients like nitrogen to help grow the cover crop.
"It also allows us to hold our soil longer in the spring and the fall and gives us something growing and living in our soil that much longer in the year," he told legislators on the tour.
Mueller has been growing cov­er crops and has been a no-till practitioner for 10 years. He said these practices help hold precious soil.
"My use of cover crops is first and foremost to protect the soil to halt erosion," Mueller told legislators.
He stressed the importance of cover crops in utilizing the nutrients when corn or soybeans aren't growing.
"Cover crops fill the gap in late fall and early spring when there's nothing else taking up the nutrients. My goal is to keep our fragile resources — our soil — in place here in Iowa," he said.
However, Sponheim and Muell­­er said, while they have been utilizing cover crops for several years, it's going to take time to fully understand the benefits of practices like cover crops and other systems.
"It took decades for us to get into this (water quality) problem, and it's not going to go away in just one or two years. I think it's going to take two or three or four decades to solve it," Mueller said.
Sponheim challenged the legislators to make farmers a part of the process when determining regulations and guidelines regarding use of cropping systems to help in the water quality initiative.
"They need some ag input when they start making recommendations and things like that. We need to have people that have been working with these types of practices to help write the regulations if it does come to that," Sponheim said.
Also, Sponheim said the infrastructure isn't in place to support a growing number of farmers looking at implementing cover crops on their farms.
"If we're going to do all of these acres of cover crops (as part of the nutrient reduction strategy), we've got to have cover crop seed grown and distribution systems to get this all coordinated so we can get it in the ground at appropriate times," he said.
However, the men agreed that the event was a good start in sharing information with legislators about what's happening on Iowa farms and fields.
"There has to be more discussion between the ag community and the legislators. This was a very good start," Sponheim said.
Prichard agreed.
"The solution to dealing with water quality in Iowa is a collaborative effort. Everybody pollutes, everybody is a part of the problem and needs to be a part of the solution. We all depend on water," Prichard said. "Having a productive dialogue is what's going to allow us to go forward and do good things for conservation and water quality in Iowa."
Title Photo Caption: Iowa State University engineer Matt Helmers (left), Bremer County Farm Bureau member Mark Mueller (center) and Mitchell County Farm Bureau member Dean Sponheim were among the speakers at a water quality academy for legislators recently hosted by Farm Bureau in Nashua.
Want more news on this topic? Farm Bureau members may subscribe for a free email news service, featuring the farm and rural topics that interest them most!