USDA forecasts big corn, soybean crops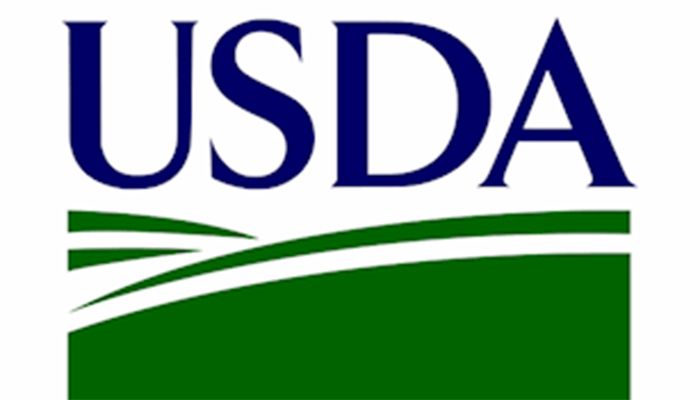 Corn and soybean production estimates in the USDA's first survey-based report of the year were much larger than analysts expected, pushing prices lower at the end of last week.
"The numbers are big, but at least they're consistent with the weekly crop progress report," said Chad Hart, Iowa State University Extension grain market specialist. "You're seeing strong yields, especially on the eastern side of the Corn Belt where crop conditions have been good."
The USDA forecast the U.S. corn yield at a record 178.4 bushels per acre, up 1.8 bushels from last year's record and more than 2 bushels above the average guess from a survey of grain traders.
Soybean yields are expected to average 51.6 bushels per acre, up 2.5 bushels from last year and 2 bushels higher than traders expected. Total corn and soybean production are about 180 million bushels above trade expectations as a result of those higher yield projections.
The USDA is forecasting record-high corn yields in six states, including a 207-bushel-per-acre forecast in Illinois.
It's important to remember that the USDA projections are based on conditions as of Aug. 1 and assume normal growing conditions for the remainder of the season, Hart said.
"They have to play 'normal.' We know that's not going to be the case," he said.
The Aug. 1 corn objective yield data indicates the highest number of ears on record in the 10 objective yield states, which include Iowa and other key Corn Belt states. That's consistent with crop condition ratings as of July 29, which showed 72 percent of this year's corn crop was reported in good or excellent condition, 11 percentage points above the same time last year.
Iowa corn yield stable
The USDA is forecasting Iowa's corn yield at 202 bushels per acre, the same as last year, which surprised some observers considering the challenging growing season in parts of the state.
"This is a set of numbers that gives people something to chew on," said Hart. "As we get into September and October, we could see some effects from the problems up north with too much rain early in the growing season and the problems down south with drought. But when you look at the heart of Iowa, you're looking at a very strong crop."
He said the Iowa and Illinois corn yields could come down as drought conditions creep into those states from Missouri, where the USDA is already forecasting sharp cuts in corn production. Missouri's average corn yield is pegged 39 bushels per acre below last year due to severe drought conditions.
Yields could also be impacted by warmer than normal temperatures that have pushed the corn crop ahead of schedule.
"We've been running a week to a week-and-a-half ahead of schedule," Hart noted. "That tells you we've been crunching the grain fill period."
The final soybean production numbers will depend on August rainfall, Hart said.
Total U.S. soybean production is forecast at a record 4.59 billion bushels, up 4 percent from last year. Record soybean yields are expected in eight states, including Illinois, Indiana, Nebraska and Ohio.
As of July 29, 70 percent of U.S. soybean acreage was rated in good to excellent condition, compared with 59 percent at the same time last year. Crop conditions ratings were above last year in 12 of the 18 major estimating states.
Higher soybean average
The USDA projected Iowa's soybean yield at 59 bushels per acre, 2.5 bushels better than a year ago.
"The numbers reflect, assuming normal rainfall patterns, that those pods are going to fill," said Hart, noting that his yield model isn't quite as optimistic, capturing some of the state's drought concerns.
Farmers can expect crop markets to be very sensitive to the weather until combines roll and yields become more certain, Hart said.
New-crop soybean futures dropped more than 40 cents per bushel following the crop production report, and corn futures fell almost a dime.
"Things are going to be jumpy here," said Hart. "Nobody is comfortable with these numbers right now. I'm going to be watching the yield numbers, and the export numbers (and) feed demand."
The USDA's supply and demand report last week continued to show strong export demand for both corn and soybeans despite ongoing trade disruptions in shipments to China and other key buyers.
Corn ending stocks for the 2018-19 marketing year are projected slightly lower, but soybean ending stocks are expected to almost double from current supplies.
"In the end, it's kind of what I've been saying for the last several months — supplies are running a little hotter than demand," said Hart.
Want more news on this topic? Farm Bureau members may subscribe for a free email news service, featuring the farm and rural topics that interest them most!