U.S. Broilers: Recent Production, Exports, and Projections for 2018 and 2019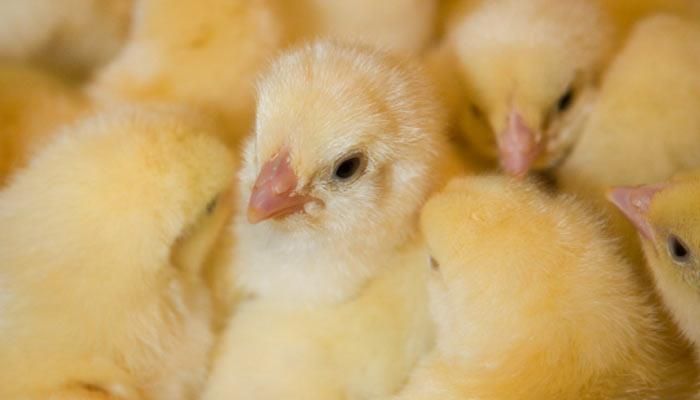 U.S. Leader in World Broiler Production
The United States is the global leader in broiler production. On average, during the 2014 to 2017 calendar years, U.S. broiler production reached a volume of 18.059 million metric tons (MT), ready to cook equivalent (RTC). The U.S. share of world broiler production (88.960 million MT RTC) was about 20.3% during that period. Other important broiler producers are Brazil, the European Union (EU), and China. From 2014 to 2017, on average, Brazil and the EU produced 12.975 and 11.185 million MT RTC broiler meat, respectively. Through 2015, China's broiler production surpassed that of the EU. China's broiler production averaged 12.575 million MT RTC from 2014 to 2017.
Georgia Top Broiler Producer in The U.S. Based on Slaughter Data
U.S. broiler production reached a new record in 2017. Production increased 2.4% to 18.696 million MT RTC compared with 2016 (see Figure 1). Based on 2017 slaughter data (measured in metric tons live weight equivalent (LWE)) of young chicken, which represented 98.5% of total chicken slaughtered in 2017, the top-five U.S. producers were Georgia (3.362 million MT, 13.4% share), Arkansas (2.958 million MT LWE, 11.8% share), North Carolina (2.783 million MT LWE, 11.2% share), Alabama (2.694 million MT LWE, 10.7% share), and Mississippi (2.111 million MT LWE, 8.4% share). These five states made up 55.4% (13.909 million MT LWE of total U.S. broiler production (25.090 million MT LWE) in 2017.
2018 and 2019 Broiler Production
According to the USDA's August 2018 forecast, 2018 U.S. broiler production is expected at 19.123 million MT RTC up 2.3 percent from the previous year. This forecast was increased from July's projection (19.069 million MT RTC) based on latest hatchery data and expected heavier bird weights. Meanwhile, 2019 broiler production was forecast up 1.9 percent to 19.484 million MT RTC from the latest forecast for the current calendar year (see Figure 1). Supporting the 2019 forecast is lower expected feed prices.
Broiler Price
USDA's August 2018 projections for 2018 broiler prices indicate a 7.0 percent increase from last year ($0.935/pound). The national composite broiler prices for 2018 are projected in the range of $0.99/pound to $1.01/pound, with an average price of $1.00/pound. The 2019 projected price range was widened at the lower and upper bound to ($0.96/pound to $1.04/pound), while maintaining about the same average price as in 2018 ($1.00/pound). With expected increased production in 2018 and 2019, broiler price projections were down from the previous month projections. U.S. broiler domestic per capita consumption is forecast to increase in 2018 and 2019 to 92.7 pounds and 93.7 pounds, correspondingly, compared with 2017 (90.8 pounds).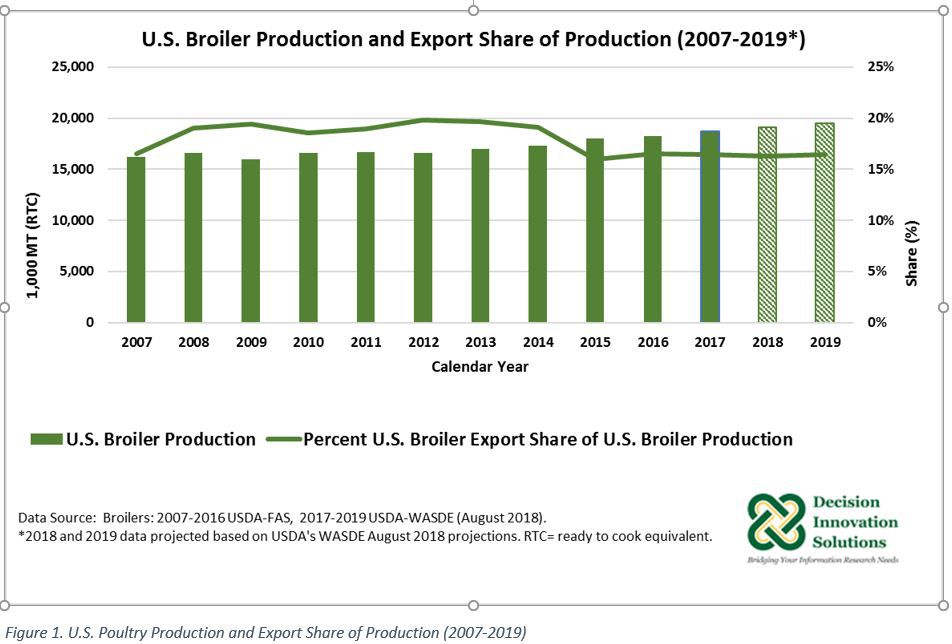 Broilers Exports Expected to Increase in 2018 and 2019
Although the 2015 Highly-Pathogenic Avian Influenza (HPAI) outbreak did not affect U.S. broiler production, the outbreak contributed to a 13.4 percent decline in U.S. broiler exports that year (2.867 million MT RTC). Many countries enacted temporary full or partial bans on poultry products from the United States. U.S. broiler exports recovered in 2016 and 2017, exporting 3.014 and 3.080 million MT RTC equivalent, respectively. USDA's August 2018 forecast for the 2018 and 2019 calendar years show a continued expansion. The United States is expected to export 3.116 million MT RTC of broiler meat in the current calendar year and 3.196 million MT RTC in 2019. However, both 2018 and 2019 projections were reduced from previous month projections based on weaker-than-expected demand. As Figure 2 shows, exports remain below the level in 2014 (3.310 million MT RTC).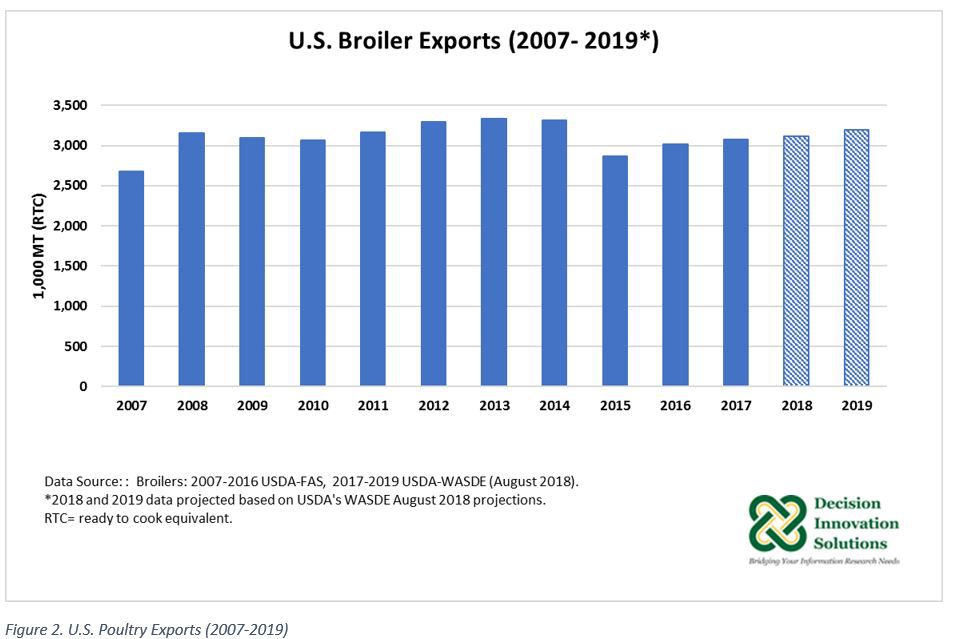 Mexico Continues as the Largest Market for U.S. Broilers in 2018
U.S. broiler monthly export data through June 2018, indicates the U.S. exported 0.259 million MT RTC of broiler meat in June 2018, up 7.9 percent and 4.09 percent year over year and from the previous month, respectively (see Figure 3).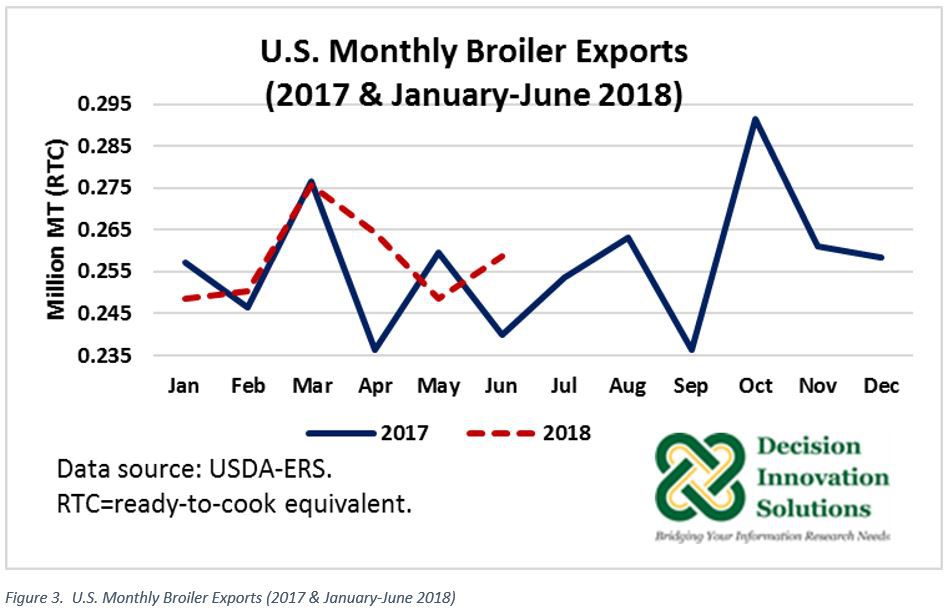 Mexico Expected to Favor U.S. Broilers over U.S. Pork Due to Tariff

According to the USDA, exports to Mexico, the number one destination for U.S. broilers, declined 3.0 percent in May. This decline may reflect a temporary and brief disruption in shipments due to an outbreak on Newcastle disease in California. Shipments to Mexico have now resumed. U.S. broiler exports to Mexico in June 2018 were up 1.8% compared with exports a year ago, but exports remained below those in May 2018. Overall, USDA anticipates Mexico may increase demand for U.S. broiler as Mexico imposed retaliatory tariff on U.S. pork but not on U.S. broilers, making U.S. broilers more price competitive than U.S. pork. From January to June 2018, U.S. broilers exports to Mexico were up 2.2 percent to 0.305 million MT RTC compared with the same period during 2017. Broiler exports to other major markets such as Angola, Cuba, and Taiwan, increased during the first six months of 2018 compared with the same period a year earlier (see Figure 4). On the other hand, exports to Canada and Rest of the World (ROW) were down 3.6 percent (to 0.072 million MT RTC) and 4.7 percent (to 0.830 million MT RTC), respectively. ROW U.S. broiler exports exclude those to Mexico, Cuba, Angola, Canada, and China (Taiwan).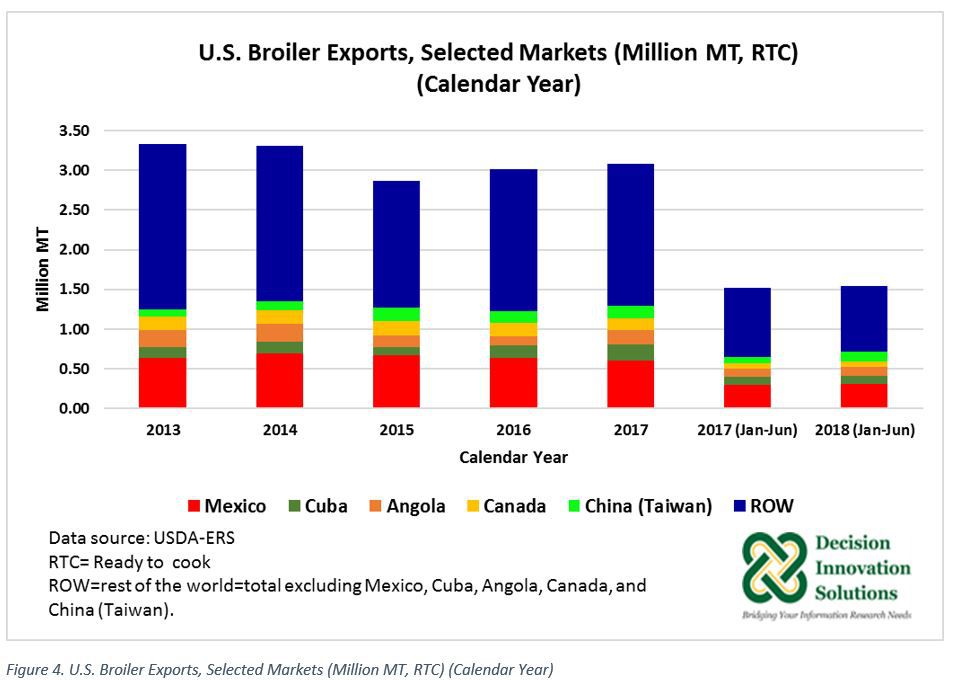 Table 1 summarizes U.S. broiler production, exports, prices, and per capita domestic consumption for 2017 estimates and projections for 2018 and 2019 based on USDA's WASDE reports published in July and August 2018.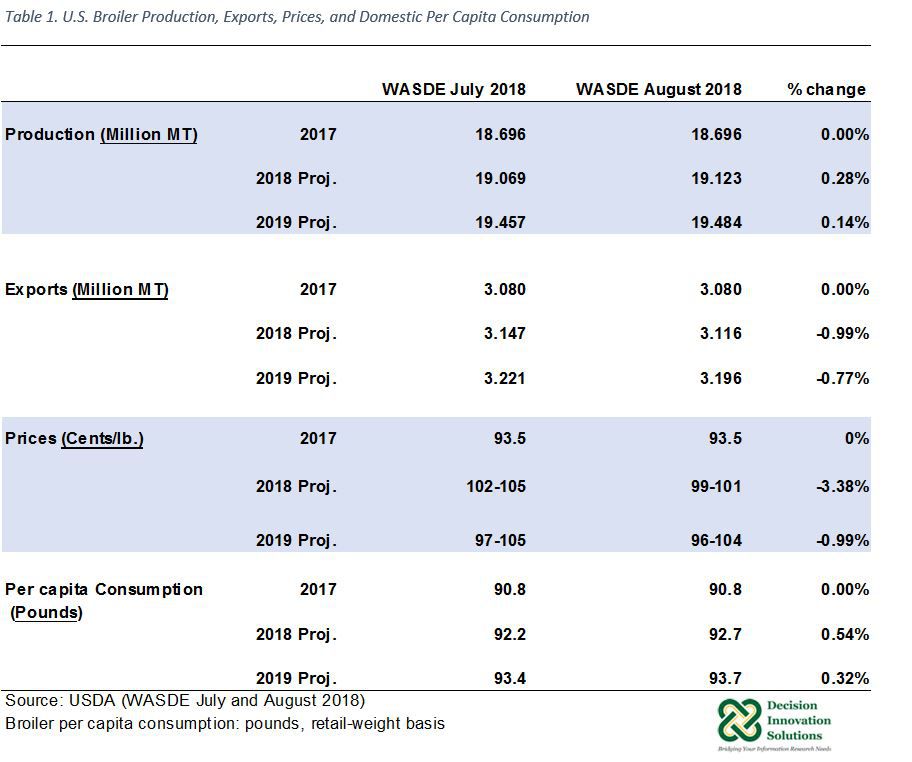 Want more news on this topic? Farm Bureau members may subscribe for a free email news service, featuring the farm and rural topics that interest them most!